Walz leads, but Minnesota governor's race has tightened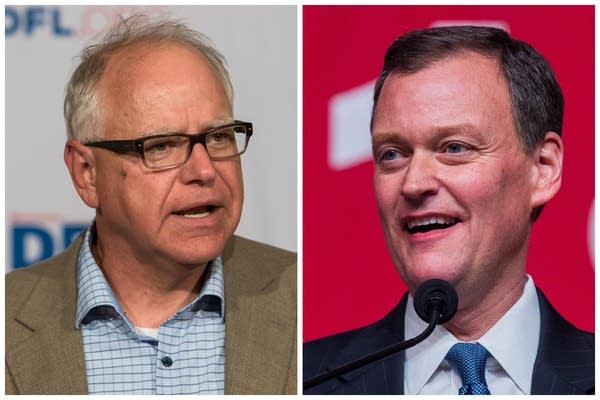 Democrat Tim Walz leads in the race to be Minnesota's next governor, but Republican Jeff Johnson has gained ground with about two weeks until Election Day.
That's a key finding from the latest MPR News/Star Tribune Minnesota Poll. The survey of 800 likely voters shows Walz leading Johnson 45 to 39 percent. In September, the Minnesota Poll showed Walz with a 9-point lead.
The latest poll also shows enough undecided voters remain to swing the race either way on Nov. 6. — 12 percent of respondents said they were unsure of who they will vote for in the race. That's down from 16 percent who were undecided in September.
Support for Walz is strongest among women, younger voters and among those who live in Hennepin and Ramsey counties or in southern Minnesota. And 38 percent of people who recognized Walz's name viewed him favorably compared to Johnson's 32 percent.
Grow the Future of Public Media
MPR News is supported by Members. Gifts from individuals power everything you find here. Make a gift of any amount today to become a Member!
Registered nurse Charles Burgess, 52, of St. Peter, Minn., said he's seen Walz up close as a constituent in his conservative-leaning district and trusts him.
"Well, I think he's honest. I think he's done a good job of representing the people down here," he said. "I think he's more of a moderate because our district is more moderate than that. It's not liberal."
Johnson, a Hennepin County commissioner who lives in suburban Plymouth, polled the strongest among men, voters age 65 and older and voters who live at least 20 minutes outside of the big cities and in northern Minnesota.
Poll respondent Brian Kraft, who runs a furniture delivery business and lives in New Brighton, said Minnesota's taxes are too high, there are too many regulations and state spending is excessive. He likes that Johnson would do something about all three, although he's making alternate plans as he nears retirement.
"We're looking right now at moving across the river," Kraft said, noting that living in Wisconsin would save his family money. "Scott Walker gets it over there," he said of Wisconsin's governor.
The poll of likely voters was conducted by Mason-Dixon Polling & Strategy between Oct. 15 and Oct. 17. It has a sampling error of plus or minus 3.5 percentage points, meaning that there is a 95 percent probability that the "true" figure would fall within that range if all voters were surveyed.
Chris Wright, the Grassroots-Legalize Cannabis candidate, and Josh Welter, the Libertarian candidate, were also included in the poll and had about 2 percent each.
While Walz still holds the edge in the race, Johnson has made gains, said Craig Helmstetter, managing partner of the APM Research Lab, a sister organization of MPR News that specializes in analysis of demographics and surveys.
"For example, in the September Minnesota Poll, Walz led in his home turf in Southern Minnesota, but the race now appears to be tied in that region," Helmstetter said.
Walz has a somewhat higher favorability rating than Johnson. However, Johnson's favorable ratings are up by 6 percentage points since the September poll, while Walz's unfavorable ratings rose 10 points., Helmstetter added.
The governor's office is open for the first time since 2010. DFL Gov. Mark Dayton is not seeking a third term. The DFL has never controlled the office for more than eight consecutive years.
Minnesota's next governor will have a huge say in the future of the state, from crafting a two-year budget to the redistricting process that will reshape Minnesota elections for at least the next decade.
Charlie Bye, 84, is hoping for a change from Dayton. He is retired from the pest control business, lives in Little Falls, Minn., and plans to vote for Johnson in November.
He said he doesn't know that much about the candidate but is a big supporter of President Trump, who has endorsed Johnson.
"I just hope it will work out better than with Dayton," he said.
One key issue for the next governor — a possible transportation tax hike — doesn't entirely track the candidate results. Walz supports a higher gas tax; Johnson is against it. Fifty-six percent of poll respondents were on board with a 10-cent increase to the per-gallon tax to pay for road and bridge projects.
The support was consistent around the state and robust among Democrats and self-identified independents.
A 10-cent per gallon increase appears to have broad support with a majority of both men and women, old and young, as well as urban, suburban, and rural Minnesotans, said Helmstetter.
Burgess, the nurse who lives in Walz's district, said he gets why people don't want to pay more in taxes. But to him, the gas tax is different.
"I look at it like this: The people who are buying the gas are the people who are using the roads. That's a user's tax," he said. "People who don't own cars shouldn't be paying taxes to fix the roads as much as the people who do own cars. I think it's fair."
Kraft, the furniture business owner, isn't convinced the money will wind up where it should despite the fact the gas tax goes into a dedicated account.
"If it is going to be used directly for the roads to improve those that would be one thing and I might be for that as a matter of fact," said Kraft, who describes his age as nearing 70. "I don't see true transparency. I see a lot of game playing about how that money is used."
Poll respondent Linda Freivalds, 71, of Orono said she's already cast her ballot for Walz, whose views match up more closely with hers on health care, taxes and education.
The retired interior designer said she has two young grandchildren and likes that Walz, who has represented southern Minnesota in Congress since 2007, used to be a teacher. "He understands what children need, what the educational requirements are."
Freivalds acknowledged she'll be glad just to have an exhausting election season over. "In our household we're not sleeping well," she said. "The world is just not right."