Hennepin County sheriff's race goes down to the wire
Updated: Nov. 7, 2:45 a.m. | Posted: Nov. 6, 9:40 p.m.
Challenger Dave "Hutch" Hutchinson held a slim lead over incumbent Rich Stanek in the race for Hennepin County Sheriff with all precincts reporting early Wednesday.
In Ramsey County, Sheriff Jack Serier and challenger Bob Fletcher were in a close race for much of the night, but Fletcher pulled away to reclaim the seat he once held.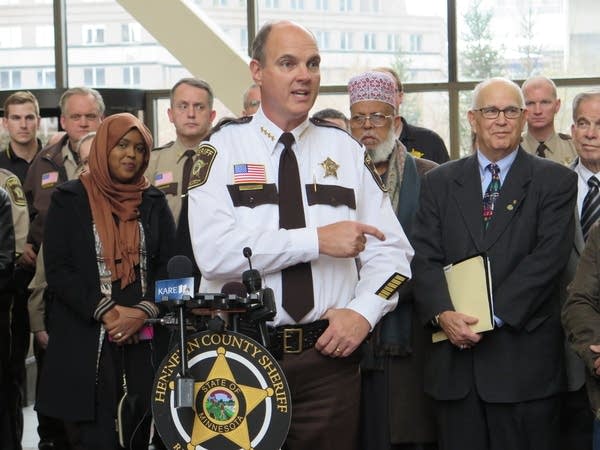 Hennepin County
With all 422 precincts reporting, Hutchinson had 264,511 votes (49.93 percent) to 262,182 votes (49.49 percent) for Stanek.
Stanek has served for 12 years, won two previous races with about two-thirds of the vote, and ran unopposed once. Hutchinson is a sergeant with the Metro Transit Police Department.
The same issues that have riled political contests across the country — immigration, environmentalism and, of course, President Trump, were prominent in the sheriff's race in Hennepin County, which went heavily for Hillary Clinton in 2016.
Hutchinson earned an endorsement from the former Democratic candidate for president.
"These local races now, with our current national administration, and the craziness that's happening," Hutchinson said. "This is how we can fight back."
In addition to Hillary Clinton, Hutchinson was endorsed by the state DFL party and some unions, as well as other high-profile state Democrats like congressional candidate Ilhan Omar and U.S. Rep. Tim Walz, who's running for governor.
"This is just as important as any other race, if not more important, if you care about immigration, if you care about mentally ill, and if you care about doing something more about doing something for people who are addicted to opioids," Hutchinson said.
Hutchinson isn't alone in his partisan connections. Stanek is a former Republican lawmaker and former commissioner of the Minnesota Department of Public Safety under GOP Gov. Tim Pawlenty. He's a former Minneapolis cop, with endorsements from law enforcement unions, in addition to a recommendation from the state GOP.
But Stanek said a sheriff works for the residents, not for political parties.
"When you call 911, you don't press one for Republican and two for Democrat, because it is nonpartisan, and that's how these races should be run," Stanek said.
Hutchinson has criticized Stanek for comments he made about immigration to Trump. For his part, Stanek said he met with former President Barack Obama seven times over eight years and Trump just twice.
"When I meet with the president, I talk with him about our diverse communities. I talk to him about the opioid crisis. I talk with him about what happens with mental illness and the reduction in violent crime," Stanek said. "Those are good things for the residents of Hennepin County and that's how it should be."
Ramsey County
With 168 of 169 precincts reporting, Fletcher had 92,643 votes to 79,372 for Serier.
Serier and Fletcher, who is mayor of Vadnais Heights, have spent much of their careers in law enforcement. Both worked as police officers in St. Paul, steadily moving up the ladder there before heading to the sheriff's office.
Serier, appointed sheriff in January 2017 after Matt Bostrom decided to leave his position to take a job at the University of Oxford, said he has more to do.
"There's a lot of social and philosophical change that I'm working on here in law enforcement here in Ramsey County, and partnering with other people in criminal justice and beyond," Serier said.
Serier says he'll work on issues of race and equity in policing and will stress four principles in employees: respect, responsibility, honor and truth.
"We're not looking for perfect people, but we're looking for people who have lived out those traits in their lives and in turn for others will provide a heart of service in everything they do," Serier said.
Bob Fletcher was first elected sheriff in 1994. He held that position until he lost a re-election bid in 2010.
"Public safety has always been my passion. I started there in St. Paul as a young police officer, worked through the ranks and as the juvenile unit commander I found my passion to help kids," Fletcher said.
Fletcher said he wants to address opioid addiction, restart juvenile crime prevention programs and to change hiring practices to allow people to apprentice in law enforcement rather than require a two-year degree.
Both Fletcher and Serier said the jail should do more to help those who need mental health and drug treatment.
In one difference, Fletcher said deputies should have body cameras immediately, especially after a suburban police officer shot a motorist to death.
"It's been 27 months since Philando Castile was shot, there's no excuse for the sheriff's office not to have body cameras by now," Fletcher said.
Deputies are supposed to get body cameras in 2020, and the equipment is being tested now. Serier said the body-worn cameras need to be better integrated with those on dashboards.
"These are multimillion-dollar projects and you just can't pull them off the shelf and plug them in," Serier said.
Your support matters.
You make MPR News possible. Individual donations are behind the clarity in coverage from our reporters across the state, stories that connect us, and conversations that provide perspectives. Help ensure MPR remains a resource that brings Minnesotans together.