Minnesota ceremonies mark Veterans Day, centennial of WWI armistice
Thousands of Minnesotans gathered across the state Sunday to mark Veterans Day and commemorate the centennial of the end of World War I.
At many of the ceremonies, bells rang out at 11 a.m. — remembering the armistice that stopped the fighting in World War I at the 11th hour, of the 11th day, of the 11th month in 1918.
At the state of Minnesota's Veterans Day ceremony in Inver Grove Heights, military leaders and state lawmakers recognized veterans of every branch of the armed forces. Those who could, stood to be recognized.
Each of the veterans in the room had a story to share — ones they pass along to their children and grandchildren.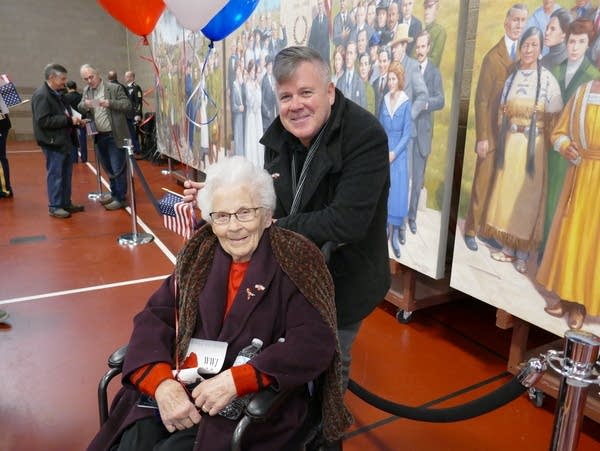 Mary McKenna, 95, was escorted to the event by her son, Peter. Mary McKenna served as a cadet nurse in World War II.
"She met my father in the hospital — she was his nurse — he was blinded in Germany in the ending days of World War II," Peter McKenna said. "She took care of him, they married, moved back here to Minnesota from Washington, D.C., and had nine children."
Peter pushed his mom's wheelchair on Sunday, decorated with red, white and blue balloons. In Mary's hands — which once helped heal Peter's father — she held not one, but two small American flags.
Lou Michaels, 80, who served in the Navy, said the holiday means a lot to veterans and their families — but it also has the power to unite people.
"Our immigrants, who were our forefathers — they came to America not knowing anything," he said. "And now, I'm sorry — it's just wonderful that we all have this camarederie, comrades."
Michaels said the day serves as a powerful reminder of the sacrifices made by military families.
"You've got to remember we're still in conflict, and with our great nation and our great people behind our nation — our military men and women — it is very important that we know that we need security," he said.
This year's program focused on the 100th anniversary of the armistice that ended World War I. The crowd participated in a nationwide tolling of bells in remembrance of those who served and sacrificed. 
A bell also tolled Sunday morning at Northrop Auditorium on the University of Minnesota's Twin Cities campus, followed by the playing of taps.
Following the ceremony, a series of speakers read the names of all Minnesotans who died in service in World War I, in chronological order.
Matthew Mehaffey, artistic director of the Oratorio Society of Minnesota and a University of Minnesota faculty member, was the first speaker. And the first name he read was Curtis Sarff, a native of Browerville, Minn., who died while serving with Canadian forces in spring 1915; that was before the U.S. entered the war. Sarff was buried in Belgium.
In Inver Grove Heights, Air Force veteran Melissa Wolf said Veterans Day brings a much-needed reminder to the masses of the sacrifice made by veterans.
"You are working elbow-to-elbow with veterans each day; you might not even know that they were at one time in the military," she said. "So I do like that they still celebrate things like this. It fills me with honor and tears, even — it is amazing."