Man charged for role in deer carcasses left on vehicles in St. Cloud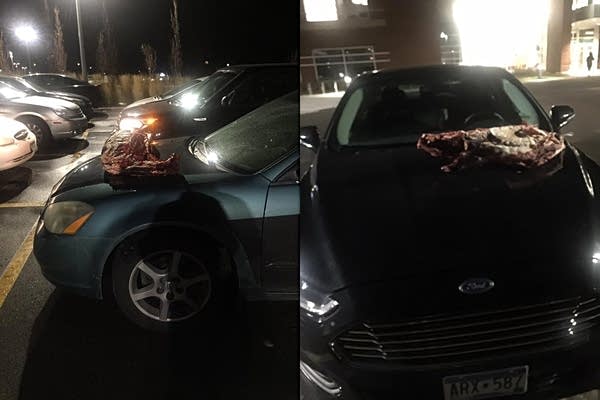 A St. Cloud man faces a gross misdemeanor charge for his involvement in the placing of deer carcasses on two vehicles earlier this month.
The skinned carcasses were placed on the hoods of two cars outside the St. Cloud YMCA on Nov. 14. Both vehicles' owners are Somali-American, raising concern in the community that the act was racially motivated.
According to the complaint filed Wednesday in Stearns County District Court, surveillance video shows 62-year-old Daniel Dorian Knowlen and his 14-year-old son parking in the YMCA lot and going inside.
After they came out, the 14-year-old placed the carcasses on vehicles next to their truck while Knowlen waited, the complaint states.
Knowlen told police his son was "just being funny." He said he didn't have any idea who the vehicles belonged to and was not trying to target the drivers.
Daniel Knowlen is charged with one count of contributing to the delinquency of a minor. He faces a maximum sentence of one year in jail and a $3,000 fine.