Ex-cons get a deeper look from employers in tight Minnesota job market
Updated: 1:32 p.m. | Posted: 4 a.m.
Adoniyah Israel learned welding, machining and computer science while serving nearly 24 years in prison for homicide. That training behind bars helped him land a job at a metal-working shop after his release in February.
The pay is decent, he said, and the job comes with health and dental benefits. He feels fortunate because he knows some employers won't hire people convicted of felonies.
Grow the Future of Public Media
MPR News is supported by Members. Gifts from individuals power everything you find here. Make a gift of any amount today to become a Member!
"Then you have those who understand, who are willing to give you a chance," said Israel. "I think that a door has opened for me, because I ran into those types of people."
Doors are opening wider lately for many ex-offenders, people who've historically had the hardest time landing jobs. With Minnesota's near-record jobless rate and more openings than people looking for work, observers say employers' attitudes are shifting on the value of the roughly 320,000 Minnesotans — about 8 percent of the state's adults — with felony records.
"As the labor market has tightened, more and more employers are looking at it," said Minnesota Human Rights Commissioner Kevin Lindsey.
Firms recognize "there should not be a blanket prohibition for considering people with a criminal record. It should be more nuanced," he added. "You should really look into the reasons why you may not or may wish to hire someone."
'My attitude changed'
Historically, employers have been unwilling to take chances. Many fear hiring people with criminal backgrounds could backfire, harming an organization's employees, customers, business and reputation. State statistics show about a quarter of released offenders go back to prison with a new felony conviction within three years of release.
Minnesota officials, nonprofits and employers are trying to strengthen the safety net for ex-offenders to stop that cycle.
Israel credits the Power of People Leadership Institute in north Minneapolis with helping him turn his life around. The organization provides counseling and a hand with everything from finding housing and transportation to landing a job.
"My attitude changed," Israel said. "My belief particularly in myself changed. More so, my belief in God."
He said he's learned how to better judge his actions. "You begin to answer those questions: 'Why I behaved that way? Why I think that way?' And it helps you out a lot."
Shane Price, a co-founder of Power of People, said Israel was ready to take advantage of the opportunity presented to him. "Rehabilitation, in our mind, is always about the offender's decision to change his life and have a changed mind and changed attitude to meet with opportunity."
Employers are more willing to hire people with criminal records, said Richard McLemore, director of employment and housing with Ujamaa Place in St. Paul, an organization that coaches and helps former offenders with housing, education, work, family and other issues.
"It's getting easier by necessity," McLemore said. "Employers are beginning to tolerate ... some employees they have to take on because now the pool of potential candidates for these jobs that are out here — it's narrowing."
'Know the justice system better than anyone'
The Human Rights Department is trying to encourage more employers to offer people with a criminal history a shot at jobs. The department has developed a toolkit to inspire conversations and action among companies, business groups and other organizations.
Prisoners can get a lot of job training while serving their sentences. The Minnesota Department of Corrections offers 20 career technical programs for inmates, covering everything from welding and solar panel installation to barbering and computing.
Employers who hire people with criminal records are also eligible for some tax breaks and bonding programs that protect employers from employee theft, forgery, larceny, and embezzlement, up to $5,000.
By law, employers in Minnesota are generally not allowed to ask about criminal records until they interview someone for a job. There are certain jobs, in health care and law enforcement, for instance, that bar people with felony criminal records. But that doesn't mean an entire industry is off-limits.
People with criminal records might not be allowed to practice as lawyers but there are many other jobs open to them in the legal field, said Tommy Harris, program director for All Square, a Minneapolis-based group that working with its first cohort of 10 former offenders training to be legal professionals or entrepreneurs.
They're students are in a yearlong fellowship program, during which they also work in All Square's grilled cheese restaurant.
"You don't need to pass a background check to start your own business," Harris said. "And law, because frankly formerly incarcerated people frequently know the justice system better than anyone else and have a great sort of launch point to get into a legal track."
Emily Baxter, founder of an organization that tries to persuade employers to give offenders a second chance, also notes that employers as taxpayers have a financial stake in providing jobs that can help offenders stay out of jail. "Every year," she said, "the U.S. spends $80 billion locking people up and keeping them under control."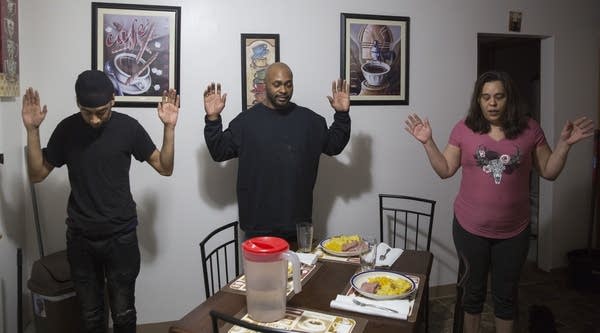 Still skittish?
Minnesota officials don't know exactly how many ex-offenders are unemployed.
While the state keeps good data on offenders and those who end up back in the prison system, there's no reliable statewide employment measure for people who've been on the wrong side of the law. Monthly government employment surveys don't ask participants about their criminal records.
Local numbers, though, suggest the need is real.
In Dakota County, for instance, authorities know that about 25 percent of current parolees in the county are jobless.
Still, more companies are willing to consider hiring people who've been in prison said Lisa Odland, a workforce specialist with Dakota County. Employers, she added, want to "hear what their story is, what happened, what they've done since then, instead of just giving a blanket, 'No.'"
Dakota County recently hosted a job fair that brought people with criminal records together with 18 companies willing to consider hiring them. That was up from nine employers a year ago.
Odland said companies find that giving people a second chance can pay off.
"With the tight job market, they're having a very hard time finding employees," she said. "And what they've found is that the few employees that they have hired in the past that have a criminal background are some of the best employees that they have."
That may be the case, but employers seem skittish about revealing that they've hired ex-cons. MPR News reached out to several businesses but only one agreed to an interview.
That was Spectro Alloys, an aluminum smelting firm in Rosemount. Recruiter Bruce Steinke said he's willing to offer jobs to ex-cons, if they're committed to changing for the better and don't have a history of violence.
"We're all about giving people a second chance, as long as they earn it," he said.
The jobs are hard and often uncomfortable, Steinke said. Temperatures inside the plant can hit 130 degrees in the summer. But new hires can make up to $45,000 their first year.
Not every ex-con he's hired has worked out but that's been true of people who've never behind bars, Steinke said. "You win some. You lose some. We've gotten some right and we've gotten a few wrong."
He said he's not giving up on hiring people with a prison record.
Correction (Dec. 13, 2018): An earlier version of this story misidentified Tommy Harris. The story has been updated.