Incoming Gov. Walz shapes his environmental, health teams
Updated: 5:15 p.m. | Posted: 12:33 p.m.
Some giant pieces of Gov.-elect Tim Walz's administration slid into place Thursday when the DFLer decided who would run the state's agriculture, natural resources, health and human services departments.
Walz selected commissioners for those four high-profile slots, along with three others, just days ahead of his formal takeover. It leaves him with fewer than 10 major positions to fill.
Walz pulled one agency executive from the Legislature, which will mean a special election to backfill that seat and for a time give the slim Republican Senate majority more breathing room.
He used a farm in Hastings as a backdrop for the announcement, a symbolic nod to his desire to have state agency leaders keep the pulse of the people they regulate and not just stay at government headquarters.
Gain a Better Understanding of Today
MPR News is not just a listener supported source of information, it's a resource where listeners are supported. We take you beyond the headlines to the world we share in Minnesota. Become a sustainer today to fuel MPR News all year long.
At a press conference, Walz called his incoming commissioners "champions for Minnesota across industries and backgrounds."
The assignments span varied corners of state government. But they also cover what will be some of the biggest policy flashpoints in the months and years ahead, whether that's regulation of mining or attempts to extend publicly subsidized health insurance to more people.
Natural Resources
For the DNR, Walz chose Sarah Strommen, who becomes the first woman ever appointed to lead the agency on more than an interim basis.
"I look forward to building our world-class outdoor system that we enjoy as a family and ensuring that all Minnesotans have access and opportunity to enjoy our state's outstanding outdoor experiences," Strommen said.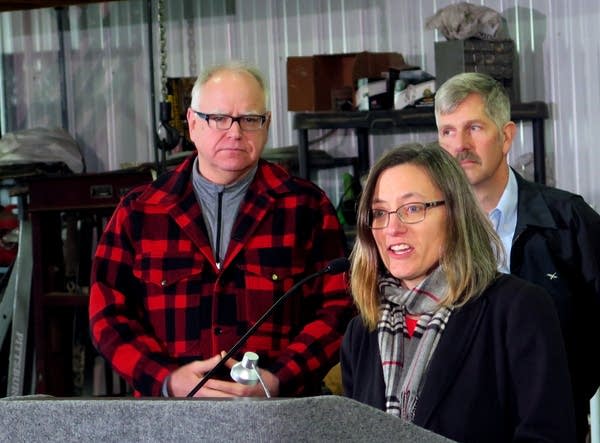 The agency manages the state's prized fisheries, parks and wildlife habitat and has been drawn into the fight over next-generation mining in northeastern Minnesota because of reviews and permitting the department conducts.
Walz said Strommen has "intimate knowledge of the department while bringing a fresh and innovative approach to the job."
Whitney Clark, executive director of the nonprofit conservation group Friends of the Mississippi River, where Strommen served several years as a board member, called her a "striking choice" to serve as the first permanent female DNR commissioner.
"I think that Sarah will bring a real listening, consensus-building kind of a style to the agency in a way that maybe past commissioners have not," Clark said.
Strommen's experience as an assistant DNR commissioner and as mayor of the small Mississippi River town of Ramsey, as well as with conservation groups has given her a well-rounded background, Clark added.
"She comes out of the environmental community," he said. "But she also has this breadth of additional experience that will make her just, I think, a really well-qualified and effective commissioner."
The other two finalists were agency veterans and colleagues. Current Commissioner Tom Landwehr sought to stay on the job, and Keith Parker has been central division director under Landwehr.
Agriculture
For the Department of Agriculture, Walz went with Thom Petersen, the Minnesota Farmers Union government relations director.
Agriculture is a major industry, with more than 73,000 farmers working in Minnesota. Petersen said he first met Walz at the Minnesota State Fair while Walz was running for Congress.
The other finalists were dairy farm business operator Pat Lunemann, and Tina May, senior sustainability director at Land O' Lakes.
Human Services
The Department of Human Services, the largest agency in scope and employees, will be led by state Sen. Tony Lourey, DFL-Kerrick, who has become a policy and budget expert in the area over four terms.
Lourey said the work the human services department does is vital and he feels like he has a strong grasp on its expansive mission.
But he said he doesn't pretend to have all the answers.
"We will make mistakes, we will make missteps and we will work to own them and do better every single day because people's lives count on us," Lourey said.
The other finalists were current assistant commissioner Claire Wilson and Megan Koepke.
The job is particularly challenging because of constant funding pressure at the state and federal levels for programs that serve vulnerable children and adults. The commissioner will have a prominent role in pursuing the MinnesotaCare buy-in expansion that was part of Walz's campaign.
Health
Walz opted to reappoint the Department of Health's current leader, Commissioner Jan Malcolm, who returned to the agency's helm last January after also having held the job under Gov. Jesse Ventura.
She has had an extensive career in public and foundational health roles.
Malcolm didn't commit to remaining for the full Walz term. She said she couldn't walk away just yet.
Walz said he asked her to stay on at least for a year to provide continuity to an agency that has gone through some choppy waters in the past couple of years, largely over its oversight of senior care facilities.
"This is where my heart lies," Malcolm said.
The other finalists were cardiologist Courtney Baechler, who helped get Sophia's Law passed requiring carbon monoxide detectors in enclosed areas of boats after the death of her young daughter in 2015, and Vayong Moua, who is health equity advocacy director at the Center for Prevention at Blue Cross Blue and Shield of Minnesota.
Pollution Control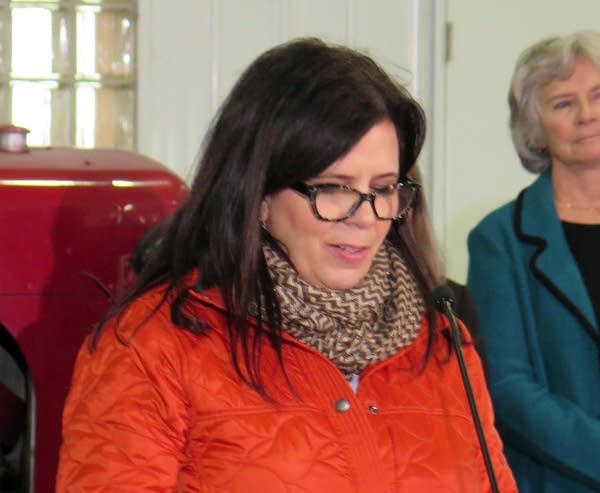 Walz turned to the corporate sector for his Minnesota Pollution Control Agency chief. He selected Laura Bishop, the chief corporate responsibility and sustainability officer at electronics retailer Best Buy.
Bishop was an assistant commissioner for the Department of Administration during Ventura's term and also served in various roles for President Bill Clinton's administration.
Walz said Bishop's experience will her foster relationships between regulators and businesses all in the name of safeguarding the environment.
Bishop said she was first exposed to the agency she'll run when she helped craft legislation promoting electronics recycling while working for Best Buy.
"We believe that the best public policy comes with more people, more eyes, more ears, more ideas having a voice in the work we do here," Bishop said.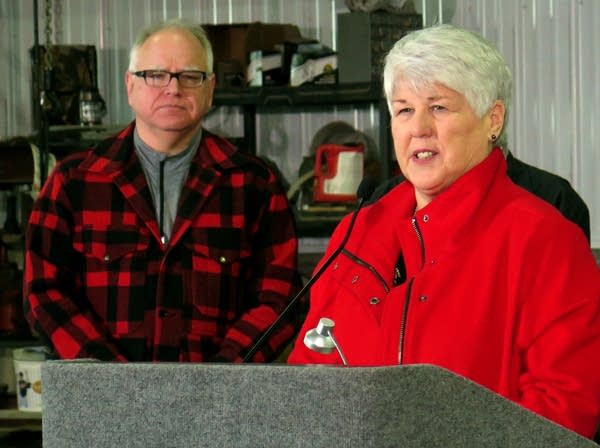 The other finalists were state Sen. Erik Simonson of Duluth and environmental engineer Raj Rajan, who is associated now with Fresh Energy after years with Ecolab.
The incoming governor also announced commissioners for a pair of smaller agencies. Rebecca Lucero will guide the Department of Human Rights while Janet Johnson will oversee the Bureau of Mediation Services, where she has been working for 42 years.
MPR News reporter Kirsti Marohn contributed to this report.
Correction (Jan. 3, 2019): An earlier version of this story misspelled the last names of Pat Lunemann and Thom Petersen, and misstated job titles for Petersen and Tina May.