Chillier weather ahead; enough snow to shovel for southern Minn. on Friday
We were overdue for some colder weather.
The average temperature (the average of all the daily high temps and low temps) was 9.6 degrees warmer than normal at Minneapolis-St. Paul International Airport during the first half of January.
There have been only four days this January with a cooler than normal average daily temperature in the Twin Cities:
Negative values in the "DEP" column indicate the number of degrees below normal.
Temperature trends
Our Thursday highs should reach the low-to-mid 20s in the Twin Cities metro area and most of south-central and southeastern Minnesota. The remainder of Minnesota will see mostly teens, but highs in the single digits are possible from northwestern and north-central Minnesota to the Iron Range.
A wind chill advisory will be in effect for northern Minnesota Thursday night through Friday morning:
Highs Friday are expected to range from the single digits below zero in far northwestern Minnesota to the teens above zero in the southeast:
It'll be really cold in northern Minnesota Friday night and Saturday night:
Saturday highs will be coldest to the north and west:
High temps are much the same on Sunday:
Our average high this time of year is 23 degrees in the Twin Cities metro area.
Twin Cities metro area highs are expected to reach about 20 next Monday.
The Twin Cities metro area could see lows dip into the double-digits below zero early next Thursday, according to the National Oceanic and Atmospheric Administration's Global Forecast System model:
Cloud cover is one factor that could keep us warmer than that forecast temp, so we'll watch the models as we get closer to Jan. 24.
Friday snow
Many spots in southern Minnesota and western Wisconsin saw a bit of light snow this Thursday morning. The Twin Cities metro area had a dusting of snow, and we could see a few flakes at times into early afternoon.
A plowable snow event will happen in much of southwestern and south-central Minnesota Friday and Friday evening.
The National Oceanic and Atmospheric Administration's North American Mesoscale forecast model shows the potential snow pattern Friday through Friday night:
The NAM model shows these snow amounts: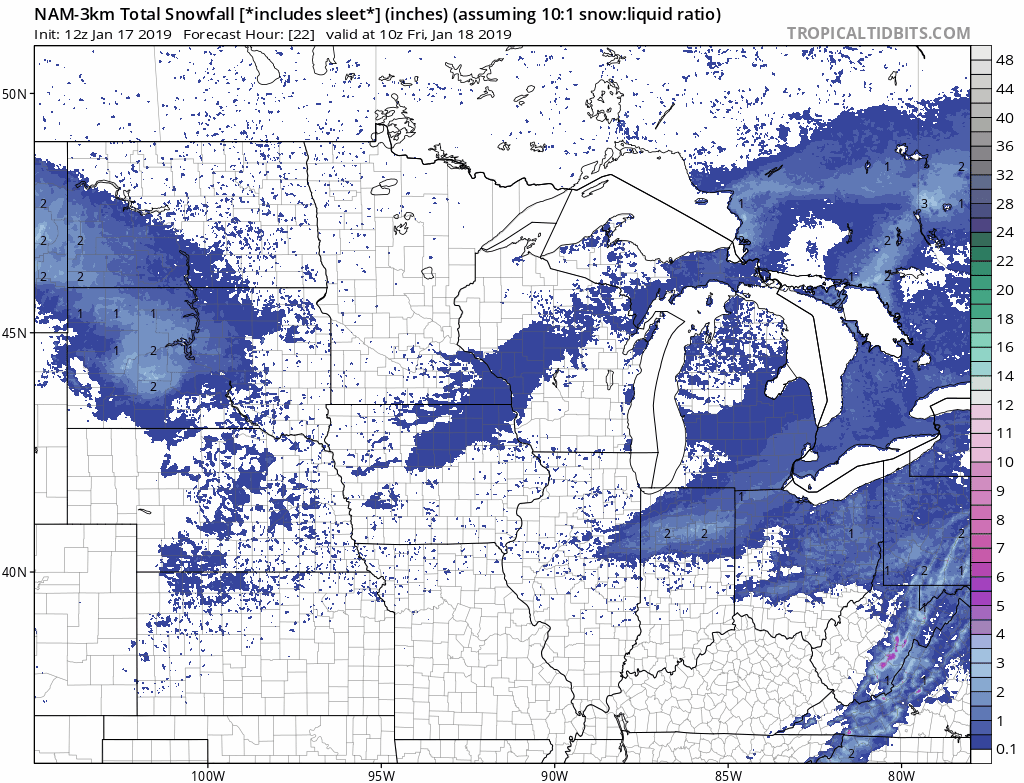 Most of the Twin Cities metro could be missed by this one, with some minor accumulations in the far south metro.
The NWS has posted a winter weather advisory for much of southern Minnesota from Friday morning into Friday night:
As always, updated weather information can be heard on the Minnesota Public Radio Network, and you'll also see updated weather info on the MPR News live weather blog.
Programming note
You can hear my live weather updates on Minnesota Public Radio at 7:49 a.m. Thursdays and Fridays, and at 7:35 a.m., 9:35 a.m. and 4:35 p.m. each Saturday and Sunday.
Your support matters.
You make MPR News possible. Individual donations are behind the clarity in coverage from our reporters across the state, stories that connect us, and conversations that provide perspectives. Help ensure MPR remains a resource that brings Minnesotans together.