Forecast: Minnesota budget surplus shrinks by a third, to $1 billion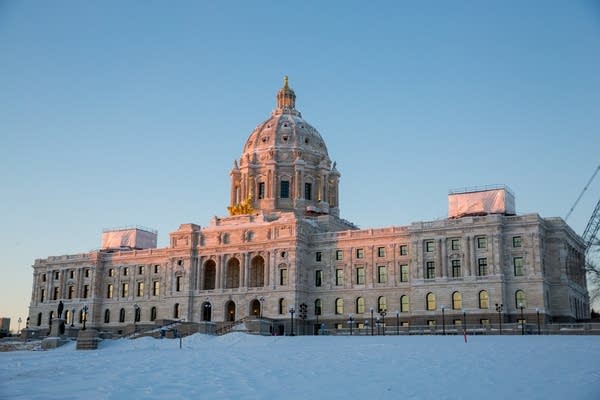 Updated 1:35 p.m. | Posted 9:28 a.m.
Minnesota lawmakers still have a surplus to work with this session as they craft the state's two-year budget, but it's much smaller than what was expected just a few months ago.
The state's revised economic forecast released Thursday shows about a $1 billion surplus on the bottom line — one-third less than the nearly $1.5 billion budget surplus projected in November.
MPR News is Member Supported
What does that mean? The news, analysis and community conversation found here is funded by donations from individuals. Make a gift of any amount today to support this resource for everyone.
The state budget office blamed the lower number on slower projected economic growth and lower-than-anticipated tax collections. Previously released data showed the state had collected $375 million less in tax revenues than it expected since the last economic forecast.
Officials also noted taxpayer responses to the new federal tax cut bill, slowing growth in the labor market and uncertainty over how tariffs and other trade issues will impact the economy helped drive the surplus projection lower.
"It's a cautionary tale, clearly, when you take a half a billion dollars out of the projection for 2020-21," Myron Frans, the state's budget commissioner, told reporters following the forecast's release.
Slowed growth continues into the next two-year budgeting period, with a slight deficit projected for 2022-2023. Minnesota has a budget reserve account, currently holding $2.4 billion, that could be tapped in the event of another major economic downturn.
On the labor front, Minnesota has more vacancies than job seekers as a baby boomer retirement wave starts to hit. That and other factors suggest "we are feeling the impacts of a constrained labor force," state economist Laura Kalambokidis said.
That's a challenge for employers, but could drive wages higher. The forecast projects total wage and salary income to grow at rates of 3.7 to 4.5 percent per year in 2019 and 2020, slowing to 4.4, 4.2 and 3.9 percent in years 2021, 2022, and 2023.
Nationally, Kalambokidis said the nation's economic expansion is nearing a record duration and starting to wane, warning that "a mature, low-growth expansion is particularly vulnerable when negative shocks occur."
The February forecast kicks off the budgeting process for the Legislature, which will begin putting its two-year spending package together in committees over the coming weeks. They have until May 20 to reach a deal during the regular legislative session.
Minnesota's Legislature is controlled by Republicans in the Senate and Democrats in the House, the only divided statehouse in the nation.
Lawmakers are required to agree to a two-year balanced budget by June 30 at the latest, or state government will shut down.
DFL Gov. Tim Walz must also revise his proposed $49.5 billion state budget, which he released just last week.
His budget plan pumps $2 billion of new spending into areas such as schools, health care, broadband and local government aid, using the surplus and new tax revenues to pay for his proposals.
His plan also calls for a roughly 70 percent increase in the current state gas tax, a proposal Capitol Republicans have vowed to kill.
Walz on Thursday said the drop in the projected surplus was not a surprise and that he'll consider of revisions to his budget over the coming weeks. Still, he said it was important that Minnesota "make investments" to continue driving economic growth.
"This is not a recession," he said of the economy. "This is a slowdown."
Republicans were quick, though, to argue that the shrinking surplus was a loud signal against more government spending and taxes in Minnesota.
State Sen. Julie Rosen, R-Vernon Center, called Thursday's forecast "a rude awakening."
Senate Majority Leader Paul Gazelka, R-Nisswa, said that if his household budget forecast dipped as the state's did, "What we would not do is immediately go out and binge spend."