When a senior wants to age in place, but the place needs work
Even though most seniors want to stay in their homes as long as possible, it isn't always easy — especially for those facing mobility issues. But organizations like Habitat for Humanity are helping make existing homes more senior-friendly.
"Most of the things we do are fairly low cost but really high impact," said Pat Lund. "Things like grab bars, things like hand-held showers, railings, extra lighting. It's a variety of home modifications that help folks increase their daily activity to help them stay in their home."
Lund is the manager for the Age in Place Initiative of Twin Cities Habitat for Humanity. Since it launched in October, it's helped 15 homeowners.
One of them was Lawrence C. Porter, who woke up feeling ill one day last February. It was just days after his 69th birthday.
His wife, Germille, realized something was wrong.
"He woke up and said, 'I don't feel good,'" she recalled. "'I'm like, 'Go back to bed and I'll bring your breakfast to the bed.' I happened to look at his face and see it had drooped."
Before you keep reading ...
MPR News is made by Members. Gifts from individuals fuel the programs that you and your neighbors rely on. Donate today to power news, analysis, and community conversations for all.
Worried that her husband was suffering a stroke, she called her daughter and an ambulance. "The ambulance came and that's what it was," she said.
While Lawrence was recovering, he had difficulty moving around the two-story house where he and Germille had lived for eight years.
"It was just hard," she said. "There wasn't nothing for him to hold onto, and he was scared to walk down the stairs because he was scared he was going to fall."
It appeared that they might have to move. "They wanted to put him in a facility so he wouldn't fall," Germille said. "I was like, 'No, that's not an option, we could stay at home.'"
They were put in touch with the Age in Place Initiative. The program operates in partnership with Allina Health, which refers low-income seniors with health issues that affect mobility. Over two days, workers with Habitat for Humanity made modifications to their home to help with support and stability.
Now there are banisters in the stairwells, grab bars at doors and other changes to help Lawrence get through doors more easily. There were also modifications in the bathroom.
More than 75 percent of adults over age 50 say they want to stay in their homes as they age, according to a 2018 AARP survey.
There's also a big financial consideration. A private room in a Minnesota nursing home costs an average of $10,188 per month, according to the 2018 Genworth cost of care survey. An assisted living facility can cost $4,000 a month.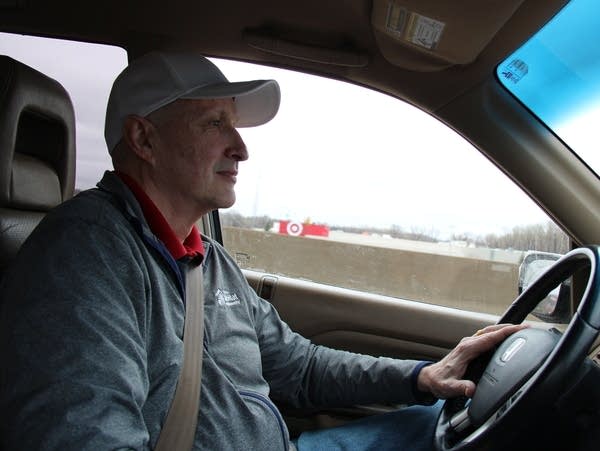 For the Porters, the modifications will allow them to stay in their home much longer.
"Everyone kept saying, 'Why don't you move to another house?' And I said, 'For what? I want this one.' And with the Habitat, I got a chance to stay in my house with my husband and argue," Germille said. "Because that's what we do."
Lund said the Habitat for Humanity program is being tested in four other cities across the country right now. He reflected on what it means to be able to help people like the Porters.
"To help folks stay in their home, stay in their community — years that they've invested in — and to be able to help them stay there," he said. "Yeah, it's an amazing feeling."