Minnesota joins multistate lawsuit against generic drugmakers over prices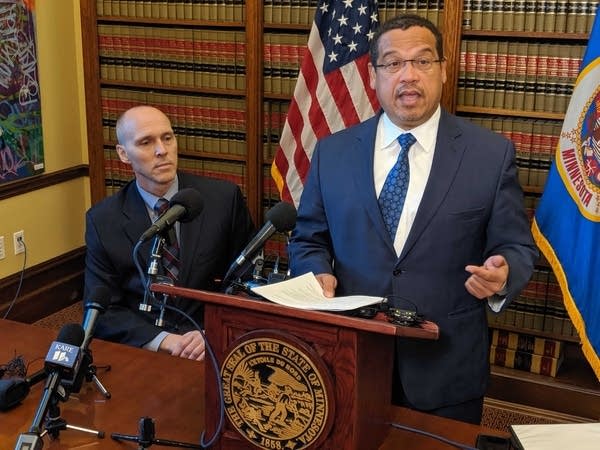 Minnesota Attorney General Keith Ellison said on Monday the state is joining dozens of others in suing generic drug manufacturers over prices.
The lawsuit alleges that nearly two dozen drug companies reached tacit agreements to divide up the drug market and push prices higher to increase revenue. Generic drugs are copies of name-brand medications which are often prescribed as lower cost alternatives.
Ellison said high prescription drug prices are one of the chief complaints his office is getting.
"The generic market stopped working the way it was supposed to because it was based on the assumption that the market for generic drugs would be competitive and free," said Ellison. "But because of collusion and price fixing, it just wasn't."
Grow the Future of Public Media
MPR News is supported by Members. Gifts from individuals power everything you find here. Make a gift of any amount today to become a Member!
It's the second wave of such lawsuits. Generics were expected to drive down drug prices, but experts saw sharp spikes start seven years ago. The problem has affected a wide swath of Minnesotans, said Stephen Schondelmeyer, University of Minnesota pharmacy professor and drug economist.
"The starting point is 9 out of 10 prescriptions for Minnesotans are for generics. I would venture to say anyone who's taken a drug in the last five years has probably had a generic," Schondelmeyer said. "This set of generics probably represents 15 to 20 percent of that so it could easily be one 1 of 5 Minnesotans may have been affected."
Drugmakers have been fighting the allegations in court since 2016, and have denied wrongdoing in the latest case, filed in federal court in Connecticut last week.
A spokesperson for TEVA, one of the principal defendants in the suit, says it didn't do anything wrong and is committed to providing high-quality medicines around the world.
In his remarks at the Capitol on drug prices on Monday, Ellison also talked about a spike in calls from Minnesotans who complain their health insurer is denying claims for mental health care — another subject of frequent complaints reported to his office.
He said despite federal and state laws, he's questioning whether insurers are covering mental health and substance abuse treatment as they would treatment for physical ailments.
"This is something that we're quite concerned about," he said. "If you, as a citizen of our state, are getting denied from your mental health claims, the Minnesota Attorney General's office wants to know about it."