State officials kick off initiative to examine shootings by police
Police departments, BCA have often come under heavy criticism for their handling of investigations.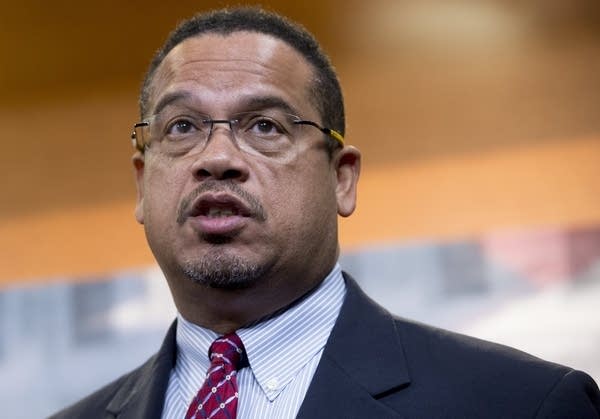 Updated: 2:06 p.m. | Posted 9:48 a.m.
Minnesota Attorney General Keith Ellison and Public Safety Commissioner John Harrington are setting up a blue-ribbon panel to examine shootings by police across the state.
"We're going to be looking at everything from top to bottom," Harrington said at a news conference Monday where they rolled out the initiative.
Ellison and Harrington, two of the state's highest-ranking law enforcement officials, were joined by a half dozen members of a 16-member "working group" that Ellison called representative of a variety of perspectives.
Harrington said there have been 101 shootings involving police just in the last five and a half years. He said the group's aim was both to shape official response to such incidents and offer the public a clearer picture of how they'll be handled, although he declined to commit to changes in one of the most common concerns: delays in releasing body camera and other videos from such incidents.
Hennepin County prosecutors criticized the BCA for its investigation into the 2017 police shooting death of Justine Ruszczyk, also known as Justine Damond. The agency's missteps surfaced during the trial of former Minneapolis police officer Mohamed Noor.
After a jury found Noor guilty of murder and manslaughter in April, Ruszczyk's father said the conviction came despite the "active resistance" of some Minneapolis officers and "incompetence" on the part of some in the BCA. Gov. Tim Walz later said he was looking into the criticism.
Asked if he expected to take a larger role in deciding whether to charge police criminally in connection with on-duty shootings, Ellison also said it was too soon to know what recommendations the panel might make, or take a position any new role his office might take.
The panel includes Clarence Castile, uncle of Philando Castile, who was shot and killed by St. Anthony Police in a Falcon Heights traffic stop in 2016. Minneapolis police chief Medaria Arradono is also a member.
"We can't keep going from crisis to crisis to crisis," Ellison said, saying he hoped for a "full-throated" conversation involving law enforcement and the community.
The hearings will kick off Aug. 17, focusing on investigation, oversight and accountability. Two more hearing will follow Sept. 28 and Oct. 17.
Officials say they want to make a report to the Legislature in Feb. 2020.
Members of the Minnesota Working Group on Police-Involved Deadly Force Encounters:
Co-chairs:
Minnesota Attorney General Keith Ellison
Minnesota Department of Public Safety Commissioner John Harrington
Members:
Medaria Arrandondo, Minneapolis police chief

Clarence Castile, public representative on Minnesota Peace Officers Standards and Training board

Elizer Darris, Minnesota chapter of the American Civil Liberties Union

Matt Gottschalk, Corcoran, Minn., director of public safety

Hodan Hassan, state representative (DFL, Minneapolis)

Bill Ingebrigtsen, state senator (R-Alexandria)

Mark Kappelhoff, Hennepin County District Court judge

Brittany Lewis, University of Minnesota Center for Urban and Regional Affairs

Brian Peters, executive director, Minnesota Police and Peace Officers Association

Mark Rubin, St. Louis County Attorney

Chanda Smith Baker, Minneapolis Foundation

Kevin Torgerson, Olmsted County sheriff

Artika Tyner, University of St. Thomas law school

Tribal law enforcement representative to be named later