At Burnsville's Metcalf Middle School, racial slurs poisoned the culture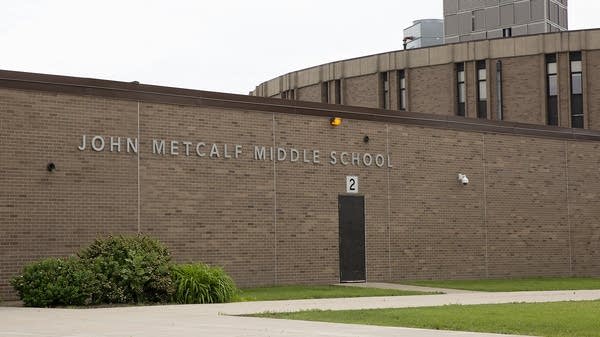 First came the n-word on a weekly, sometimes daily basis, directed at eighth-grader Ameera Ally and other John Metcalf Middle School students of color.
Then came the racist "jokes" in the hallways about picking cotton. Then someone posted a makeshift sign at a water fountain reading, "for whites only."
When Ameera confronted her fellow students about the racist taunting, she said they would shrug it off, saying, "Well, if the principal can say it, why can't I?"
This was the climate at Metcalf this spring. In December, after video surfaced of principal Shannon McParland repeating a student's use of the epithet at school, what had been a fragile social fabric at Metcalf unraveled, Ameera and other students, parents and staff told MPR News.
Grow the Future of Public Media
MPR News is supported by Members. Gifts from individuals power everything you find here. Make a gift of any amount today to become a Member!
The video captured McParland saying, "Seriously, you're gonna call me a f–-ing n–-er?" McParland later said she was recounting an incident earlier in the day when a student had directed the slur at her, telling the principal to "stop f–-ing with me." In an email to staff, McParland said the nine-second clip came from a 48-minute video taken by a student.
McParland apologized after the clip went public.
"Even repeating the words was inappropriate and hurtful and I apologize for my actions," she wrote in an email to families.
"Words have power, and few words have a more hateful and destructive history," she added. "I sincerely apologize to the students, parents, staff and community members for the pain my words have caused."
The turmoil, according to 19 students, parents and staff interviewed by MPR News, had only begun.
They described a poisoned culture, enabled by school leaders, where victims of racist incidents felt punished or threatened for speaking up, and their concerns were dismissed.
Black girls who tried to form their own student union in the wake of McParland's repetition of the slur said they were labeled as aggressive troublemakers. Teachers who defended them said they received reprimands and poor performance reviews.
While racial tensions simmer at many schools in Minnesota and the nation, what happened last school year at Metcalf shocked some enough to seek outside help.
"It hasn't been pleasant. I guess this year really opened my eyes. I told myself a few months ago that after this year I won't be a teacher based on what I have witnessed," Laura Ngeh, one of only two African-American staffers at Metcalf this past school year, told MPR News in May.
Ngeh said students called her the n-word regularly at school and she saw it directed at students of color. But she didn't see school leaders do anything more serious than lecture the offending students or on one or two occasions, give them in-school suspension. She said she asked a school district supervisor to investigate but never heard anything more about it.
In a May letter to the St. Paul NAACP, which received complaints from some students, parents and staff about Metcalf, district 191 said reports of racist language had been investigated with appropriate steps taken. "Simply because people are not aware of all the circumstances or considerations that go into decision, doesn't mean that we have not addressed the matter," the district added.
In April, Ngeh said McParland told her that her English language teaching contract would not be renewed due to budget constraints. Ngeh finished out the school year at Metcalf but said another person was hired shortly after to fill an English language teacher vacancy. She suspected the budget was not the reason for her exit.
"I feel like I advocate for my students more than teach. And it's usually advocating for them based on racism and discrimination that goes on in the school," said Ngeh, who said she decided to leave teaching after what she saw at Metcalf.
Burnsville-Eagan-Savage school district representatives, including McParland, declined to be interviewed in person for this story. The district said in a written statement to MPR News that while McParland's words "did cause harm," the district is "completely satisfied" with her as principal. McParland, the district added, has been working "with student and staff leaders to open more dialogue around race."
Some students and staff who were there last year said that was not the case. They said racial tensions rose to toxic levels and Metcalf school leaders' mishandling of dialogue around race and racist incidents brought those tensions to a boil. They said the video of McParland repeating the slur was a match to the flame.
"When she said the n-word, everything changed," said Egrah Audil, who finished 8th grade at Metcalf in June. "The Caucasian kids… all of a sudden they started saying, like, 'snigger' and all of that stuff … they make racist jokes and stuff. I feel like they would've never said anything if it wasn't for Miss McParland saying the n-word."
'Kids ran with it like crazy'
District leaders had viewed McParland as the answer to Metcalf's troubles when they tapped her to be principal in 2017. Students of color made up nearly half of Metcalf's 600-plus student body, making it among the most diverse schools in the Twin Cities suburbs.
McParland had led the district's Sioux Trail Elementary School in 2016 when it won an innovation award from the Humphrey Institute for its efforts to promote cultural proficiency "beyond diversity practices and equity initiatives by honoring each individual and his or her traditions, beliefs and practices."
A former colleague of McParland's described her as someone who "will stop at nothing for a kid in her school to succeed…(who) loved every single one of them, no matter their background."
Metcalf was viewed as a school that needed help. The district said the school board had received "many concerns" about Metcalf. It said it saw McParland as someone with "a history of creating a positive culture at schools that support student growth."
Eight Metcalf employees, eight students and three parents told MPR News it didn't work out that way. Many of them said the school atmosphere worsened after McParland took over and the December video of her repeating the slur sparked a school-wide rash of troubling incidents.
After the video went viral on social media, McParland apologized over the school announcement system and visited classrooms in person to read a statement apologizing. She invited students to email her if they had questions or concerns.
But the damage was done and it was not contained, said Eva Carcione, who was then a seventh-grade teacher at Metcalf.
After the video of McParland was posted, she said there was an immediate explosion of students using the racial epithet on campus.
"Right after it happened, the kids ran with it like crazy," she recalled. "They immediately were, 'If she can say that word, I can say that word and it means nothing. You can't tell me not to say it.' When an adult who's in a position of power and control can say that word and there's no visible repercussions, then, to them, why should I have any repercussions for using that word?"
McParland's public apologies didn't go well, Carcione added. Many of her students didn't take it seriously, others saw it as insincere. "Some of them were upset by it, like, 'I don't want her to apologize. I just want something to happen because of it.'"
Carcione wished there had been a more serious consequence for McParland. She didn't want the principal fired, but thought the video should have been a big red flag to the district.
The district invited equity and diversity consultant Seema Pothini to help lead a Metcalf school community night in January 2019, following the video's release.
Pothini lives in the Burnsville-Eagan-Savage school district and had written a book on diversity and social justice education. The way Metcalf and district leadership handled the video and incidents of racism that followed was problematic, she said.
"In most all cases when racial incidents are addressed, there are many missteps that occur. Metcalf was no exception," Pothini said.
"I tell educators in my trainings if a student gets a papercut or other obvious injury, you will respond without hesitation," she said. "Racist comments or incidents need to be handled the same way – immediately and without hesitation … show students that you care, even if you aren't an equity expert."
Ameera – an A-student whose parents are first-generation immigrants from Guyana and Somalia – said McParland asked her to attend the community meeting.
She asked her mother, Hawo Awad, for advice. Awad advised her to go to the gathering and forgive McParland.
"I'm like, yeah. Go ahead and support her. She's a human being. People make mistakes," Awad said.
Ameera said the January meeting went well and that she and her classmates left feeling like their concerns had been heard.
They talked of organizing a black student union focused on promoting positivity, academic excellence and inclusivity for African-American students at Metcalf. Ameera believed forming a group would make the school a better, safer place, especially for her younger sister who would be coming to Metcalf.
"Black student union was a dream for us to do," Ameera said, "We wanted it to be not just for colored people, but for (other) people who are being bullied and stuff...They can talk to us because we'll understand them. We'll know where they're coming from."
The good feelings about where Metcalf was headed, however, would not last long.
'Aggressive black girls'
Ameera and the 10 other eighth-grade girls involved in starting the black student union said things started well.
They said McParland and Metcalf associate principal Akram Osman encouraged them. By the end of January they were meeting with Greta Krupke, a sixth-grade teacher they liked and trusted, a few times a week to brainstorm ideas and draft the group's mission statement and short term goals.
Weeks later, though, the girls said they felt like the principal's attitude toward the student union had shifted. At a meeting with McParland, Osman and Krupke, the girls said McParland told them they would need to submit their plans for each union meeting in advance, keep meticulous notes of what happened and share these notes with school administration.
They said McParland also told them she or Osman would have to be present at every BSU meeting "to observe."
Asked about the requirements, the district told MPR News that Metcalf school leadership supported the idea of a black student union and followed an established process for organizing a new student group.
Krupke, however, said other student groups did not face the same scrutiny.
McParland's support for the black student union seemed to evaporate after that, the girls said.
"Every single meeting we had with them (school leaders) it was just backtrack, backtrack, backtrack on stuff we already accomplished without them," said Perkagn Okwayoo, an eighth-grader at Metcalf involved in starting the group.
The girls felt like they were being used to insulate McParland and the school from questions of racism at the school following the video.
Ameera said the girls went to the school office on Feb. 8 to ask McParland if she was serious about supporting the black student union. She said the principal turned them away saying she was busy. Ameera said the office staff accused the girls of disrupting the office and calling everyone racists.
She said McParland and other school leaders and staff made it clear they viewed them as "aggressive black girls." They were told by some school staff to stop making such a big deal out of what the girls viewed as racist treatment.
'I knew they were being targeted'
In the months following the video of McParland repeating the slur, Ameera and her friends said they and students of color were regular targets of openly racist comments from their peers.
But they said there were only one or two instances where they saw a student receive an in-school suspension for making racist comments.Mostly they saw students given short lectures in hallways or the school office.
---
They did not tell us what to say to the kids

-Greta Krupke
---
But the girls believed school leaders viewed them as the bigger concern than the students who were making racist comments.
In the last week of February, during parent-teacher conferences, Ameera's mother Hawo Awad said she was asked to meet with McParland.
Awad said she walked in expecting McParland to apologize for the increasing racist incidents at school. Instead, she said the principal told her the black student union was having a bad influence on Ameera's grades and attendance.
"When I came in, I listened to them first. I asked them why I'm here today. And they didn't give me a reason," Awad said. "I'm like, is she a bad student? No. Is she skipping classes? No. Does she have bad grades? No. Then why am I here today? They said, 'Oh, she's with bad kids.'"
Awad said school leaders could not provide any evidence to support their claims.
The other black student union girls and their families say they were called into Metcalf that same week for similar meetings. They said school leaders told parents the girls would no longer be able to participate in the black student union.
The meetings convinced Krupke that Metcalf's leaders were racially targeting the black student union girls.
"The last straw for me, where I said this is enough, is when all 10 of those girls were called in during conferences with their parents to say how poor grades they had, that they were skipping, that this (student union) was getting in the way of their learning and their time at our school," Krupke said.
"In fact, the incidents that were skipping were the times that the girls went down to talk about the water fountain, the n-word," Krupke said, referring to the "whites only" sign and use of the epithet. "When they were all called in for those conferences I knew they were being targeted."
At about the same time, Metcalf leaders reached out to Ryan Mokandu, an eleventh-grader deeply involved in a black student union at Burnsville High School. Mokandu said district and Metcalf school leaders told him the girls were skipping class, being disrespectful to teachers and failing their classes.
Mokaundu said he agreed to meet with the girls and McParland said someone at the Metcalf would arrange the details. But he said they never called back and the conversations didn't happen.
Two months later, he said he learned more about the turmoil at Metcalf and felt used.
"The lack of dedication to how do we solve this problem – it's so minimal," Mokandu said. "It's absolutely un-OK. Why are students not being heard in these situations? It shouldn't take this long."
Citing student and staff privacy requirements, the district said it could not respond to specific incidents.
Suspensions
By mid-April, Krupke said she worried McParland was targeting the girls for discipline.
School staff were continually asking them where they were going and talking to them about not skipping school or being late to class. She said she saw other students with more severe attendance problems who weren't stopped and questioned as they moved around the school.
On May 24, Egrah Audil, one of the eighth-graders who'd tried to launch the black student union, said she was suspended from school for more than one day for entering a classroom that wasn't her own.
Perkagn Okwayoo, another in the group, said she was suspended from school that same week after a staffer found her with her phone out in a stairwell, told her to hand it over and Perkagn didn't immediately comply. Perkagn said the staffer called her parents to tell them Perkagn was being disruptive.
The feelings of a double standard at Metcalf went beyond the girls hoping to form a black student union.
Jada Thomas, a Metcalf seventh-grader who identifies as black, said she also felt targeted by school leadership.
She and her mother, Samantha Benton, said she was suspended from Metcalf some 15 times during the 2018-19 school year.
Benton and Metcalf school staff described Jada as smart, confident and opinionated. She got good grades and was in Advanced Placement classes in sixth grade. But school staff also said she could be stubborn, tardy and difficult for some teachers to work with.
Benton said they were working to find common ground with the school around Jada's behavior but that by last spring, Benton believes McParland and other school staff had written her off as a troublemaker.
Worried Jada was being targeted by McParland, Benton said she confided in a Metcalf staff member, who also believed that Jada was being singled out by school leaders.
"It's emotionally exhausting. I'm drained from it, and it has affected her learning," Benton said. "It made her grades go down...she has been talking about going to a different school next year."
The district did not answer specific questions about Jada, Benton, Egrah and Perkagn citing "student and staff privacy requirements."
Retaliation
On April 1, Krupke – the teacher and black student union advisor – was called into a meeting with McParland and district assistant superintendent Brian Gersich.
Krupke said she was reprimanded for posting information about the black student union on a "Friends of ISD 191" Facebook page. She was told at the meeting that she could no longer help with the group or communicate with the girls organizing it.
The next day, the 10 eighth-grade black student union girls were told McParland and Associate Principal Akram Osman would now be in charge of advising the group. The school leaders cancelled the group's first planned meeting and did not set a follow-up date.
Ameera and her friends were upset. They saw Krupke as someone safe.
"When Miss Krupke wasn't our advisor anymore, we didn't really have any more good advisors," Ameera said. "So we all decided one day to quit. We said we don't want to participate in this anymore. We'll start it in the next school or do something else, but we don't want to do it with you guys."
Krupke said she received a low performance evaluation after receiving high marks the preceding half year.
She said she was called in twice to meetings with district and school leadership on "directives."
After the reprimand for posting information on Facebook about a black student union meeting, she said she was reprimanded on June 17 for speaking to her coworkers about her job frustrations and warned her emails would be investigated.
She said she took these meetings as threats to her job, and she asked her union representatives for help.
District 191 would not comment on these incidents citing "staff privacy requirements." However, they confirmed a complaint exists regarding Krupke that's currently being investigated. Krupke said she hasn't seen the complaint, but was told that it alleges she made false claims and disrupted the educational process.
Metcalf teacher Carcione said the atmosphere at the school was so bad she wanted to quit. She said she started the resignation paperwork in late December after the video with the slur surfaced but hesitated because of her commitment to her students and fellow teachers.
But in February, when her then-fiance decided to move, Carcione turned in her notice.
"When you're in a school...the service that you provide is basically creating people that can go out in the world and flourish and be successful," she said. "And it was always discouraging when I was there because I felt like we were unable to do that given the circumstances and that her (McParland's) style of being a principal was not conducive to supporting and helping students and getting them to a point when they felt loved and protected and safe in their school environment."
Ngeh said she tried several times during the spring 2019 semester to raise concerns with school leaders about the way students of color were being treated at the middle school.
She said that during a Jan. 22 staff meeting, she raised concerns about Metcalf's policy on the racial slur – a policy she saw as inadequate, problematic and inconsistent.
Ngeh said McParland followed her back to her classroom after the meeting. She said McParland told her something she interpreted as a warning that she could lose her job for speaking up.
In April, McParland told Ngeh her contract would not be renewed because of budget constraints.
'We have much work to do'
After months of frustration with school leadership, students, parents and school staff began reaching out to the St. Paul NAACP to complain about Metcalf and the district.
In April,the NAACP sent a letter to the Burnsville-Eagan-Savage school district and submitted a bundle of complaints to the Minnesota Department of Human Rights.
In May, the district responded to the NAACP, saying it understood it, like many other Minnesota districts, struggled with under-achievement and over-suspension of students of color.
They said they had seen improvement with suspension disparities in McParland's first year, "but we have much work to do."
In response to questions from MPR News, the district said the percentage of black student out-of-school suspensions decreased compared to the percentage of white students given out-of-school suspensions while McParland was principal at Metcalf. They said black students, who make up 21 percent of Metcalf's student population, received 46 percent of out-of-school suspensions, and that was a significant improvement from the previous year.
In a May letter to the NAACP, the district said it was identifying staff biases and that reports of racist language had been investigated with appropriate steps taken. District officials told the NAACP McParland's use of the racial slur had been thoroughly investigated and that the district took "appropriate action."
They also said they supported the black student union group at Metcalf and were "eager to get the group up and running," but said administration stepped in to "provide parameters for both the student and the adviser to be effective."
When asked by MPR News what the district was considering in terms of school leadership, the district wrote that investigations were a part of the process and "it is also important to determine if complaints are the result of disgruntled employees."
An NAACP secretary confirmed the civil rights organization and the Burnsville-Eagan-Savage district are in mediation talks with the Minnesota Department of Human Rights.
The agency has seen complaints of racism rise significantly the past two years in many facets of life in Minnesota. About 40 percent of the charges filed by the department over the past year included claims of racial discrimination, up from 28 percent two years ago.
"Across the state, across the board we're seeing an increase in the number of cases that are coming in that are based around race in education, in housing, in employment," said Minnesota Human Rights Commissioner Rebecca Lucero.
The St. Paul NAACP has received more complaints of racist incidents in schools over the last several years than at any time in recent memory, although the turmoil at Metcalf is "of another kind altogether," said Jim Hilbert, the group's education officer and a professor at Mitchell Hamline School of Law.
Overall, the complaints mark the tip of a very large iceberg of deeply rooted and on-going racism in Minnesota schools, he said.
"(School) administrators look at it as an individual incident. But the students look at it as the final straw," Hilbert said. "And this is happening in a school system...where we have some of the worst disparities in the country. And until we talk about it in those contexts, these larger complaints are going to be brushed off by the larger public as, 'Oh yeah. That was a one-off, a standalone. We addressed that. Situation fixed.' It's not fixed. Not even close."
For Ameera and her family, the Department of Human Rights mediation is too little, too late. They've already decided to leave the district because of what happened in the spring at Metcalf. Awad, Ameera's mother, said other families are pulling kids out, too.
"The racism is so hard for a lot of people," Awad said.
Ameera said her grades suffered because of all the stress at Metcalf, and she's eager to leave the district behind her.
"I love school. I've always grown up loving school. But I barely went to school this year. I didn't want to go," she said. "I just want to focus on my school work and get school finished. That's what Miss McParland came for. She came to Metcalf to make it a better place, but I don't see what got better."
---