Utility regulators approve oil pipeline replacement across northern Minn. reservation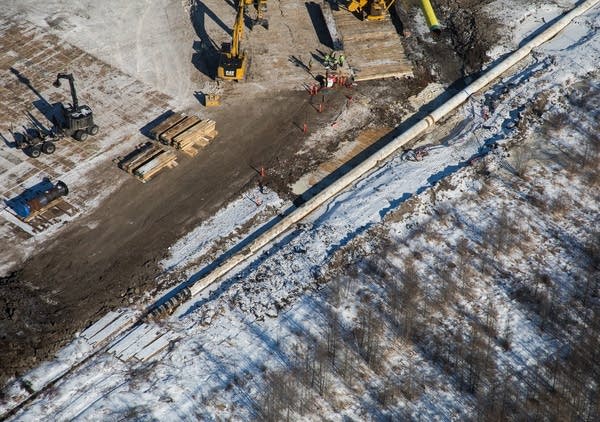 The Minnesota Public Utilities Commission has unanimously approved the replacement of a 10-mile section of the Line 4 oil pipeline across the reservation of the Fond du Lac Band of Lake Superior Chippewa.
The PUC issued its approval on Thursday. The Fond du Lac Band had asked pipeline operator Enbridge Energy to replace the section of above-ground pipe that crosses its reservation near Cloquet, Minn., with a new, underground line.
In a letter of support to the PUC earlier this year, Fond du Lac Chairman Kevin Dupuis Sr. said the pipeline has disrupted natural water flow across the reservation, affected wildlife crossings and "band members' ability to access areas where they gather medicinal plants and other culturally important resources."
The $100 million project represents a "total collaboration" between the Fond du Lac Band and Enbridge, attorney Sara Van Norman, who represents the Band, told the commission before its five members approved a route permit for the new pipeline.
Line 4 is one of five pipelines operated by Enbridge that together carry more than 2.5 million barrels of crude oil every day from Alberta, Canada, across northern Minnesota.
It's located in a corridor of pipelines that also includes Line 3. Last summer, the PUC approved a project to replace Line 3 in its entirety across Minnesota.
The line is badly corroding and requires regular maintenance, and can only be operated at about half capacity.
But a diverse coalition of environmental and tribal groups as well as several tribal governments has vehemently fought the pipeline, arguing it exacerbates global climate change, risks fouling the pristine lakes and rivers of northern Minnesota, and impedes on land where Native Americans have the right to hunt, fish and gather.
The Minnesota Department of Commerce also weighed in against the project, arguing the state doesn't need the additional oil the pipeline would carry.
The Fond du Lac Band initially fought the Line 3 proposal. But after the commission approved it, the Band reached a deal with Enbridge to allow the replacement pipeline to be built in the current pipeline corridor that crosses the reservation.
Enbridge said it plans to begin construction on the 10-mile Line 4 project at the same time that it begins to replace Line 3.
But that project has been delayed by a Minnesota appeals court ruling requiring additional environmental review, to analyze the potential of an oil spill into the Lake Superior watershed.
In a statement, Enbridge called the PUC's approval of Line 4 "a great step forward," and said it "remains committed to working with tribal nations."