Kindergarten center welcomes students for the first day of school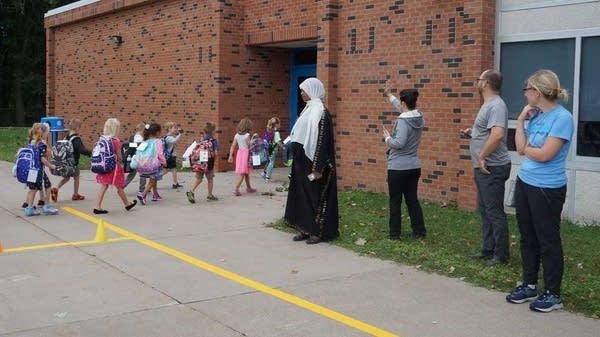 The very first first day of school is a big deal — and potentially overwhelming.
At Snail Lake Kindergarten Center in Shoreview on Tuesday, principal Ryan Lang stood outside with a small army of teachers, staff and volunteers to greet new students.
"We're going to see a wide range of emotions from the kiddos and that's OK. We've been talking with staff," Lang said. "If they're crying, that's OK. Let's meet their needs, let's spend time with them, let's start building a relationship. Many of our kids though are ... bouncing off the walls with excitement."
Most Minnesota kindergartners join a school with students from kindergarten through fifth grade. But the Mounds View district, of which Snail Lake is a part, has a different system. The district gathers all of its kindergartners in one of two early childhood centers.
Lang says this setup allows him to focus his entire building on the youngest learners.
On this first day, his goal is "to make sure that we get everybody in safely into the building — whether from the busing, from our before school program or parent drop-off."
The focus at the start of the year is on basic needs, including a focus on logistics, setting up new routines, making kids feel welcome and getting them used to school .
"Our staff are getting routines up in place, making sure our facilities are warm and welcoming to students and that we get to meet every kid and as soon as possible get to call them by name." he said. "Just so that their first day is as comfortable as possible."