Update on our weekend rain chances
Which Minnesota State Fair was cooler, 2019 or 2009?
Rain isn't naturally attracted to weekends, it just seems that way. Saturday morning rain showers in west-central and southwestern Minnesota, plus parts of central Minnesota, will expand eastward Saturday afternoon and evening. There could even be an isolated thunderstorm, especially in southwestern Minnesota. It still appears that our Twin Cities metro area shower chance will hold off until late Saturday afternoon and Saturday evening.
As always, updated weather information can be heard on the Minnesota Public Radio Network, and you'll also see updated weather info on the MPR News live weather blog. You can see the recent local NWS radar loop here. The northwestern Minnesota radar loop and the northeastern Minnesota radar loop are also available. The recent radar loop for southwestern Minnesota can be found here, and the southeastern Minnesota loop here.
Periods of rain are a good bet over about the southern half of Minnesota and parts of western Wisconsin on Sunday. The National Oceanic and Atmospheric Administration's North American Mesoscale forecast model shows the potential rain pattern Sunday and Sunday evening:
It'll rain in some areas that look dry in the loop, but the loop illustrates the general rain pattern. Check forecast updates.
It looks like much of Minnesota and western Wisconsin will see periods of showers and thunderstorms Monday and Monday night, and also from Wednesday into Thursday.
Temperature trends
Saturday afternoon highs will be in the 60s in many areas, but there could be some upper 50s in far northern Minnesota and a few lower 70s in far southeastern Minnesota and parts of west-central Wisconsin.
Highs in the 60s are expected in most areas on Sunday: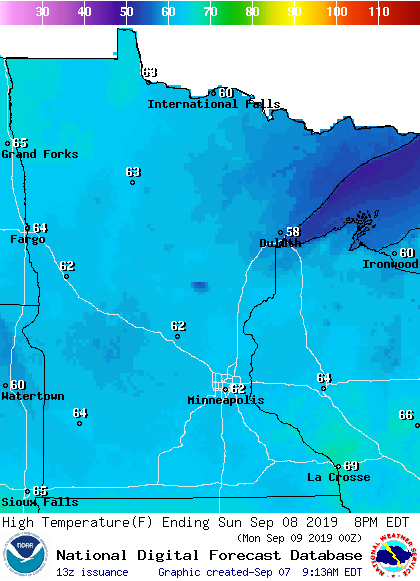 Twin Cities metro area highs are projected to reach around 70 on Monday, followed by 80 or so on Tuesday and mid 70s Wednesday.
Tuesday will be the warmest day of the coming week across much of southern and central Minnesota:
Hurricane Dorian
The center of Hurricane Dorian was 205 miles south-southeast of Eastport, Maine late Saturday morning, and was moving northeastward at 29 mph. The National Hurricane Center shows this forecast track for the center of Hurricane Dorian over the next few days:
According to the Saturday morning update from the National Hurricane Center:
the center of Dorian is expected to move across central or eastern Nova Scotia this afternoon or this evening, pass near or over Prince Edward Island tonight, and then move near or over portions of Newfoundland and Labrador on Sunday.
Cool at the fair
The official Twin Cities high temperature (measured at MSP airport) did not reach 80 degrees or warmer during the 2019 Minnesota State Fair. The warmest day was the first Thursday of the fair, with a high of 77 degrees. The coldest high temp during the 2019 was 71 degrees, on the first Sunday of the fair.
The last time that we didn't see a high temp of 80 degrees or warmer during the Minnesota State Fair was 2009, based on data compiled by the Minnesota State Climatology Office:
Our average Twin Cities high temp during the 2009 Minnesota State Fair was 74.4 degrees. This year we saw an average high temp during the fair of 74.6 degrees.
Of course, we have seen steamy weather at the Minnesota State Fair; there were 6 days with highs in the 90s during the 2013 fair.
Programming note
You can hear my live weather updates on Minnesota Public Radio at 7:49 a.m. Thursdays and Fridays, and at 7:35 a.m., 9:35 a.m. and 4:35 p.m. each Saturday and Sunday.