Summery weather lingers; more 80s to start the week
Shower and thunderstorm chances Tuesday PM and Wednesday
It felt like summer Sunday afternoon! We reached the lower 80s at Minneapolis-St. Paul International Airport on Sunday. It was our first official Twin Cities temp in the 80s since August 20. Our average Twin Cities high is only 72 degrees this time of year.
Summery 80s were widespread across central and southern Minnesota Sunday afternoon, and I'm sure that the warmth had some people thinking about getting out on our lakes and rivers.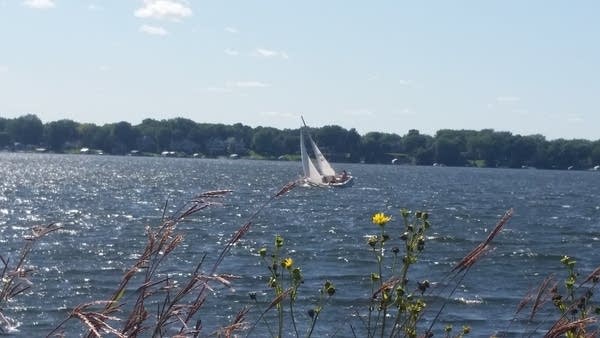 Temperature trends
Most of Minnesota and western Wisconsin will have highs in the 80s on Monday, with some 70s in parts of northeastern Minnesota and northwestern Wisconsin:
Dew points in the upper 60s to lower 70s are expected in much of Minnesota and western Wisconsin Monday afternoon, so it'll feel a bit steamy.
Tuesday will also be be warm in central and southern Minnesota into western Wisconsin. Twin Cities metro area highs are projected to reach the mid 80s Tuesday, followed by lower 80s Wednesday, upper 70s Thursday and around 80 on Friday.
Rain chances
A few spots in eastern Minnesota and western Wis. could see some fog early Monday, and possibly some patchy drizzle to start the day. Monday should be dry in most areas.
Western and northern Minnesota will have a chance of scattered showers and thunderstorms anytime on Tuesday, but the rain chance may hold off until Tuesday afternoon in the Twin Cities. Minnesota and western Wisconsin will have a chance of occasional showers and thunderstorms Tuesday evening and Tuesday night, plus Wednesday.
The National Oceanic and Atmospheric Administration's North American Mesoscale forecast model shows the potential rain pattern Tuesday morning through Wednesday evening:
I'd pay more attention to the intermittent/patchy nature of the rain rather than the exact location of the rain.
As always, updated weather information can be heard on the MPR network, and you'll also see updated weather info on the MPR News live weather blog.
Tropical Storm Humberto
Tropical Storm Humberto continues to move away from the northwestern Bahamas. The National Hurricane Center forecasts this track for the center of Humberto over the next few days:
Here's a portion of the Sunday evening update from the National Hurricane Center:
Humberto is moving toward the north near 6 mph (9 km/h), and this motion is expected to continue through tonight. A sharp turn to the northeast is forecast to occur Monday morning or afternoon, followed by a motion toward the northeast and east-northeast on Tuesday and Wednesday. On the forecast track, the center of Humberto will continue to move away from the Bahamas and remain well offshore of the southeastern coast of the United States through Wednesday. Data from an Air Force Reserve reconnaissance aircraft indicate that maximum sustained winds have increased to near 70 mph (110 km/h) with higher gusts. Further strengthening is expected during the next few days, and Humberto is expected to become a hurricane later tonight.
Bermuda could be affected by Humberto on Wednesday.