A summery Tuesday, with shower and thunderstorm chances in some areas
High temps retreat Wednesday and Thursday
Thunderstorms were dropping heavy rain in parts of Stearns, Benton and Sherburne counties of central Minnesota around mid-morning this Tuesday.
Those thunderstorms could linger into early Tuesday afternoon in parts of north-central and northeastern Minnesota. Elsewhere in Minnesota, plus western Wisconsin, there's a chance of scattered showers and thunderstorms this Tuesday.
Additional showers and thunderstorms are expected to develop over western Minnesota late Tuesday evening and spread eastward overnight Tuesday night into Wednesday morning.
The National Oceanic and Atmospheric Administration's High-Resolution Rapid-Refresh (HRRR) forecast model shows the potential rain pattern Tuesday evening through 7 a.m. Wednesday: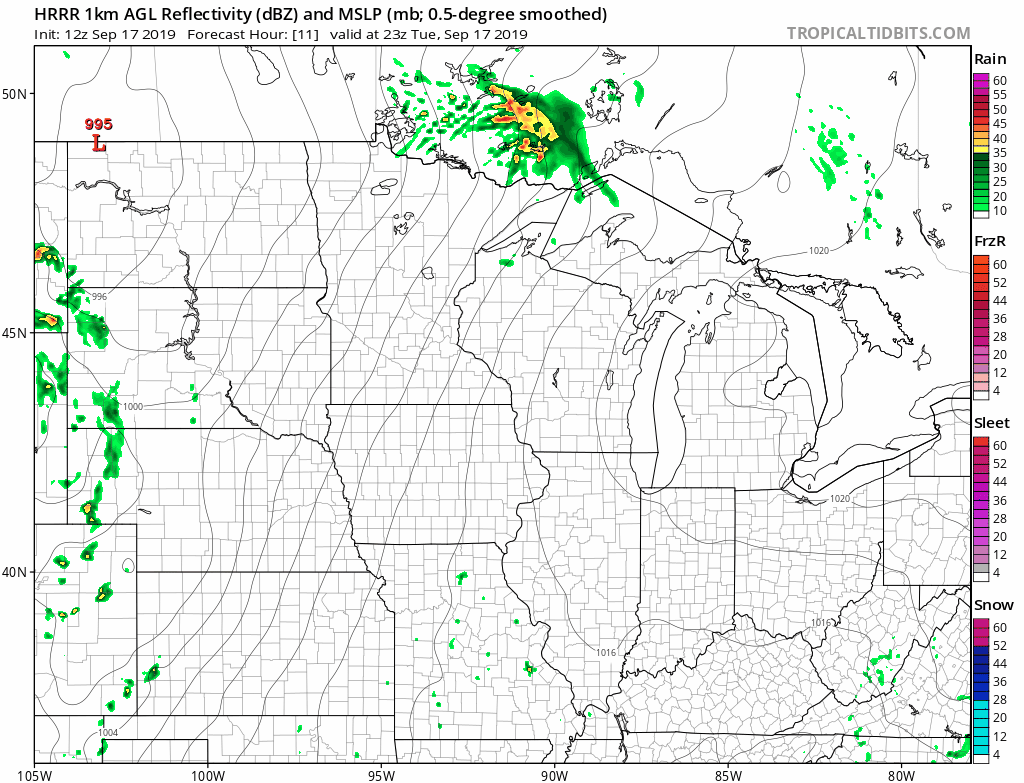 An isolated severe thunderstorm will be possible Tuesday into early Wednesday morning.
The National Weather Service Storm Prediction Center shows a marginal risk of severe weather Tuesday through 7 a.m. Wednesday for much of Minnesota, including the Twin Cities metro area:
The NWS Storm Prediction Center will update the severe weather outlook around midday and around mid-afternoon. As always, updated weather information can be heard on the MPR network, and you'll also see updated weather info on the MPR News live weather blog.
Temperature trends
Much of Minnesota and western Wisconsin will see Tuesday afternoon highs in the 80s, with afternoon dew point temperatures over 70 in parts of central and southern Minnesota. That's unusually steamy weather for September! It'll be breezy Tuesday afternoon and evening.
The Twin Cities metro area will probably reach the mid 80s, but a few spots in the metro could be warmer. Our average Twin Cities high temperature is only 71 degrees this time of year.
Most of Minnesota will see highs in the 70s on Wednesday, with a few lower 80s far south:
Twin Cities highs are projected to reach around 80 Thursday, followed by lower 80s Friday, mid 70s Saturday and around 70 on Sunday.
Hurricane Humberto
Hurricane Humberto could bring heavy rain and strong winds to Bermuda Wednesday and Thursday. The National Hurricane Center forecasts this track for the center of Humberto over the next few days:
Here's a portion of the Tuesday morning update from the National Hurricane Center:
On the forecast track, the center of Humberto is expected to approach Bermuda Wednesday night. Data from the Hurricane Hunters aircraft indicate that maximum sustained winds have increased to near 100 mph (160 km/h) with higher gusts.

Additional strengthening is forecast during the next 36 hours, and Humberto is expected to become a major hurricane by tonight or Wednesday morning.

Hurricane-force winds extend outward up to 30 miles (45 km) from the center and tropical-storm-force winds extend outward up to 150 miles (240 km).
The National Hurricane Center will issue Humberto updates every three hours or so.