A summery Thursday; fall colors are popping in northern Minnesota
Sunday looks like the best day of the weekend
What a difference one week makes! Last week we had three days with highs in the 60s in the Twin Cities metro area. Today will be our fifth consecutive day with highs in the 80s in the Twin Cities. It will be dry across most of Minnesota, but parts of far southeastern Minnesota are dealing with flooding rains this Thursday morning.
Southeastern Minnesota rain and flooding
A flash flood watch continues until noon this Thursday in Mower, Fillmore and Houston counties of far southeastern Minnesota. Flash flood watches are also in effect for portions of Iowa and southwestern Wisconsin. A flash flood warning is in effect until 10 a.m. this Thursday for the southern part of Fillmore county, including Harmony, Minnesota. There were reports of around 5 inches of rain overnight in that area. Updates on flash flood watches and warnings are available from the La Crosse, Wis. National Weather Service office.
As always, updated weather information can be heard on the MPR network, and you'll also see updated weather info on the MPR News live weather blog.
Rain chances this weekend
Minnesota and western Wisconsin could see scattered showers and thunderstorms Friday and Friday night. Some strong to severe thunderstorms are possible late Friday and overnight Friday night, especially in western Minnesota.
The National Weather Service Storm Prediction Center shows a slight risk of severe weather Friday and Friday night in portions of west-central and northwestern Minnesota and a marginal risk of severe weather to the east and south:
Slight risk means that scattered severe thunderstorms are possible, while marginal risk indicates that an isolated severe storm is possible.
Most of Minnesota and western Wisconsin will probably see some off and on showers and thunderstorms on Saturday. The National Oceanic and Atmospheric Administration's North American Mesoscale forecast model shows the potential rain pattern Saturday and Saturday night:
Sunday looks dry in southern Minnesota, with a shower/isolated thunderstorm chance in northern Minnesota. Check forecast updates.
Temperature trends
Our average Twin Cities high temperature is only 70 degrees this time of year. We're shooting for lower 80s Thursday afternoon. Lower 80s are expected for most of the southern half of Minnesota plus west-central Wisconsin. Northern Minnesota will see a lot of 70s.
Friday highs will reach the lower 80s in southern and central Minnesota, with 70s north:
Saturday highs will be mainly in the 70s:
Sunday will feature highs in the 70s south, with 60s to the north:
Metro area highs are projected to reach the lower 70s next Monday and Tuesday.
Fall colors
The Minnesota Department of Natural Resources has issued a fall color report that shows some areas of substantial fall color in northern Minnesota:
Keep in mind that the fall color report includes all deciduous trees, not just maples. The brilliant fall colors will expand across the remainder of Minnesota in the next couple of weeks.
Tropical storm Jerry nears hurricane strength
Tropical storm Jerry is expected to become a hurricane today. The National Hurricane Center forecasts this track for the center of Jerry over the next few days: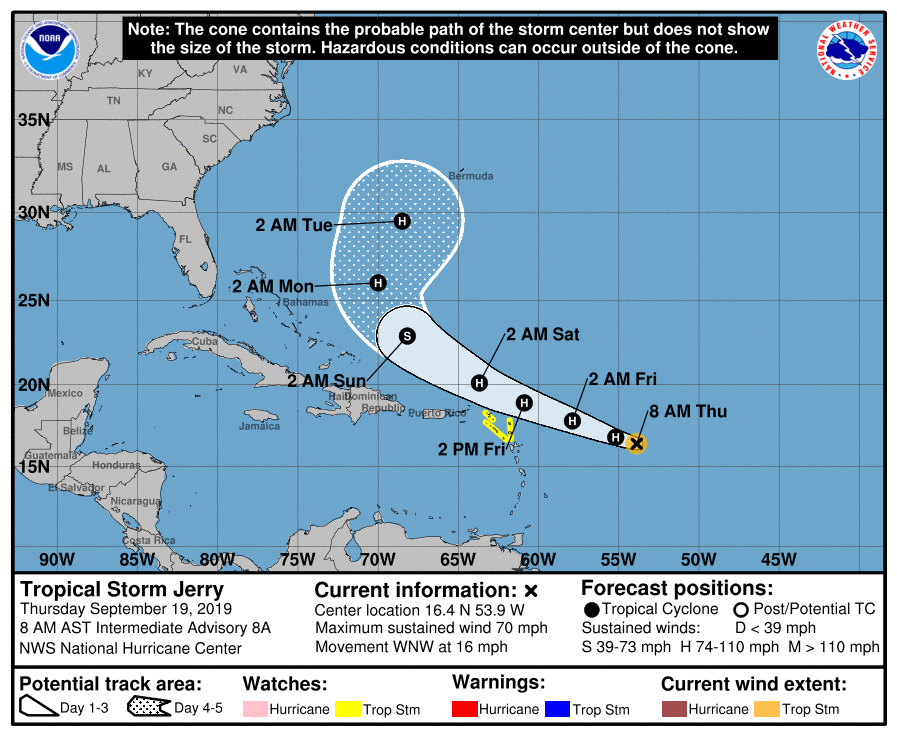 Here's a portion of the Thursday morning update from the National Hurricane Center:
On the forecast track, the center of Jerry will be near or north of the northern Leeward Islands Friday and pass north of Puerto Rico on Saturday. Maximum sustained winds remain near 70 mph (110 km/h) with higher gusts. Jerry is forecast to become a hurricane later today, with little change in strength anticipated on Friday or Saturday. Tropical-storm-force winds extend outward up to 45 miles (75 km) from the center.
Programming note
You can hear my live weather updates on Minnesota Public Radio at 7:49 a.m. Thursdays and Fridays and at 7:35 a.m., 9:35 a.m. and 4:35 p.m. each Saturday and Sunday.