Off and on showers and thunderstorms for Saturday; a severe t-storm is possible
Breezy and cooler Sunday
Minnesota and western Wisconsin will see some off and on showers and thunderstorms as we go through Saturday and Saturday evening. Some spots could see a severe thunderstorm.
The National Weather Service Storm Prediction Center shows a slight risk of severe weather Saturday and Saturday night for the northern half of the Twin Cities metro area plus much of central and northern Minnesota and northwestern Wisconsin. There's a marginal risk of severe weather elsewhere in Minnesota and Wisconsin:
Slight risk means that scattered severe thunderstorms are possible, while marginal risk indicates that an isolated severe storm is possible. The Storm Prediction Center will update the severe weather outlook late Saturday morning and around mid-afternoon.
Updated weather information can be heard on the MPR network, and you'll also see updated weather info on the MPR News live weather blog.
Temperature trends
Saturday highs will be mainly in the 70s across Minnesota and western Wisconsin, but a few spots in far southern Minnesota could top 80.
Sunday highs will be mainly in the 60s, with a shot at 70 in the Twin Cities and southern Minnesota: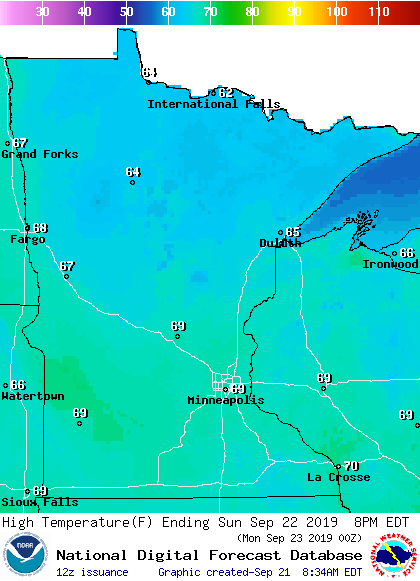 Astronomical autumn begins on Monday, and we'll have pleasant temperatures. Highs will range from the upper 70s in southwestern Minnesota to the upper 60s northeast:
Twin Cities metro area highs are projected to reach the mid 70s Tuesday, followed by upper 60s Wednesday,Thursday and Friday.
How wet has it been?
Precipitation totals from Jan. 1 through Sept. 19 had exceeded our annual averages across much of central and southern Minnesota and much of Wisconsin:
Precipitation includes rain plus the water content of our snowfalls. For example, ten inches of snow might yield one inch of water.
Fall colors
The Minnesota Department of Natural Resources has issued a fall color report that shows several areas of substantial fall color in northern Minnesota:
Keep in mind that the fall color report includes all deciduous trees, not just maples. The brilliant fall colors will expand across the remainder of Minnesota in the next couple of weeks.
Hurricane Lorena
Hurricane Lorena will affect northwestern portions of Mexico this weekend. The National Hurricane Center forecasts this track for the center of Lorena over the next few days:
Here's a portion of the Saturday morning update from the National Hurricane Center:
A general motion toward the north-northwest is expected during the next couple of days. On the forecast track, the center of Lorena is expected to move along the east coast of Baja California Sur or over the Gulf of California today, then approach the northwestern coast of mainland Mexico tonight and Sunday. Maximum sustained winds remain near 75 mph (120 km/h) with higher gusts. Little change in strength is expected through tonight. After that time, Lorena is forecast to weaken.
Programming note
You can hear my live weather updates on Minnesota Public Radio at 7:49 a.m. Thursdays and Fridays and at 7:35 a.m., 9:35 a.m. and 4:35 p.m. each Saturday and Sunday.