Bodycam video shows St. Paul officer shoot, kill man who ran at him with knife
Updated: 5:33 p.m.
St. Paul police on Tuesday released body camera video from the fatal police shooting of a Little Canada man last week that shows the man coming at the officer with a knife.
The video of the confrontation shows Ronald Davis, 31, with a knife in his right hand. Officer Steven Mattson appears to backpedal as Davis appears to go after him, with Mattson at one point apparently falling down.
In the video, he yells for Davis to get away and put down the knife; then he fires. Davis falls and the officer calls for medical attention.
Chief Todd Axtell said he wanted to release the video to correct misinformation about the incident he said was spreading across St. Paul.
Mattson had "no choice but to defend himself against an immediate and violent threat," an angry Axtell told reporters.
Without naming anyone, Axtell reproached those who've made "irresponsible accusations of murder" and "calculated cries of injustice" and said he could not sleep "knowing that a good officer, and all of our officers, are being assailed by people who don't have the facts."
MPR News is Reader Funded
Before you keep reading, take a moment to donate to MPR News. Your financial support ensures that factual and trusted news and context remain accessible to all.
Axtell said his heart went out to the Davis family and that police need to take responsibility when they're wrong — but this wasn't one of those times.
Hours later, Mayor Melvin Carter said he'd viewed the video and concluded there was nothing else Mattson could have done.
Calling it an "incredibly dangerous and scary event," Carter, the son of a retired St. Paul police officer, said he saw Mattson in the video defending himself while retreating. "I can't see anything else we would have expected him to do."
Carter added that it was up to the Ramsey County Attorney's Office ultimately to decide whether the officer's use of deadly force was justified.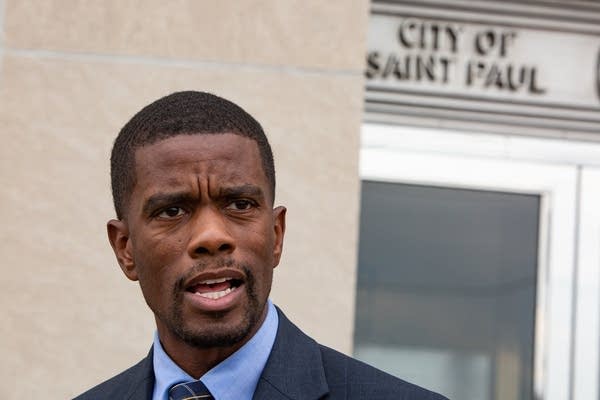 Activists against police violence, however, said they're not satisfied with the release of the body-camera footage. The Anti-Police Brutality Coalition said it's not clear from the limited video whether Mattson could have used non-lethal force. The group calls for all the bodycam video to be released, as well as all investigative materials.
The shooting happened shortly before 6 p.m. on Sept. 15 in the Hamline-Midway neighborhood of St. Paul, according to police. The Minnesota Bureau of Criminal Apprehension said a car driven by Davis rear-ended Mattson's squad car.
When Mattson got out of the squad, the BCA said Davis confronted the officer with a knife. After Davis ignored Mattson's commands to drop the knife, the officer shot Davis, according to the BCA.
Davis was declared dead at the scene. The officer wasn't injured.
The BCA is investigating the shooting. Mattson, who has been with St. Paul police for less than a year, has been on standard paid leave.
Axtell vowed last week to release the video after the most important parts of the investigation into the shooting finished.
In the past, video evidence of fatal shooting by police officers has usually been released only after an investigation has concluded and prosecutors have decided whether to file charges against involved officers.
But community members have pressured departments to release video evidence more promptly.
Last year, St. Paul released video of the fatal shooting of William Hughes before county attorneys decided not to charge the involved officers.
Davis was the 10th person shot and killed by Minnesota police officers this year. Several protesters marched through the Midway neighborhood Sunday to protest police shootings.
The video below contains the body camera footage.
The Associated Press contributed to this story.
Warning: This video contains violence and profanity