A breezy Sunday, with a chance of flakes and sprinkles; recap of our snow totals
Warmer temps in the forecast this week
Snow totals were still coming in on Saturday from North Dakota, where the snow began on Thursday. We have a few Minnesota snow totals as of Saturday afternoon, with more reports expected by Sunday morning.
You can go here to create a 72 hour snowfall map that looks something like this:
Just move the slider in the top left of the NWS site to 72 hours if you want to include reports that go back to Thursday. You'll have to zoom the image out to get the wide view that's shown above and you can hover over any location on the NWS site for snowfall details. The highest total that I saw was 30 inches near Harvey, North Dakota, where severe drifting was also noted in a tweet on Friday.
Minnesota snow reports through Saturday afternoon included 5 inches just north of Lutsen, and 9 inches of snow midway up the Gunflint Trail in Cook county. Parts of northeastern Minnesota could see another couple of inches of snow Saturday evening, and a winter weather advisory was continued through Saturday evening up there:
Updates on the northeastern Minnesota snow and advisories can be found here.
The National Oceanic and Atmospheric Administration's North American Mesoscale forecast model shows the potential precipitation pattern from Saturday evening through Sunday: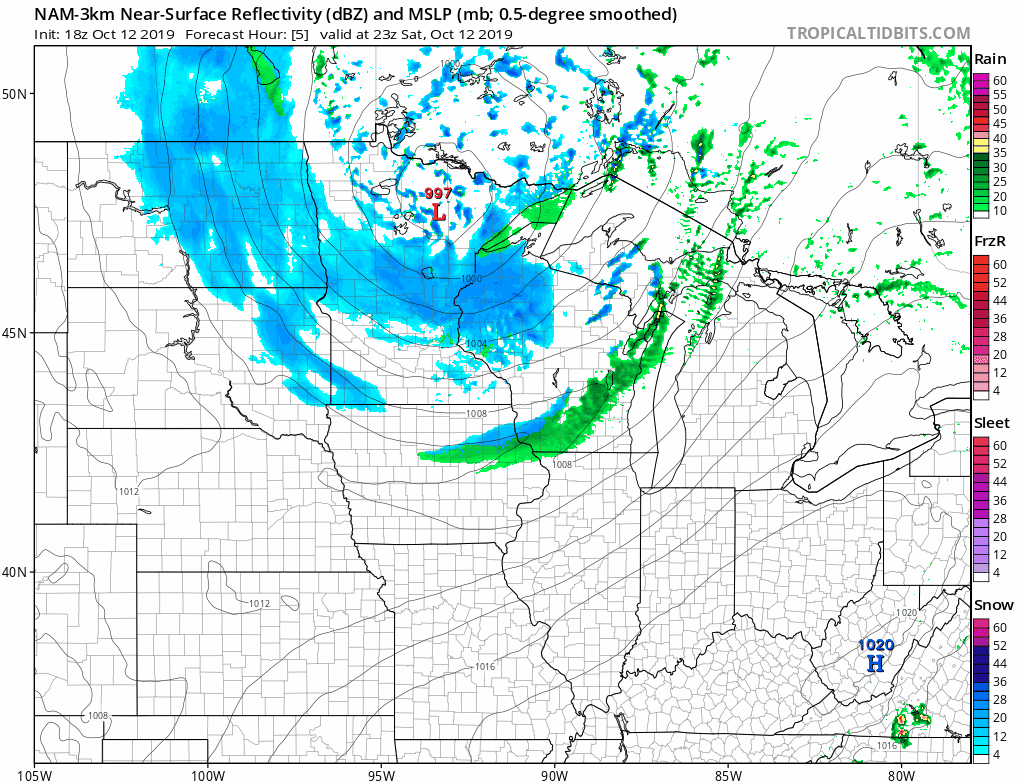 A mixture of rain showers and snow showers is expected Saturday evening and overnight in central and southern Minnesota and western Wisconsin, with mainly snow showers to the north. By Sunday, scattered morning snow showers or flurries could be followed by scattered sprinkles in the afternoon.
Updated weather information can be heard on the MPR network, and you'll also see updated weather info on the MPR News live weather blog.
Temperature trends
Highs Sunday will be mainly in the upper 30s to lower 40s:
As a reference point, our average high is 60 degrees in the Twin Cities metro area this time of year. Twin Cities highs are projected to reach the upper 40s Monday and Tuesday, then around 50 Wednesday, followed by upper 50s Thursday and lower 60s on Friday.
Fall color update
If you still plan on doing some leaf-peeping, here's the latest fall color report from the Minnesota Department of Natural Resources:
Keep in mind that the fall color report includes all deciduous trees, not just maples. A Wisconsin fall color report is also available.
Programming note
You can hear my live weather updates on Minnesota Public Radio at 7:49 a.m. Thursdays and Fridays and at 7:35 a.m., 9:35 a.m. and 4:35 p.m. each Saturday and Sunday.