Flakes were followed by a nice warm-up last October, will we do it again?
Shower chances on two of the next five days
Sunday afternoon was interesting. We had rain showers at times, sandwiched between some brief glimpses of sunshine.
This glimpse of sun and distant showers occurred Sunday afternoon along East River Road in St. Paul:
There's still some good fall color in many parts of Minnesota, according to the weekend fall color report from the Minnesota Department of Natural Resources:
Keep in mind that the fall color report includes all deciduous trees, not just maples. A Wisconsin fall color report is also available.
Temperature trends
Monday highs will be mainly in the 40s across northern and central Minnesota, with some lower 50s in the south. Some spots in the Twin Cities metro area will touch 50 degrees, which is about nine degrees shy of our average high on October 14.
Highs in the 40s will be common on Tuesday: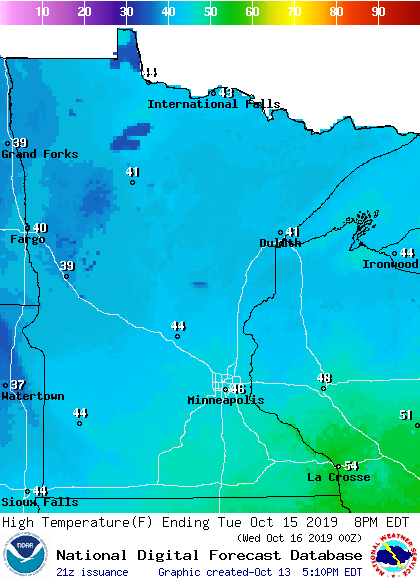 Temps rebound nicely after Tuesday. Twin Cities metro area highs are projected to reach 50 degrees on Wednesday, followed by upper 50s Thursday and lower 60s on Friday. An early look at next weekend shows highs in the 60s both days…check back on that.
October 2018 replay?
Do you think that you've seen this sequence of snowflakes, followed by a mild temperatures, before? On October 14, 2018 the Twin Cities high temperature was 42 degrees, and light snow covered the grass in many spots. Four days later the official Twin Cities high was 72 degrees, and we hit 65 the following day.
Rain and snow for some on Tuesday
We'll probably see some off and on rain showers on Tuesday, with a mix of rain and snow in northern Minnesota and northwestern Wisconsin.
The National Oceanic and Atmospheric Administration's North American Mesoscale forecast model shows the potential precipitation pattern Tuesday and Tuesday evening:
Wednesday and Thursday look dry at this point, with a shower chance returning late on Friday. Listen for updated weather information on the MPR network, and you'll also see updated weather info on the MPR News live weather blog.
I hope that you have a nice week!