Many areas reach the 60s Sunday afternoon, with a late-day shower chance
Rainy on Monday, as cooler air moves in
The temperature at Minneapolis-St. Paul International Airport hit 67 degrees Saturday afternoon. It felt great, and it was ten degrees warmer than our average Twin Cities Oct. 19 high of 57 degrees. It was also 28 degrees warmer than our 39 degree high temp in the Twin Cities the previous Saturday!
Temperature trends
Sunday highs will reach the 50s across roughly the northwestern half of Minnesota, with 60s elsewhere in Minnesota and across much of western Wisconsin. We're shooting for Twin Cities highs in the mid 60s.
Cooler high temps are expected in most areas on Monday: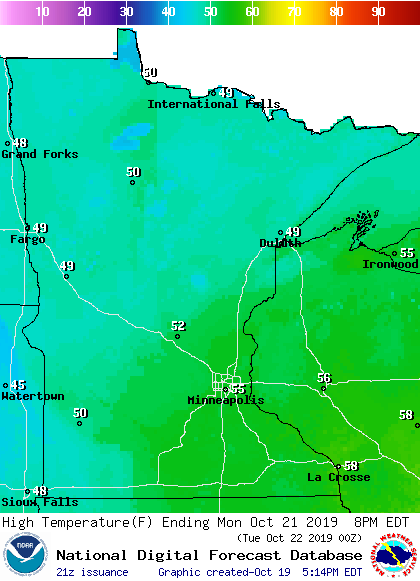 Twin Cities metro area highs are projected to reach the mid 50s on Monday, followed by highs in the 40s Tuesday through Friday.
The Climate Prediction Center of the National Weather Service shows a tendency toward cooler than normal temperatures in Minnesota and western Wisconsin next weekend into the following week:
We'll see if that changes.
Rain chance late Sunday
Western Minnesota will have a chance of showers Sunday afternoon, and those showers will tend to spread eastward late Sunday afternoon and Sunday evening. Our shower chance in the Twin Cities will tend to be mainly after sunset on Sunday. Periods of rain are likely in Minnesota and western Wisconsin overnight Sunday night and on Monday, with an isolated t-storm also possible.
The National Oceanic and Atmospheric Administration's North American Mesoscale (NAM) forecast model shows the potential precipitation pattern from Sunday morning through Monday evening: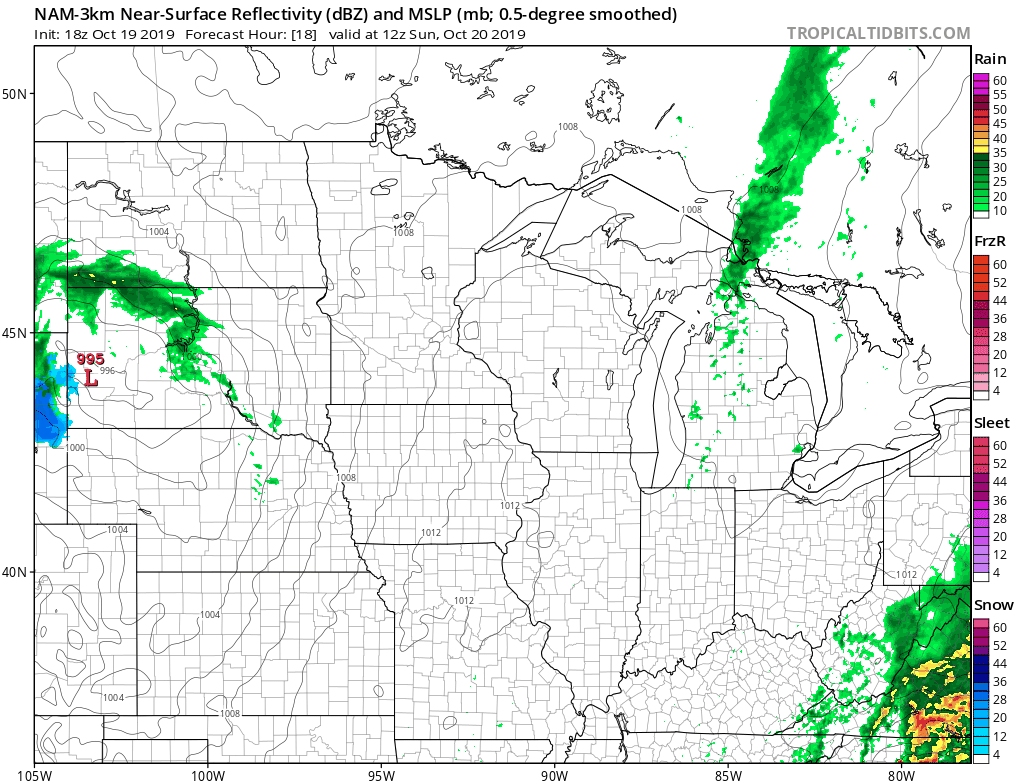 Listen for updated weather information on the MPR network, and you'll also see updated weather info on the MPR News live weather blog.
Flooding along the Red River
Flood warnings continue for many North Dakota and Minnesota counties that border the Red River:
You can get flood warning details by clicking on the map at the NWS Grand Forks, N.D., site.
Hydrographs of recent and forecast river levels can be found here. The Saturday evening hydrograph for East Grand Forks, Minnesota shows that the Red River will slowly fall over the next couple of days:
Fall color update
There's still some great fall color in portions of central and southern Minnesota, according to the latest fall color report from the Minnesota Department of Natural Resources:
Keep in mind that the fall color report includes all deciduous trees, not just maples. A Wisconsin fall color report is also available.
Programming note
You can hear my live weather updates on Minnesota Public Radio at 7:49 a.m. Thursdays and Fridays and at 7:35 a.m., 9:35 a.m. and 4:35 p.m. each Saturday and Sunday.