Mild Saturday temps, with PM rain/snow chances; colder on Sunday
Record cold on Monday?
This will be the mildest day of the weekend. I'll bet that Minnesota Gopher football fans and players appreciate this thaw, as do leaf-rakers all across Minnesota. Our average Twin Cities high temperature is 45 degrees this time of year. We'll probably top out in the lower 40s this Saturday afternoon, which will be our warmest temp since last Sunday. Roughly the southern third of Minnesota, plus much of western Wisconsin, will reach the 40s this Saturday, with highs mainly in the 30s across central and northern Minnesota plus northwestern Wisconsin.
Temperature trends
Sunday highs will be mainly in the 20s, with some upper teens in northwestern and north-central Minnesota:
There will probably a few lower 30s in southeastern Minnesota early on Sunday, with temps dropping into the 20s.
Monday highs will be in the teens in many locations: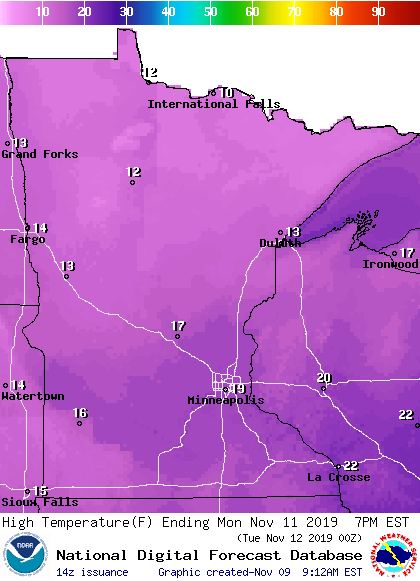 The coldest high temperature ever recorded in the Twin Cities on Nov. 11 was 18 degrees, back in 1986:
We'll be close to that mark, possibly missing a record cold high temp by a degree or two if temps are still above 18 degrees at around 1 a.m. on Monday. High temps can happen any time during the calendar day, not just during the daylight hours. Low temps could dip to the single digits early Tuesday morning in the Twin Cities.
Twin Cities metro area highs are projected to reach around 20 on Tuesday, followed by upper 20s Wednesday and lower 30s Thursday.
Rain and snow chances
Rain and snow are expected to move into parts of west-central and northwestern Minnesota Saturday afternoon, then spread eastward. The National Oceanic and Atmospheric Administration's North American Mesoscale (NAM) forecast model shows the potential precipitation pattern Saturday afternoon through Saturday evening:
It'll probably rain and snow in some areas that look dry in the NAM model, but the loop illustrates the general precipitation pattern. The Twin Cities metro area could see some rain showers starting around mid-afternoon this Saturday, which could mix with some flakes by late afternoon and transition to light snow at some point Saturday evening.
Listen for updated weather information on the MPR network, and you'll also see updated weather info on the MPR News live weather blog.
Programming note
You can hear my live weather updates on Minnesota Public Radio at 7:49 a.m. Thursdays and Fridays and at 7:35 a.m., 9:35 a.m. and 4:35 p.m. each Saturday and Sunday.