Frigid Tuesday; light snow for Wednesday as temperatures begin to moderate
The weather word for Tuesday is "frigid."
Sprawling Arctic high pressure is bringing unseasonably cold weather to much of the U.S. east of the Rocky Mountains.
Temperatures across Minnesota fall mostly into the single digits above and below zero by Tuesday's sunrise. Cook, in north-central Minnesota, reported 15 below at 7 a.m.
Afternoon highs will be mainly in the teens in eastern Minnesota to mid-20s in western parts of the state where southerly winds will do a little warming.
The Twin Cities should have a high near 20 on a day when the average high temperature is 43. Winds will be light this morning and then increase to 10-20 mph from the south.
Cold sunshine will give way to increasing clouds from the northwest as Tuesday progresses.
Alberta clipper for Wednesday
A weak Alberta clipper weather system will bring light snow to Minnesota beginning Tuesday night in the northwest and then spreading southeast on Wednesday.
Most of Minnesota should pick up a thin layer of light, fluffy snow. Accumulations are likely to be an inch or less for most of the state. Some accumulations of one to two inches are possible from eastern Minnesota into Wisconsin.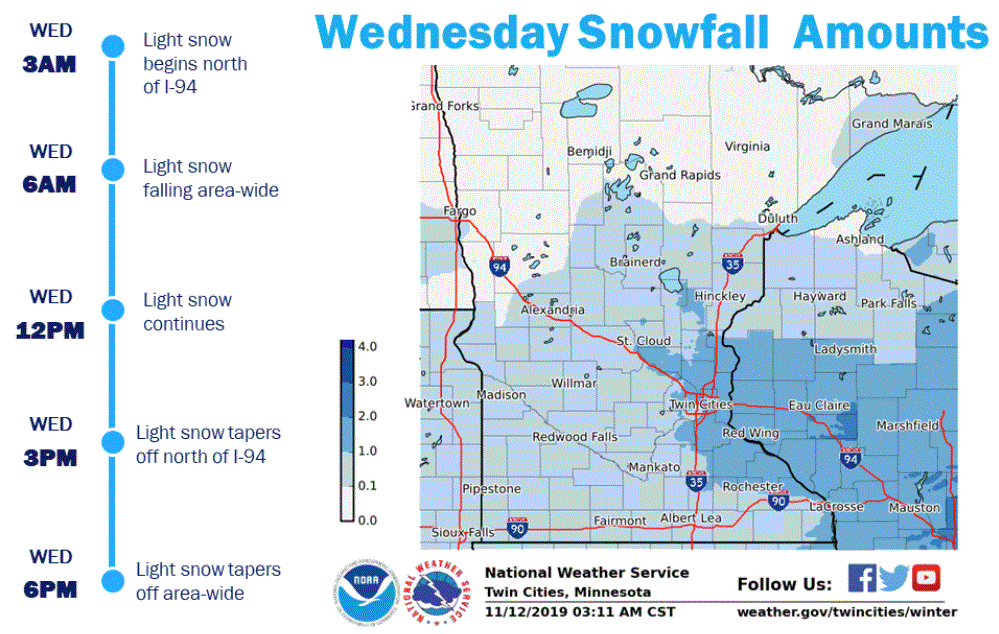 Now some good news
Tuesday is likely to be our coldest day for at least the next week. And no major storms are brewing for our near future.
Highs on Wednesday should range from the low 20s in the north to the low 30s in southwestern Minnesota.
Thursday will see the cold high pressure blanketing the middle of the country continuing to moderate.
We should be able to enjoy near-normal high temperatures by the weekend. That's courtesy of the air warming gradually and the average high temperatures continuing to slide as winter approaches. The Twin Cities could easily have highs near 40 on both Saturday and Sunday.
Weekend precipitation
Another Alberta clipper is likely to target us with rather light precipitation over the weekend. Milder temperatures could bring us a mix of rain and snow for Saturday and Saturday night.
Milder next week
We should be able to shed our winter coats and return to fall fashions next week. The temperature probability outlook for next Sunday through Thursday is for the likelihood of warmer than normal temperatures for our part of the country.