Winter storm brings wintry mix, heavy snow and strong winds
Blizzard warning continues in Duluth through Sunday morning
Our overnight snowfall was 2.3 inches at Minneapolis-St. Paul International Airport. There's more snow on the way, and a wintry mix too.
A low pressure system will move slowly across Nebraska, Iowa and far northern Illinois this weekend, spinning plenty of moisture over Minnesota and Wisconsin. The heaviest snow will be in northern and central Minnesota and northern Wisconsin, with lower snow amounts plus a wintry mix at times in the south.
The National Oceanic and Atmospheric Administration's North American Mesoscale (NAM) forecast model shows the potential precipitation pattern from Saturday afternoon through Sunday afternoon:
Here are forecast additional snow amounts this weekend:
Some double-digit snow totals are expected in central Minnesota, portions of northern Minnesota, plus northern Wisconsin.
Additional weekend snow amounts of around 4-to-8 inches are possible in the Twin Cities metro area, with the bulk of the snow Saturday evening and overnight Saturday night. The lowest additional snow totals are expected in the far south metro, with the highest totals in the far north.
The Twin Cities metro area will have periods of snow, sleet, light freezing rain and rain today, transitioning to mostly snow tonight and continuing as snow into early Sunday. We might even see some lightning and hear a few rumbles of thunder today.
Sleet happens when frozen precipitation melts in a shallow warm layer aloft, then refreezes before reaching the ground::
Freezing rain happens when rain hits a cold surface.
Warnings and advisories
Winter storm warnings continue this Saturday through noon on Sunday for most of the Twin Cities metro area, plus central and northern Minnesota and parts of west-central and northwestern Wisconsin:
A winter weather advisory for lesser snow amounts and a wintry mix covers Scott and Dakota counties of the south metro, plus southern Minnesota.
Blizzard warnings continue in Duluth and surrounding areas, with winter storm warnings across the rest of the north:
Winds were already gusting over 45 mph in Duluth Saturday morning, and impressive waves were visible on the Harbor Cam atop the Lake Superior Maritime Visitor Center in Duluth.
The snow will become heavier in the blizzard warning area as we go through Saturday afternoon and into Saturday night:
Winter storm warnings are in effect today through noon on Sunday across much of northwestern Minnesota:
Updated weather information on the MPR network, and you'll also see updated weather info on the MPR News live weather blog.
If you have travel plans this weekend, you can check Minnesota road conditions and Wisconsin road conditions.
Temperature trends
Temperatures won't move much Saturday afternoon, then they will fall Saturday evening. Sunday highs reach the 20s in many areas, with 30s in the Twin Cities and points south and east:
Highs in the 20s will be widespread on Monday: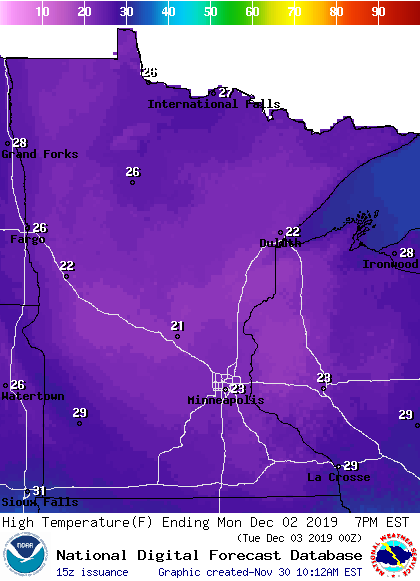 Twin Cities metro area highs rebound into the lower 30s for Tuesday and Wednesday.
Programming note
You can hear my live weather updates on Minnesota Public Radio at 7:35 a.m., 9:35 a.m. and 4:35 p.m. each Saturday and Sunday.