Snow totals from around Minnesota
Updated: 8:15 p.m.
Snowfall reports from Minnesota, western Wisconsin and eastern North Dakota through 8 p.m. Sunday, reported by weather observers and relayed by the National Weather Service.
Light snow was still falling in parts of the state, so these may not be final snow totals. The wind may have caused deeper snowdrifts in some locations.
Find more storm coverage here.
31 inches - Washburn, Wis.

26 inches - Cornucopia, Wis.

24 inches - Herbster, Wis.

23.5 inches - Duluth (Lester Park)

23.3 inches - Holyoke

22 inches - Duluth (Gary-New Duluth)

21.7 inches - Duluth airport

21.5 inches - Blueberry, Wis.

21 inches - Castle Danger

20.8 inches - Two Harbors (7 miles N)

20 inches - Madeline Island, Wis.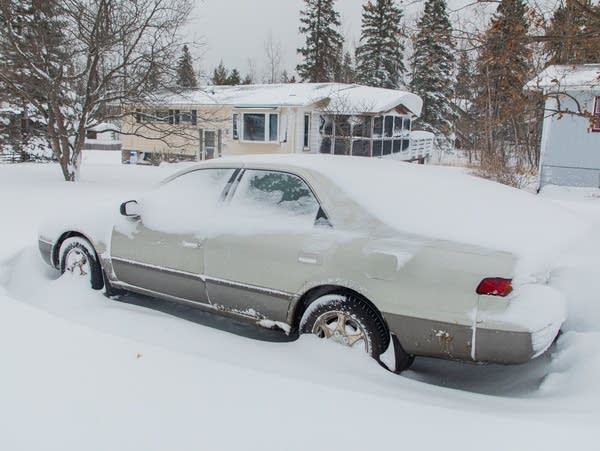 19.9 inches - Mahtowa

19.5 inches - Cloquet

18.2 inches - Libby; Maple, Wis.

18 inches - Saginaw

17.9 inches - Ashland, Wis.

17 inches - Rice Lake, Minn.

15.2 inches - Moose Lake, Breezy Point

15 inches - Fredenberg, Wright

14.8 inches - Kettle River

14 inches - Emily, Tamarac

13.8 inches - Sebeka

13.2 inches - Alexandria

13.1 inches - Brainerd

13 inches - Hinckley, St. Mathias

12.5 inches - Casselton, N.D.

12 inches - Verndale, Pine River, Park Rapids, Hendrum

11.1 inches - Brimson

11 inches - Motley, Menahga, Britt

10.5 inches - Detroit Lakes, Bigfork, Browerville

10.2 inches - Silver Bay

10 inches - Little Falls, Fergus Falls, Lake Park, Payne; Walcott, N.D.

9.5 inches - Chisholm; Grand Forks, N.D.

9.3 inches - Keewatin; Fargo, N.D.

9.2 inches - Malmo, Zemple

9.1 inches - Deer Creek

8 inches - Babbitt, Becida, Dunvilla, Celina

7.5 inches - Pelican Rapids, Bemidji, Round Prairie

7.4 inches - Walker, Cass Lake

7.2 inches - Marcell, Lavinia

7 inches - Ely, Northome, Upsala

6.7 inches - Chanhassen

6.5 inches - La Prairie, Nisswa; Grantsburg, Wis.

6.4 inches - Oak Grove

6 inches - Thief River Falls, Bagley, Cohasset, Coleraine, Parkers Prairie, Ottertail Lake, Osage

5.5 inches - Maple Grove, Bowlus, Embarrass

5 inches - Cook, Foley

4.6 inches - Minneapolis-St. Paul International Airport

4 inches - Iron Junction

3 inches - Marshall

1 inch - Rochester