Balmy temps through Christmas Day; wintry mix likely north late Wednesday into Thursday
Winter storm possible this weekend
A sluggish weather pattern will allow our very mild temperatures to hang around through at least Christmas Day before backing off a bit.
Meanwhile, widespread low clouds and temperatures fluctuating above and below freezing will bring us a scattering of light precipitation, some in the form of liquid drizzle and some as freezing drizzle or light snow.
Mild Tuesday
Tuesday morning has been starting out with temperatures running a good 20 degrees higher than normal for much of Minnesota. Expect afternoon high temperatures in the 30s for most of the state. The chilliest readings will be 20s in the northwest corner while the southeast will warm into the low 40s. The Twin Cities should have a cloudy high temperature of near 40 with a light southeast breeze.
Balmy Christmas Day
Mild temperatures will continue for Christmas Day. Highs should again reach the 30s for most of Minnesota. Low 40s are likely for the southeast again. The Twin Cities should flirt with 40 during the afternoon.
A bit of atmospheric oomph is likely to kick off some light precipitation from Wednesday into Thursday.
Patchy drizzle or light rain could break out in southern Minnesota on Christmas Day. Some freezing drizzle and light snow is likely in the north beginning later in the day and continuing into Thursday.
Accumulations of 1 to 3 inches of snow are possible for parts of northern Minnesota, especially in the northwest, by Thursday. Light icing from freezing drizzle could also cause some travel issues.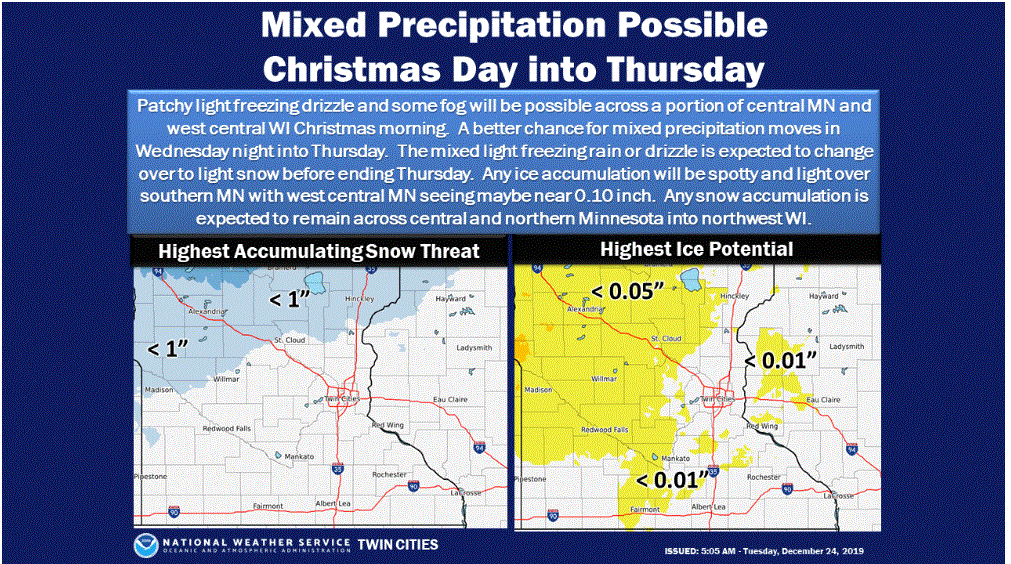 Weekend storm?
The outlook for next weekend is a huge question mark. Travel across parts of Minnesota might become a major problem due to a winter storm likely to form over the Southern Plains later this week.
While I think that a significant winter storm is likely to brew in the Southwest and spread a southwest-to-northeast band of heavy snow toward the Upper Midwest, the location of that band continues to vary from model run to model run.
The latest long-range GFS forecast model is suggesting a rapidly deepening storm system to approach Minnesota on the weekend. If the meteorological factors all come together, that scenario would bring the possibility of near-blizzard conditions to Minnesota later on Saturday and into Sunday. Of course, that is just one model and Saturday is several days away so it is way too soon to take a ride on the blizzard bandwagon. Let's just say that the weather might become interesting later this week.
Upcoming weather systems and especially the weekend storm are likely to drop much rain on warmer areas south and east of Minnesota. The seven-day precipitation outlook through 6 a.m. Dec. 31 forecasts quite a swath of rainy precipitation from New Mexico to the Great Lakes. The San Diego area and parts of Arizona are likely to become soggy as well.
Return to normal next week
Regardless of where the weekend storm tracks, cooler air on its back side should bring temperatures much closer to normal next week. For the Twin Cities area, that means highs in the 20s to firm up our mushy snowpack.