Arctic chill of Saturday eases a bit on Sunday; Sunday P.M. snow chances
Travel will be slow in Milwaukee and Chicago
It was plenty cold in the Twin Cities this morning, but it was much colder up north. The Saturday morning low at Minneapolis-St. Paul International Airport was one below zero. Temps dropped into the 20s below zero across much of the northern third of Minnesota, with a few spots colder that -30, including International Falls, Bemidji, Bigfork and Cook.
Temperature trends
Saturday highs only reach the single digits in western Minnesota, much of northern Minnesota and parts of central Minnesota. I'm expecting highs in the teens in most of the Twin Cities metro area and across much of southeastern Minnesota and western Wisconsin.
Sunday highs reach the teens in northern and central Minnesota, with 20s to the south:
The coming week starts out mild. Twin Cities metro area highs are projected to reach around 30 degrees on Monday. Metro temps fall through the 20s as we go through Tuesday, then we'll see a high of around 20 on Wednesday. Then it gets much colder…the Twin Cities may see a high of only 8 degrees Thursday and 16 degrees on Friday. Our coldest morning will be Thursday morning, with a low in the single digits below zero. I expect Thursday morning low temps in the teens below zero in much of northern Minnesota, with a few 20s below zero.
Snow chances
Lake-effect snow is expected this weekend near Lake Superior: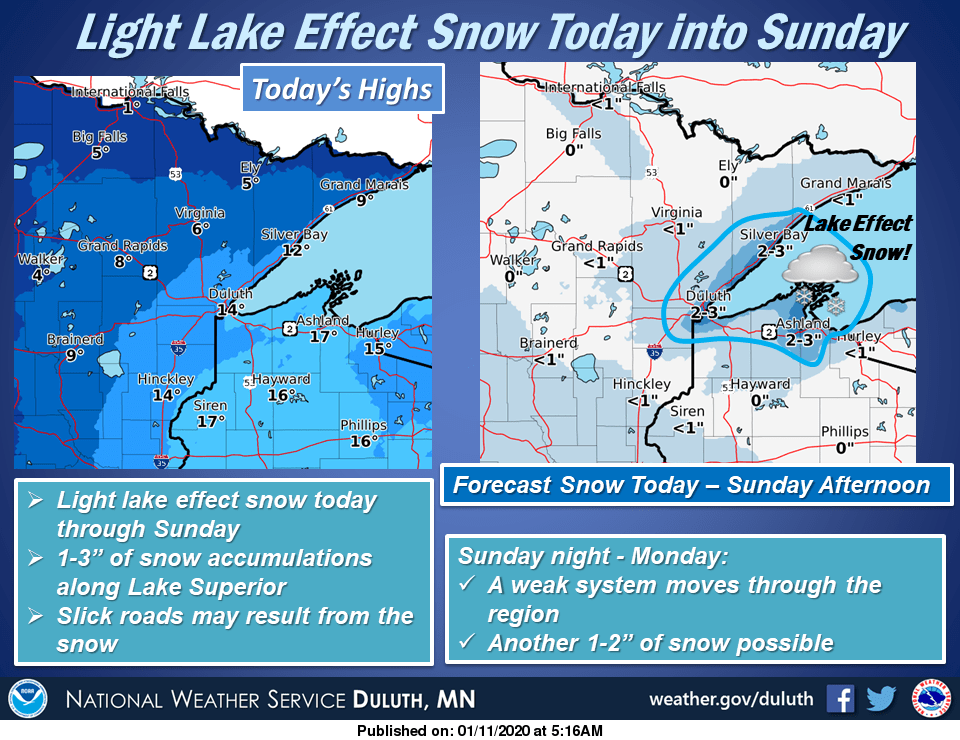 Snow is also expected to spread into Minnesota and western Wisconsin Sunday afternoon and Sunday evening, with periods of snow overnight Sunday night. The National Oceanic and Atmospheric Administration's North American Mesoscale forecast model shows the potential precipitation pattern Saturday evening through Sunday evening:
Notice the wintry mix and snow moving through eastern Iowa and southeastern Wisconsin plus northern Illinois Saturday and Saturday night. If you are planning travel into those areas, here are the winter storm warnings and winter weather advisories that have been issued:
Chicago will see a wintry mix followed by several inches of snow:
You can check with the NWS offices in southeastern Wisconsin and Chicago for updates.
Snow depths
If you plan to play in the great outdoors this weekend, here's the Minnesota snow depth map, courtesy of the Minnesota State Climatology Office and the Minnesota Department of Natural Resources:
You can see that snow cover ranges from near zero in parts of far southeastern Minnesota to over 24 inches in parts of the north. The official Twin Cities snow depth was three inches this Saturday morning.
Most of Minnesota has plenty of snow on the ground for weekend cross-country skiers, sledders and snowboarders. There's enough snow cover for snowmobiling in much of central and northern Minnesota.
You can hear updated weather information on the MPR network, and you'll see updated weather info on the MPR News live weather blog.
Programming note
You can hear my live weather updates on MPR News at 7:35 a.m., 9:35 a.m. and 4:35 p.m. each Saturday and Sunday.