Saturday arctic chill eases a bit on Sunday; snow returns Sunday p.m.
Wind chill advisories west and north Saturday morning
Wind chill advisories cover most of western and northern Minnesota Saturday morning, plus a portion of central Minnesota:
The wind chill advisory in northwestern Minnesota continues until noon, it expires at 9 a.m. elsewhere.
Details of the wind chill advisory:
URGENT - WINTER WEATHER MESSAGE National Weather Service Twin Cities/Chanhassen MN 234 AM CST Sat Jan 11 2020 ...DANGEROUSLY COLD WIND CHILLS INTO SATURDAY MORNING... .Very cold wind chills of 25 below to 30 below zero are expected through mid morning Saturday, generally along and west of a line from Little Falls, to St Cloud, to Redwood Falls. Remember, these wind chills could cause frostbite on exposed skin in as little as 10 minutes. Dress appropriately for the cold. MNZ041>043-047>050-054>058-064-065-073-111500- /O.CON.KMPX.WC.Y.0001.000000T0000Z-200111T1500Z/ Douglas-Todd-Morrison-Stevens-Pope-Stearns-Benton-Lac Qui Parle- Swift-Chippewa-Kandiyohi-Meeker-Yellow Medicine-Renville-Redwood- Including the cities of Alexandria, Long Prairie, Little Falls, Morris, Glenwood, St Cloud, Foley, Madison, Benson, Montevideo, Willmar, Litchfield, Granite Falls, Olivia, and Redwood Falls 234 AM CST Sat Jan 11 2020 ...WIND CHILL ADVISORY REMAINS IN EFFECT UNTIL 9 AM CST THIS MORNING... * WHAT...Very cold wind chills expected. Wind chills 25 below to 30 below zero. * WHERE...Portions of central, southwest and west central Minnesota. * WHEN...Until 9 AM CST Saturday. * IMPACTS...The dangerously cold wind chills could cause frostbite on exposed skin in as little as 10 minutes. PRECAUTIONARY/PREPAREDNESS ACTIONS... Use caution while traveling outside. Wear appropriate clothing, a hat, and gloves.
Temperatures
Saturday highs only reach the single digits in western Minnesota and much of northern Minnesota:
The Twin Cities metro area and points to the south and east top out in the teens.
Lows late Saturday night and early Sunday look like this:
Sunday highs feature teens in northern and central Minnesota, 20s south:
Snow potential
Lake-effect snow is expected this weekend near Lake Superior: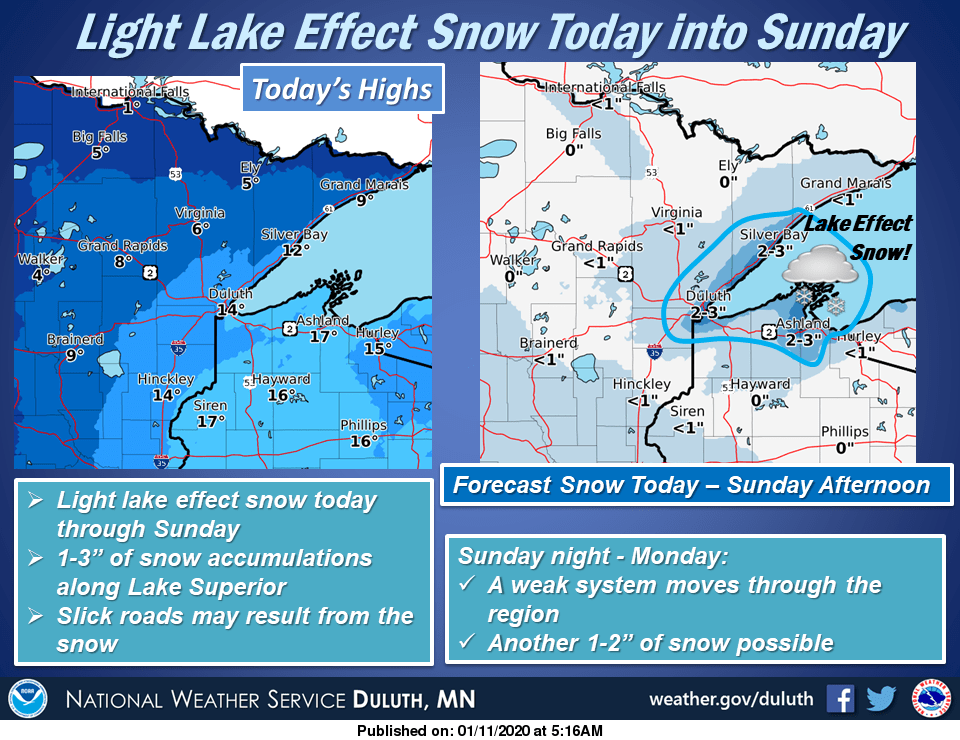 The rest of us will have periods of snow Sunday afternoon and evening. The National Oceanic and Atmospheric Administration's North American Mesoscale forecast model shows the potential precipitation pattern Saturday morning through Sunday evening:
You can hear updated weather information on the MPR network, and you'll see updated weather info on the MPR News live weather blog.
Programming note
You can hear my live weather updates on MPR News at 7:35 a.m., 9:35 a.m. and 4:35 p.m. each Saturday and Sunday.