Friday snowstorm will deliver heavy snow, with whiteout conditions possible in some areas
Details on the Friday-Saturday snow and winds
Computer models still crank up a major winter storm for Minnesota and western Wisconsin on Friday.
The National Oceanic and Atmospheric Administration's North American Mesoscale forecast model shows the potential precipitation pattern Friday morning through Saturday afternoon:
The snow is expected to begin around noon on Friday in the Twin Cities metro area, and the snow will become heavier as we go through Friday afternoon and evening. The Friday evening commute will be very slow in many areas.
Here are projected snow totals from Friday through Saturday:
The snow begins early Friday morning in southwestern Minnesota, then spreads northeastward. Winter storm warnings have been issued for Friday into Saturday across much of Minnesota and west-central Wisconsin. The winter storm warning for the Twin Cities metro area begins at noon on Friday and continues through Saturday afternoon:
URGENT - WINTER WEATHER MESSAGE National Weather Service Twin Cities/Chanhassen MN 1131 AM CST Thu Jan 16 2020 ...WINTER STORM WARNING HEAVY SNOW ON FRIDAY FOLLOWED BY STRONG WIND AND BLOWING SNOW ON SATURDAY WITH BLIZZARD CONDITIONS POSSIBLE IN WESTERN AND SOUTHERN MINNESOTA... .Moderate to heavy snow will develop across western Minnesota Friday morning and move through eastern Minnesota into western Wisconsin early Friday afternoon and continue through Friday evening. Most of the snow will fall late Friday morning into Friday evening. Currently, 5 to 9 inches of snow is expected across much of central and southern Minnesota and western Wisconsin. Snow will taper off Friday night, but on Saturday northwest winds will increase and lead to significant blowing and drifting snow. In addition, falling temperatures will lead to icy roads. Farther west, blizzard conditions are possible in open areas of western into southern Minnesota. If the forecast winds of 40 to 45 mph remain on track, an upgrade to a blizzard warning is likely for Saturday across western and southern Minnesota. This storm will impact travel. Moderate to heavy snow will lead to snow-covered roads on Friday. Strong winds and falling temperatures will lead to blowing snow and drifting on Saturday. MNZ043-044-050>052-059>063-068>070-078-WIZ023-024-026-170145- /O.UPG.KMPX.WS.A.0001.200117T1800Z-200119T0000Z/ /O.NEW.KMPX.WS.W.0001.200117T1800Z-200119T0000Z/ Morrison-Mille Lacs-Benton-Sherburne-Isanti-Wright-Hennepin-Anoka- Ramsey-Washington-Carver-Scott-Dakota-Goodhue-St. Croix-Pierce- Pepin- Including the cities of Little Falls, Princeton, Foley, Elk River, Cambridge, Monticello, Minneapolis, Blaine, St Paul, Stillwater, Chaska, Shakopee, Hastings, Red Wing, Hudson, River Falls, Prescott, and Durand 1131 AM CST Thu Jan 16 2020 ...WINTER STORM WARNING IN EFFECT FROM NOON FRIDAY TO 6 PM CST SATURDAY... * WHAT...Heavy snow expected on Friday. Total snow accumulations of 6 to 9 inches. Northwest winds gusting as high as 40 mph on Saturday with significant blowing and drifting. * WHERE...Portions of west central Wisconsin and central, east central and southeast Minnesota. * WHEN...From noon Friday to 6 PM CST Saturday. * IMPACTS...Travel could be very difficult. Patchy blowing snow could significantly reduce visibility. The hazardous conditions could impact the evening commute. PRECAUTIONARY/PREPAREDNESS ACTIONS... If you must travel, keep an extra flashlight, food, and water in your vehicle in case of an emergency. The latest road conditions for the state you are calling from can be obtained by calling 5 1 1.
Here's a snow-timing chart, with areas in brackets indicating the times of heaviest snow:
Strong winds may cause whiteout conditions at times in open areas, including along and near the Red River in northwestern Minnesota: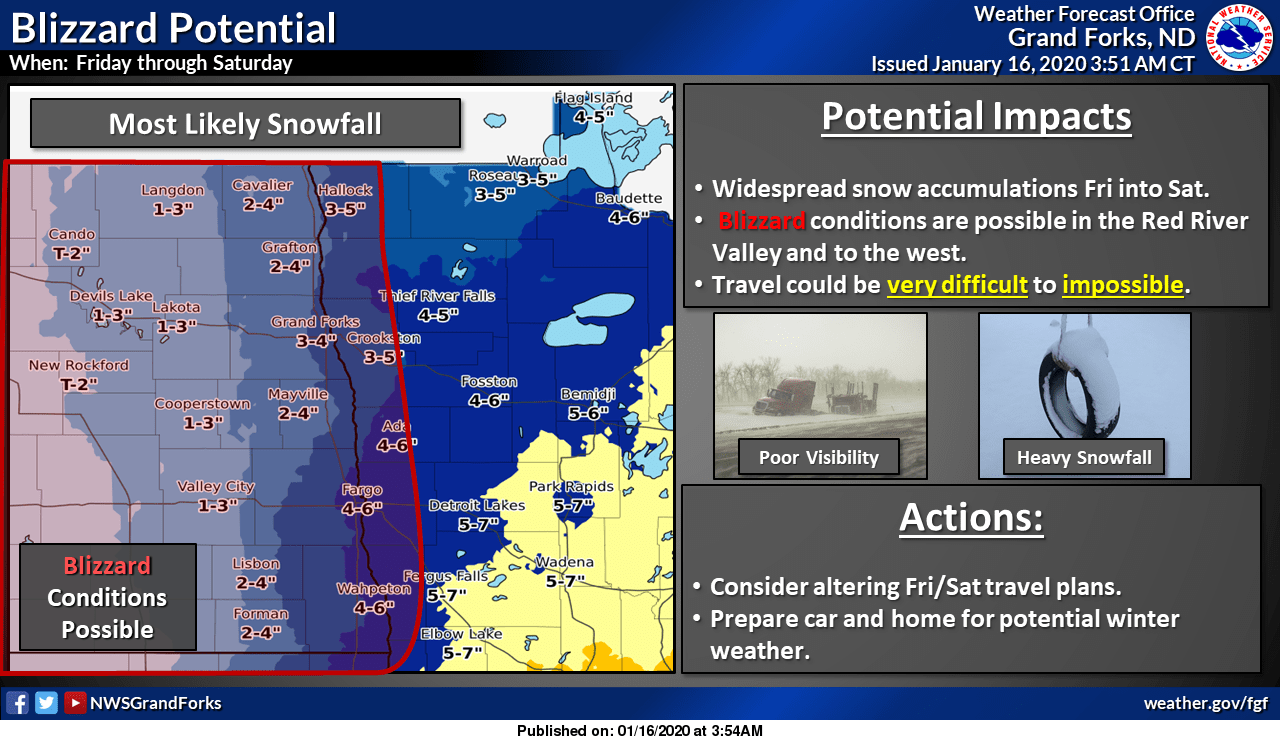 You can hear updated weather information on the MPR network, and you'll see updated weather info on the MPR News live weather blog.
Temperature trends
Thursday afternoon highs only reach the single-digits below zero in much of northwestern and north-central Minnesota, with single-digits above zero elsewhere.
Friday highs will be mainly in the lower 20s in northern and central Minnesota, with mid to upper 20s in the south:
Strong northwesterly winds will give us falling temperatures on Saturday. The Twin Cities metro area could see some lower 20s early Saturday, but teens in the late morning into Saturday afternoon.
Here's a look at Saturday afternoon temps:
Saturday afternoon wind chills will be in the teens below zero and possibly 20s below zero in western Minnesota: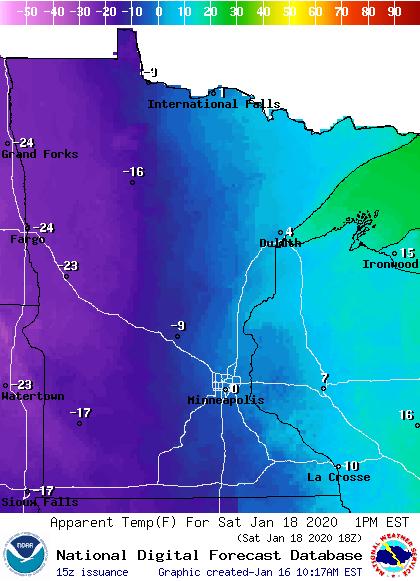 Sunday highs will be mainly in the single digits above zero:
Sunday afternoon wind chills will be in the teens below zero and 20s below zero :
You'll want to cover up exposed skin if you are outdoors this weekend!