China finishes new hospital for virus patients as toll grows
Updated: 7 p.m.
China has completed building a 1,000-bed hospital for treating victims of a new virus that has caused 362 deaths and more than 17,000 infections at home and abroad, according to the latest figures Monday.
Reopening of schools was also delayed in hardest-hit central Hubei province, where the specialized hospital in the provincial capital Wuhan was completed in just 10 days. A second hospital with 1,500 beds is under construction. Restrictions were tightened still further in one city by allowing only one family member to venture out to buy supplies every other day.
China's new totals of 361 deaths and 2,829 new cases over the last 24 hours, bringing the Chinese total to 17,205, come as other countries continued evacuating hundreds of their citizens from Hubei and imposed travel restrictions affecting Chinese or people who recently traveled in the country.
The World Health Organization said the number of confirmed cases will keep growing because thousands of specimens from suspected cases have yet to be tested.
The Philippines banned the entry of all non-citizens from China after two cases were confirmed there, including the only death outside China. The U.S., Japan, Singapore, New Zealand and Australia have imposed similar restrictions despite criticism from China and WHO's guidance that such measures were unnecessary.
About 150 cases have been reported in two dozen other countries. The Philippine Health Department said a 44-year-old Chinese man from Wuhan died from the virus and his companion remained hospitalized. Vietnam counted its seventh case, a Vietnamese American man who had a two-hour layover in Wuhan on his way from the U.S. to Ho Chi Minh City.
MPR News is Reader Funded
Before you keep reading, take a moment to donate to MPR News. Your financial support ensures that factual and trusted news and context remain accessible to all.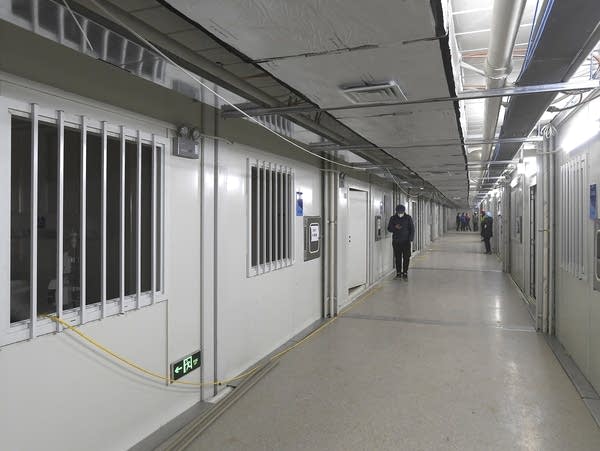 The U.S. also reported its ninth case, a woman in northern California who recently traveled from Wuhan.
Also, six officials in the city of Huanggang, next to Wuhan in Hubei province, were fired over "poor performance" in handling the outbreak, the official Xinhua News Agency reported. It cited the mayor as saying the city's "capabilities to treat the patients remained inadequate and there is a severe shortage in medical supplies such as protective suits and medical masks."
The trading and manufacturing center of Wenzhou, with nearly 10 million people in coastal Zhejiang province, confined people to their homes, allowing only one family member to venture out every other day to buy necessary supplies. Huanggang, home to 7 million people, imposed similar measures on Saturday.
With no end in sight to the outbreak, authorities in Hubei and elsewhere have extended the Lunar New Year holiday break, due to end this week, well into February to try to keep people at home and reduce the spread of the virus. All Hubei schools are postponing the start of the new semester until further notice.
The crisis is the latest to confront Chinese leader Xi Jinping, who has been beset by months of anti-government protests in Hong Kong, the re-election of Taiwan's pro-independence president and criticism over human rights violations in the traditionally Muslim territory of Xinjiang. Meanwhile, the domestic economy continues to slow, weighed down by slowing demand and the trade war with Washington.
DHS: New screening to begin
As the U.S. steps up its response to the coronavirus outbreak, the Department of Homeland Security is warning airline passengers that their flights may wind up rerouted if officials discover mid-flight that someone onboard has been in China in the last 14 days.
That guidance was included in a notice released by the department Sunday as new travel restrictions officially went into effect for flights commencing after 5 p.m. CDT.
Under the new rules, U.S. citizens who have traveled in China within the last 14 days will be re-routed to one of eight designated airports, where they will undergo enhanced health screening procedures.
The eight are: John F. Kennedy International Airport in New York; Chicago O'Hare International Airport; San Francisco International Airport; Seattle-Tacoma International Airport; Daniel K. Inouye International Airport in Honolulu; Los Angeles International Airport in California; Hartsfield-Jackson Atlanta International Airport; and Washington-Dulles International Airport in Virginia.
Starting Monday, Newark Liberty International Airport in New Jersey, Dallas/Fort Worth International Airport and Detroit Metropolitan Airport will be added to the list.
U.S. citizens who have been in Hubei province within 14 days of their return will be subject to up to 14 days of mandatory quarantine. The outbreak originated in that province.
U.S. citizens who have been in other areas of China within the last 14 days will undergo "proactive entry health screening" and up to 14 days of "self-quarantine."
Meanwhile, most non-U.S. citizens who have traveled in China within the last 14 days will be denied entry into the United States, except for immediate family members of U.S. citizens, permanent residents and flight crew.
"While the overall risk to the American public remains low, funneling all flights with passengers who have recently been in China is the most important and prudent step we can take at this time to decrease the strain on public health officials screening incoming travelers," said Chad Wolf, the acting DHS secretary.
"We realize this could provide added stress and prolong travel times for some individuals, however public health and security experts agree these measures are necessary to contain the virus and protect the American people," Wolf said.
Asked in an interview aired Sunday on Fox how concerned he was over the outbreak, President Trump said that "we pretty much shut it down coming in from China."
"We've offered China help, but we can't have thousands of people coming in who may have this problem, the coronavirus," Trump said. "So we're gonna see what happens, but we did shut it down, yes."
Elsewhere in the world
New Zealand announced Sunday it is temporarily barring travelers from China to protect the South Pacific region from the virus. The 14-day ban applies to foreigners leaving China but not to New Zealand residents. New Zealand also raised its travel advice for China to "Do not travel," the highest level.
Qatar Airways joined the growing number of airlines suspending flights to mainland China. Indonesia and Oman also halted flights, as did Saudi Arabia's flagship national carrier, Saudia.
Saudi Arabia's state-run media reported that 10 Saudi students were evacuated from Wuhan on a special flight. It said the students would be screened on arrival and quarantined for 14 days.
Over the weekend, South Korea and India flew hundreds of their citizens out of Wuhan. A Turkish military transport plane carrying 42 people arrived in Ankara on Saturday night. A French-chartered plane made its way toward France on Sunday with 300 evacuees from a multitude of European and African countries. And Morocco flew home 167 of its people, mostly students.
Indonesia flew back 241 citizens from Wuhan on Sunday and quarantined them on the remote Natuna Islands for two weeks. Several hundred residents protested the move.
Europe so far has 25 people infected with the virus. The German Red Cross reported two more cases there on Sunday, both German citizens who were airlifted from Wuhan on Saturday on a military transport carrying 128 people. Eight earlier cases in Germany were all linked to an auto parts factory.
France has six cases; Russia, Italy and Britain have two each, and Finland, Sweden and Spain each have one.
Vietnam counted its seventh case, a Vietnamese-American man who had a two-hour layover in Wuhan on his way from the U.S. to Ho Chi Minh City. The country ordered schools to close for at least a week in 19 of its 54 provinces and cities, including Hanoi and Ho Chi Minh City, which together account for over 4 million students.
The number of confirmed cases will keep growing because thousands of specimens from suspected cases have yet to be tested, said the WHO representative in Beijing, Gauden Galea.