Daily Digest: A Super Tuesday Eve primer
It's Super Tuesday Eve and that means it's a special edition of the Digest. There's a lot of news from over the weekend and even more to preview for this big political week, so let's get to it.
Amy Klobuchar's homecoming, interrupted. Black Lives Matter members took the stage at her St. Louis Park rally Sunday night, protesting the case of Myon Burrell — a black man convicted of murder while Klobuchar was the Hennepin County Attorney. Burrell maintains his innocence and there are questions whether he was wrongfully convicted. Protesters and Klobuchar had planned a meeting, but negotiations fell apart and the rally was called off.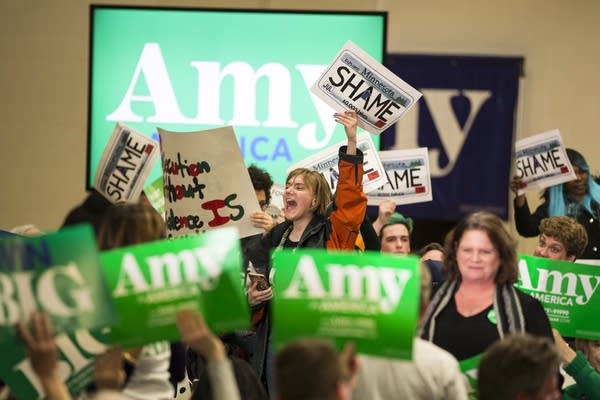 The lingering question: can Klobuchar unite Democrats? "Yes, this issue for Amy does concern me because we need to get the minority, the black and the brown vote as well. We need a united front," teacher Barbara Spencer told MPR News at the rally Sunday night. Spencer wore an "Amy" sticker but said she was still mulling over her options. "This worries me a lot because it is a real issue."
Two candidates have exited the Democratic presidential race. Pete Buttigieg and Tom Steyer, the former South Bend, Ind., mayor and billionaire, respectively, have withdrawn from contention. That's perhaps the latest headline, and here's everything else urgent with national politics this week.
Grow the Future of Public Media
MPR News is supported by Members. Gifts from individuals power everything you find here. Make a gift of any amount today to become a Member!
South Carolina's primary was a commanding win for Joe Biden. The former vice president had the most votes in every county and over 48 percent of the popular vote. Bernie Sanders was a distant second, with just under 20 percent of votes. Steyer finished third. NPR has four takeaways from Biden's big day. Onto the next round of primaries…
Is Super Tuesday a make or break for Amy Klobuchar? She didn't give much of an answer when asked by Fox 9's Leah Beno. "I'm running all the way," the Minnesota senator said, again noting her record of winning in suburban and rural areas. Overall, Klobuchar said she's not going anywhere and she believes she's the best person for the presidency: "I am tired of the mean tweets and the drama and what we're seeing out of the White House."
Klobuchar has a lead in Minnesota, with Sanders six points behind. Polling averages show a solid lead for the home-state senator. However, she has yet to finish higher than third in a primary and remains fifth in delegates. And with that, the calls for her to drop out will likely continue unless she has an unexpectedly strong showing on Super Tuesday. Still, Klobuchar's campaign is cautiously optimistic: "We're confident that we're going to do well here in Minnesota, but we're not taking anything for granted," her campaign manager told MPR News.
Sanders leads polling in most Super Tuesday states. The latest polling averages from Real Clear Politics show the Vermont senator leading in California, Texas, North Carolina, Virginia, Massachusetts, Maine, Vermont and Utah. Michael Bloomberg, the billionaire businessman and former New York mayor, leads in Arkansas and Oklahoma.
Let's dive a bit deeper into those polls … In California, Sanders holds a 13 point lead over second-place Sen. Elizabeth Warren. The freshest California poll shows Sanders up by 17 points — a commanding lead in a state where 415 pledged delegates are at stake.
If you have any other questions about how the primary actually works, we've got you covered. Here's a guide to all the rules and logistics for Minnesota's first presidential primary since 1992.
But what if the popular vote doesn't matter for Dems? While Sanders is generally considered the frontrunner to win the most pledged delegates — or those awarded based on popular vote in primaries — his challengers say they're going to stay in the race. If no candidate wins a majority of the pledged delegates, it forces a contested convention. That means it'll be up to the superdelegates to decide who faces President Trump in the general election. Superdelegates, as Politico writes in a handy contested convention guide, include every Democrat in Congress, Democratic governors, "distinguished party leaders" and members of the Democratic National Committee.
One final plug: our live blog. Follow along for the latest from MPR News journalists and others we're tracking this Super Tuesday.
Want the day's political headlines in your inbox every weekday morning? Sign up for our MPR News newsletters.