Drama-free weather this week; shovelable snow next week?
The rest of this week should remain free of any significant weather drama. The split atmospheric flow pattern with storm tracks passing well south and north of Minnesota will leave us in that in-between region of minimal meteorological activity. That means no major storms for Minnesota for at least the next several days. And no Arctic outbreaks.
What we will get are a few ripples of occasional rain or light snow.
Some light precipitation for later Tuesday
The first ripple is arriving for Tuesday. Sunshine will give way to advancing clouds from the Dakotas. Patchy light snow has been falling in South Dakota early in the day.
Scattered areas of light rain and rain/snow mix will break out from west to east across mainly the southern half of the state and reach the Twin Cities area by later Tuesday afternoon.
Tuesday's high temperatures will range from the upper 20s in northwestern Minnesota to the 30s across most of the state and some low 40s from the Twin Cities to southeastern Minnesota. The Twin Cities should reach about 42 degrees with a light and variable breeze.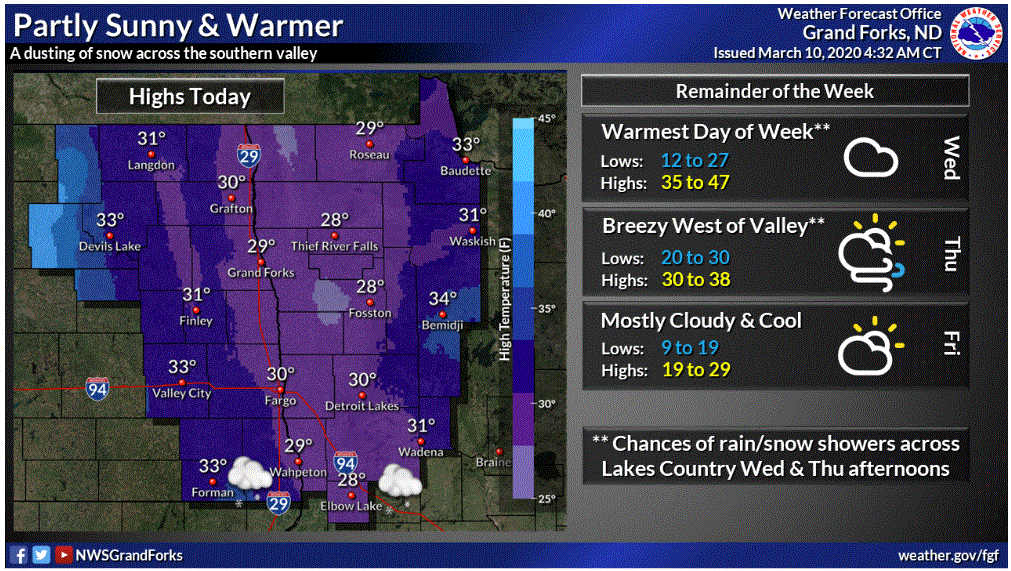 Precipitation will end Tuesday night as a rain/snow mix or flurries.
Milder temperatures Wednesday and Thursday
Warmer weather is on tap for Wednesday. A southerly breeze should push the high temperature in the Twin Cities to near 50.
Thursday is likely to bring a scattering of light rain.
Cooler Friday and Saturday, then milder for Sunday
The split flow pattern generally means that our colder-than-normal days aren't all that cold and our warmer-than-normal days aren't all that toasty.
So look for temperatures to cool a bit on Friday and Saturday before moderating on Sunday.
Snow next week?
Forecast models are indicating that the split flow pattern is likely to break down early next and bring us at least the potential for shovelable snow for parts of the state. The when and where of that potential should become clearer later this week.