April 2 update on COVID-19 in MN: 18 dead; treatment costs waived; schools may stay shut
Updated 6:27 p.m.
Gov. Tim Walz on Thursday conceded that it was unlikely that school buildings, which he'd ordered closed through early May, will reopen this school year as the state works to check the spread of the COVID-19 virus.
"The chance of being able to gather back at school is relatively slim," he told reporters, calling the situation "heartbreaking" for families and students, especially those preparing to graduate from high school.
Walz's comments came hours after officials reported that 18 Minnesotans had died from COVID-19, up one from Wednesday, with 38 people, including a 25-year-old, now in intensive care. The number of positive tests for the disease since the pandemic began rose to 742, up 53. About half of those testing positive have recovered to the point where they no longer need isolation.
The governor continues to weigh whether to extend Minnesota's stay-at-home order beyond April 10 and indicated that guidance to Minnesotans on golf and other activities was still under discussion. He plans to address Minnesotans Sunday night via YouTube when he delivers his State of the State address.
Grow the Future of Public Media
MPR News is supported by Members. Gifts from individuals power everything you find here. Make a gift of any amount today to become a Member!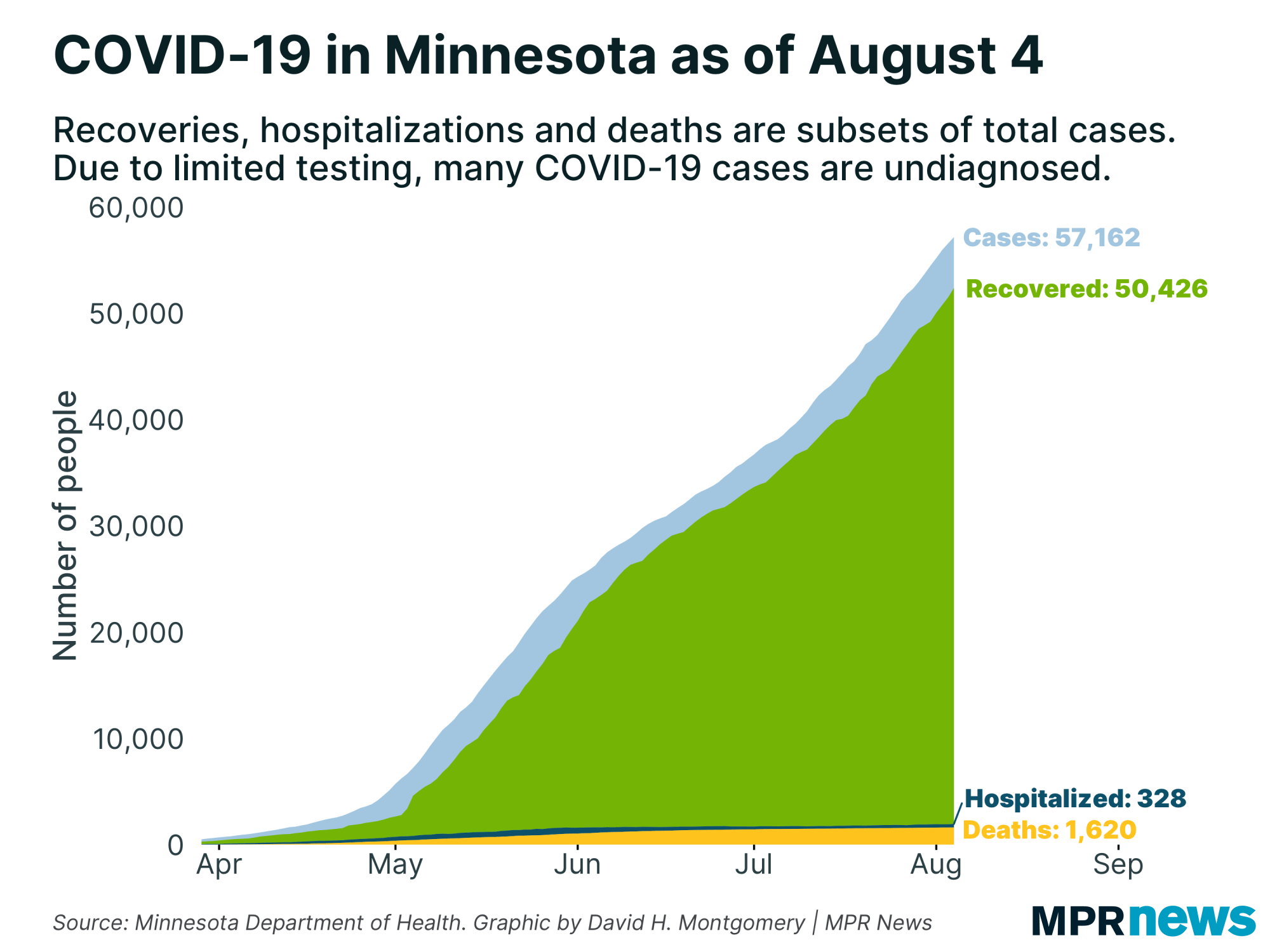 As officials continue to seek out medical and laboratory supplies they'll need to handle an expected coming surge of hospitalizations, the state Commerce Department announced that Minnesota's health plans have agreed to waive in-network cost-sharing for treatment of COVID-19.
Commerce Commissioner Steve Kelley told reporters that the participating plans — including Blue Cross, HealthPartners and Medica — have agreed to waive those in-network consumer expenses at least through May.
"If you get sick with COVID-19, your focus should only be on getting better and recovering," he said "You shouldn't have to worry about getting a bill that could ruin you financially, especially during this difficult time."
The health plans have not committed to cover sharing costs for out-of-network service but the Commerce Department continues to talk with them about it, Kelley added.
Meanwhile, Senate Republicans and many hospitals in Minnesota say they want Gov. Walz to allow licensed health care workers from other states to help fight the COVID-19 pandemic. Senate Republicans have also asked for more licensing flexibility. Walz said he plans to explore the issue.
Beyond the updates of cases and deaths, the Health Department Thursday noted:
Among those who have died in Minnesota, ages run from 58 to 95. The most recent death was a 69-year-old Hennepin County resident who was not in a group care facility, Health Commissioner Jan Malcolm told reporters.

56 of 87 Minnesota counties have a confirmed COVID-19 case.

An estimated 31 percent of COVID-19 cases have come from community spread, the greatest likely source of exposure to this point.
Martin County on the Minnesota-Iowa border continues to account for the largest number of cases outside of the Twin Cities metro area and Rochester. However, the total number of Martin County cases, 29, was unchanged from Wednesday.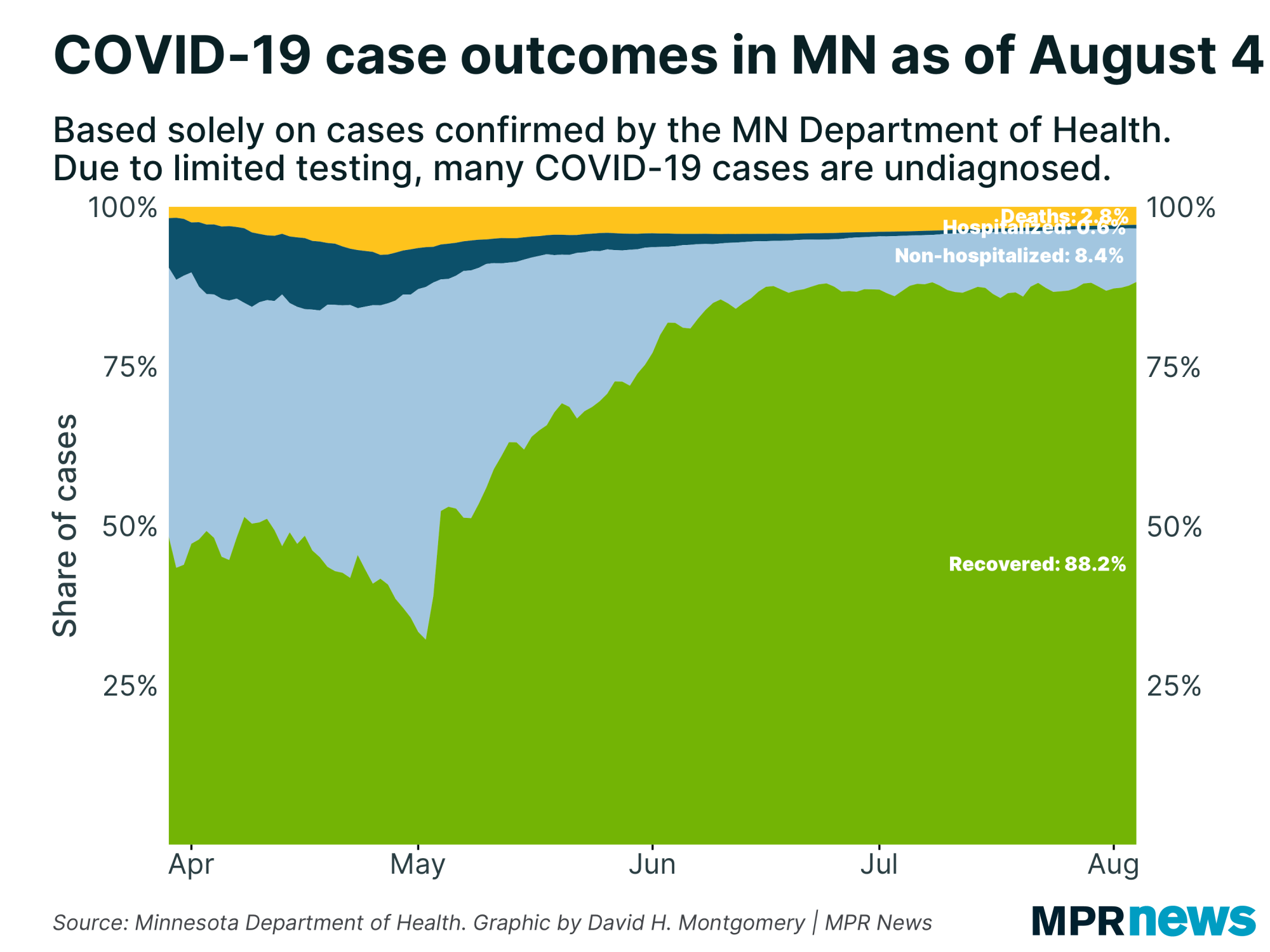 Malcolm said 47 group care facilities in Minnesota now have at least one case of COVID-19 case; 11 of the 18 deaths have involved people living in group care operations. She said the state would begin naming some of the larger facilities with cases.
As religious holidays approach, health leaders continue to emphasize that even people who are healthy and symptom-free can still have and spread the coronavirus to others.
Besides the strain on the medical system, officials continue to remain concerned about the economic toll on businesses and individuals thrown out of work as officials have called on the public to stay home to slow the spread of the virus.
Since March 16, 297,397 Minnesotans have applied for unemployment. Steve Grove, the employment and economic development commissioner, said Minnesota's most recent claim numbers trended down from last week.
Walz was asked Thursday about outdoor activities in a stay-at-home world. He indicated officials were trying to balance the need for social distancing with the fact that people want to get outside as the weather improves
He said boating with family was fine, and that officials were working to clarify guidance on other outdoor activities like golf and running. "We're still trying to evolve these," he said.
---
Developments from around the state
Minneapolis park pools, beaches won't open this summer
The Minneapolis Park and Recreation Board announced Thursday that it won't open the city's beaches, wading pools and water parks this summer because of the coronavirus outbreak.
In a statement, the park board said "the level of public congregation that takes place at aquatic facilities and the level of staff required to operate these facilities will make it impossible to open and manage these facilities safely this summer."
Restrooms in city parks also will remain closed, though some portable toilets will be available.
Officials also announced that all Minneapolis Park and Recreation Board spring and summer events are canceled through Aug. 31, including spring and summer sports leagues that can't follow social distancing rules. And most seasonal and temporary summer jobs in Minneapolis parks will not be filled this year.
The Eloise Butler Wildflower Garden also will remain closed, because its narrow paths don't allow for social distancing.
Parks and trails, including off-leash dog parks, remain open in Minneapolis, though officials urged people to follow social distancing rules. Find more information here.
— Andrew Krueger | MPR News
Guthrie Theater cancels rest of season
The Guthrie Theater announced Thursday that it will cancel the remaining performances of its 2019–2020 season due to the impact of the coronavirus pandemic. The season, which was scheduled to run through August, included productions of Emma, Cabaret, Destiny of Desire and Sweat, among other performances.
The Guthrie had previously announced the cancellation of performances through April 5.
At this time, the theater is still planning to open the 2020–2021 season in mid-September with Noël Coward's Private Lives.
Current Guthrie ticket holders have the option to donate their tickets, place the value of their tickets on account for future use or request a refund.
No word yet on how this will affect Guthrie staff; a previous communication to staff promised them work through May 10 with some receiving a reduction in pay.
— Marianne Combs | MPR News
Hit the playground? Not yet
Health experts say using playground equipment during the COVID-19 outbreak is not a good idea
Minnesota's stay-at-home order didn't specifically require playground equipment at public parks to be closed. It left that decision to individual cities. Some have left their playgrounds open, but posted signs warning people of the risks.
There's a risk that the virus could be transmitted by kids who touch the surface of the equipment, then touch their faces, said Dr. George Morris, medical incident commander with CentraCare Health's COVID-19 response team.
"It's still a little unclear at this point for the COVID-19 virus, where we don't know exactly how long it lives outdoors. What do we know on rougher surfaces, it can last a little longer, you know, plastic and some metal."
Health experts say parents should look for other ways to keep their kids active that allow more social distancing, such as walking or biking.
— Kirsti Marohn | MPR News
U plan to refund student fees draws scrutiny
University of Minnesota President Joan Gabel will present a proposal to regents on Friday for refunding student fees after some students complained about being shortchanged.
The university earlier said it would issue a flat credit of $1,200 for housing and dining fees to students who had to move off campus due to the COVID-19 outbreak.
But U of M students typically pay more than $5,000 per semester for room and board. Some students circulated online petitions urging the U to refund a larger amount.
One state legislator said he planned to draft a bill requiring Minnesota's colleges and universities to refund at least 90 percent of students' unused room and board costs.
— Kirsti Marohn | MPR News
2 St. Paul cops test positive; agencies shift tactics
Two St. Paul police officers have tested positive for COVID-19 as public safety agencies shift how they're responding to the outbreak.
Police say they're tracking officer health and taking steps like meeting 911 callers outside their buildings when possible, and doing some initial contact by phone. Patrol officers are also being provided personal protection equipment like masks and gloves.
Minneapolis police say they don't have any confirmed cases yet, but have reassigned some officers to handle non-emergency police calls by phone, to limit officers exposure to the COVID, as well as the risk that they may carry the virus from call to call.
The Ramsey County Sheriff's Office has also set up a 15-member help team to respond to calls for service related to COVID 19, from medication shortages to coordinating supply donations to referring people to social, medical and mental health care providers.
— Tim Nelson | MPR News
Red Lake Band declares 'medical martial law'
Medical martial law goes into effect Friday at 5 p.m. on the Red Lake Indian Reservation. The 15-day limit on travel comes after the band received, what Chairman Darrell Seki Sr. called, "credible" information that a member tested positive for the coronavirus.
Last week the tribal council imposed a nighttime curfew to limit travel on the northern Minnesota reservation.
Now residents must stay in their homes and yards except for essential travel.
Tribal Secretary Sam Strong says health care was inadequate before the pandemic, and leaders must do all they can to protect residents — particularly elders.
"Native Americans, and specifically our people, have been disadvantaged when it comes to health disparities and access to quality health care. As such we're taking preventative measures," he said.
Strong said the member who tested positive for the coronavirus does not live on the reservation, is in quarantine, and has been cooperating with Minnesota health officials.
— Matt Sepic | MPR News
Child care providers can seek financial relief from the state
Gov. Tim Walz announced on Wednesday that the application process for emergency grants for child care providers is open.
Minnesota legislators approved $30 million to help child care providers who've been hurt because of a significant drop in attendance due to COVID-19. Walz said children of essential workers will need providers to stay afloat to help care for them during this crisis.
Child Care Aware of Minnesota will administer the grants.
— Riham Feshir | MPR news
---
Top headlines
Paid sick time advocates say pandemic proves point: Even with provisions in coronavirus emergency measures, advocates of paid sick time say the need exists for broader protections.
Some playgrounds remain open, despite coronavirus worries. But are they safe? Playgrounds present unique challenges: Social distancing isn't exactly a concept that toddlers or preschoolers understand. Keeping them at least 6 feet apart while they're sliding on a slide or climbing on equipment is virtually impossible.
State housing help likely on the way as part of pandemic response: Many Minnesotans out of work because of COVID-19 are starting to face their first rent and mortgage payments since the state's stay-at-home order went into effect. Some are finding relief. Many are wondering what help they may get.
Tax deadline moved to July amid COVID-19 pandemic: Amid the COVID-19 pandemic, the IRS and the state's Revenue Department gave people until July to file 2019 tax forms and make payments, but Minnesota officials hope people file as soon as they can to get their refund or prevent a state revenue pinch.
How to make ends meet if you lose your job under COVID-19: With no end to the outbreak in sight, many Minnesotans are left trying to pay bills and living expenses with less income than usual — or none at all. However, there's some help available now from the state.
---
COVID-19 in Minnesota
Health officials for weeks have been increasingly raising the alarm over the spread of the novel coronavirus in the United States. The disease is transmitted through respiratory droplets, coughs and sneezes, similar to the way the flu can spread.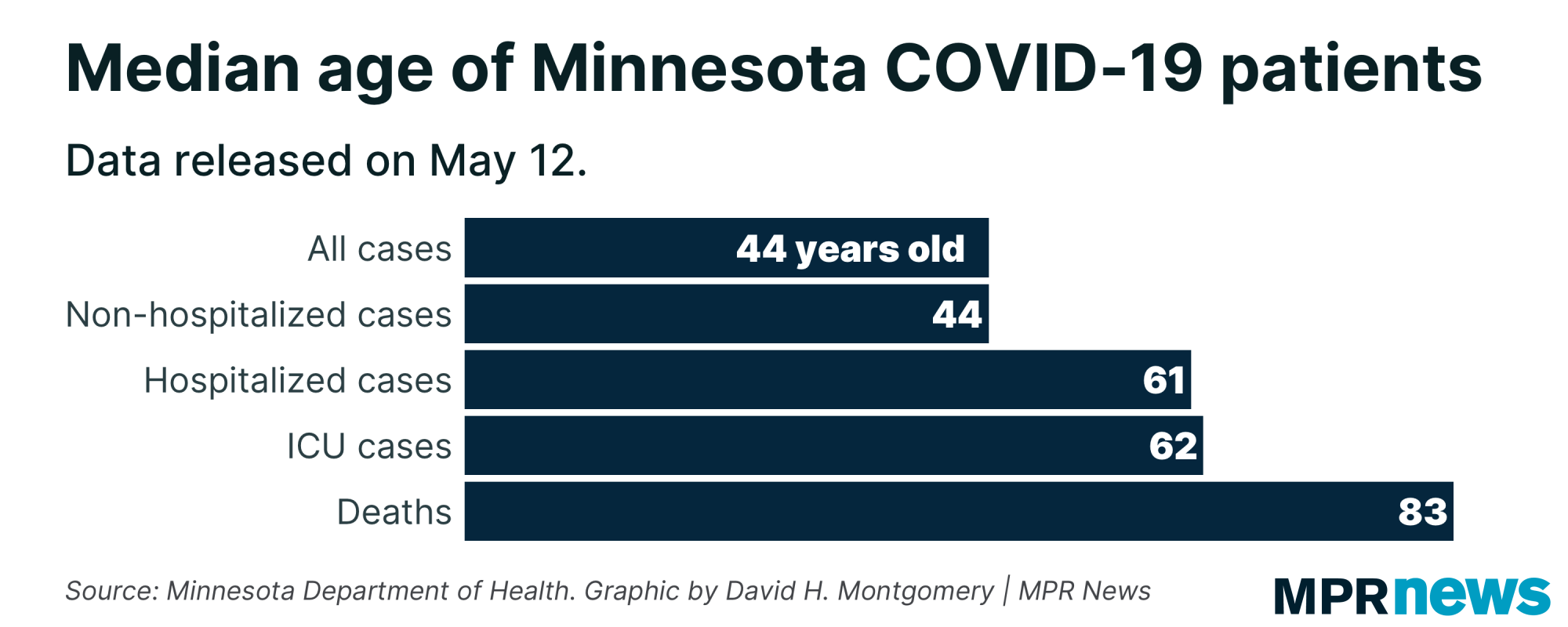 Government and medical leaders are urging people to wash their hands frequently and well, refrain from touching their faces, cover their coughs, disinfect surfaces and avoid large crowds, all in an effort to curb the virus' rapid spread.
The state of Minnesota has temporarily closed schools, while administrators work to determine next steps, and is requiring a temporary closure of all in-person dining at restaurants, bars and coffee shops, as well as theaters, gyms, yoga studios and other spaces in which people congregate in close proximity.