April 5 update on COVID-19 in MN: Death toll now at 29; state releases list of affected long-term care facilities
Updated: 11:20 a.m. | Posted: 8:15 a.m.
State health officials reported Sunday that 29 people in Minnesota have died from COVID-19, up from 24 the previous day.
Meanwhile the overall number of confirmed cases in the state increased to 935 on Sunday, up from 865 on Friday. It's among the largest single-day increases in cases so far in Minnesota.
Among other updated numbers released Sunday by the Minnesota Department of Health:
106 people are hospitalized due to COVID-19, with 48 in intensive care — up from 95 and 42 on Saturday.

451 people with confirmed cases of COVID-19 have recovered to the point of no longer needing isolation.

State and private labs have completed 26,777 tests, about 1,300 more than on Friday.
Cases have now been reported in 60 of 87 counties across the state, with Houston and Pipestone counties reporting their first cases Sunday — though officials said that limited testing means the coronavirus is certainly more widespread across Minnesota than testing indicates. About a third of cases have been attributed to "community transmission" — meaning there was no clear link to travel or other known cases.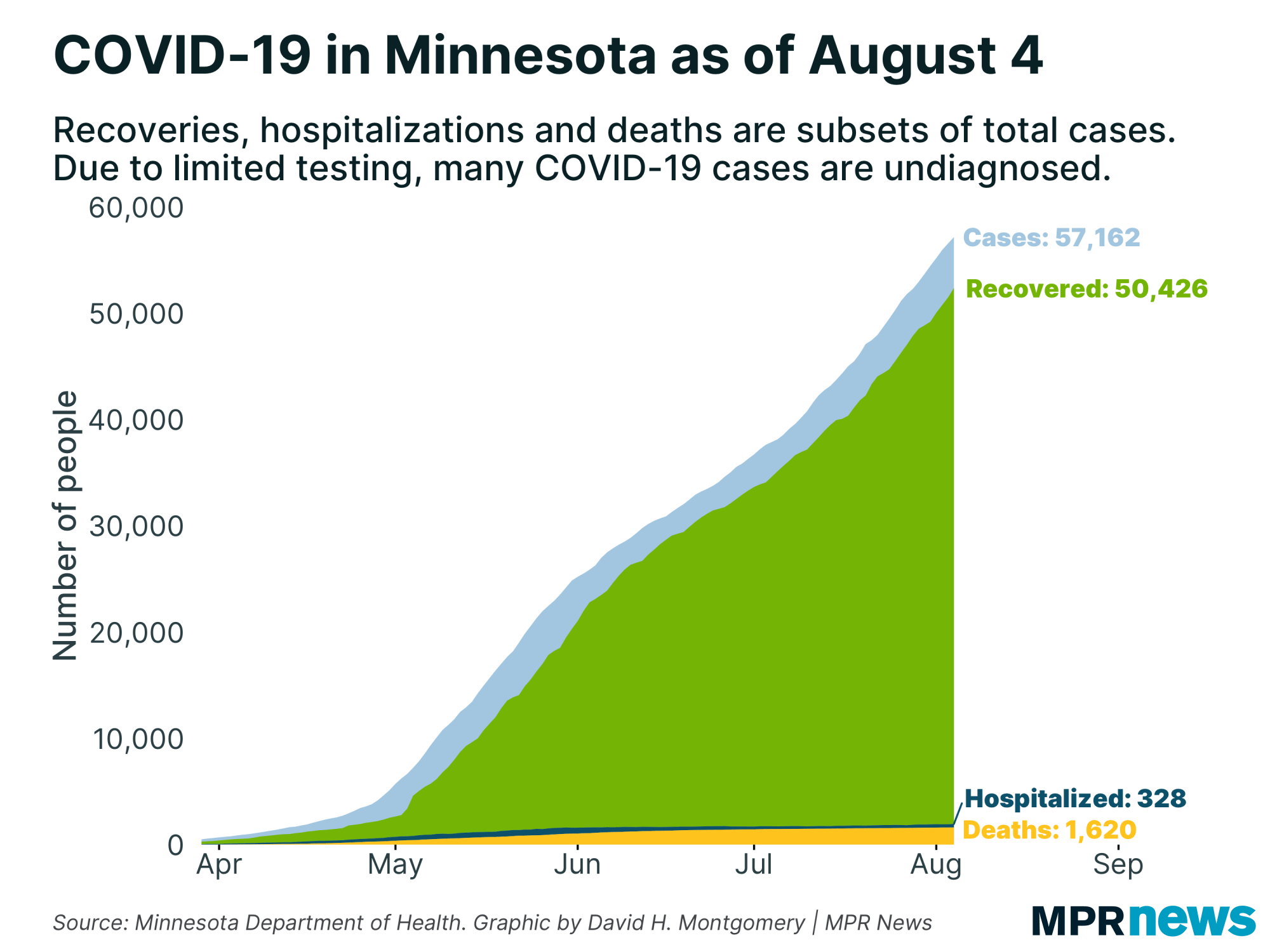 The deaths reported Sunday included:
An 87-year-old resident of Olmsted County

A 90-year-old resident of Washington County

An 83-year-old resident of Dakota County;

Two residents of Hennepin County, ages 67 and 88
"We can never forget that these numbers are in fact beloved family members, friends and neighbors who are mourned," Minnesota Health Commissioner Jan Malcolm said in a news release. "We express our condolences and our commitment to continuing the work of protecting Minnesotans the best we can. It is very important for all Minnesotans to do their part in that effort by following social distancing guidelines and other public health recommendations."
Meanwhile, Minnesota health officials on Saturday released the names of long-term care facilities in the state linked to a positive COVID-19 case.
State epidemiologist Kris Ehresmann said the positive test could be from a resident, staff person or contractor who was in the facility during their infectious period. Only facilities with 10 or more residents are listed, and she cautioned against jumping to conclusions about the facilities.
"This is not intended to suggest that these facilities are in any way not doing the right thing by their residents. It's simply being transparent," she said. "The fact that some facility is listed on our website does not mean necessarily that there is a flaming crisis within that facility."
Ehresmann said the jump in cases statewide over the weekend was expected as private laboratories work through their backlogs of samples.
"The other thing is that our testing has become more and more targeted — so that means the percent positive, in terms of the folks that are being tested, will be increasing and so that also will contribute to more cases," she said.
Ehresmann says the state is still waiting for tests that can be quickly run in a hospital or clinic. When those become available the state will be able to test more people, which could lead to an even bigger spike in confirmed COVID-19 cases in Minnesota.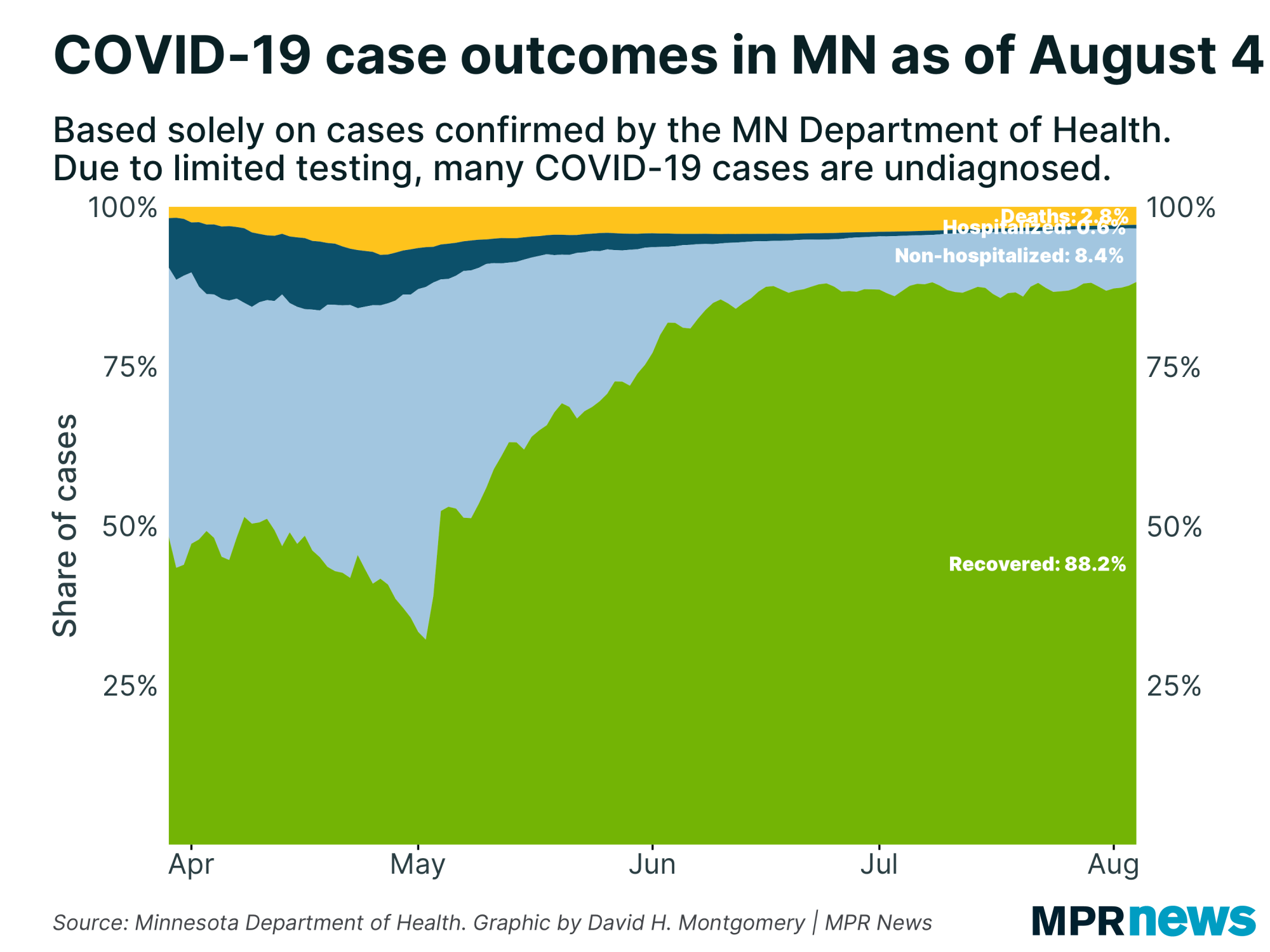 For the affected long-term care centers, Ehresmann said health department case managers are working with each of the facilities to isolate those affected and watch for signs of additional spread.
The 32 facilities listed are located in 14 counties: Anoka, Clay, Crow Wing, Dakota, Faribault, Freeborn, Hennepin, Martin, Olmsted, Ramsey, St. Louis, Washington, Wilkin and Winona.
They are among a total of 47 group care facilities that have had outbreaks. Most of them have one or two cases, but there are nine with more than two cases, Ehresmann said. Overall, 59 residents and 26 staff have tested positive, she said.
Nine facilities account for the 13 deaths in Minnesota that are associated with congregant care, Ehresmann said.
A facility currently listed on the health department's website can be removed later if enough time passes without new positive cases, Ehresmann said.
Ehresmann reiterated on Saturday that wearing a homemade or non-medical-grade mask can help protect others — though not the person wearing it. She said wearing a mask does not give someone license to skip other safety measures, such as frequent hand-washing, social distancing and staying home when sick.
"If we're continuing to do all the other mitigation strategies, this is just an extra tool that people can consider. We just don't want people to have a false sense of security," she said.
Health officials emphasize that surgical masks and N95 masks should be reserved for health care workers, as state officials continue scrambling to find masks, and other medical and laboratory supplies, in anticipation of a coming surge of COVID-19 cases.
Many Minnesotans have been downloading patterns and dusting off sewing machines to make fabric masks for themselves and others.
For daily COVID-19 updates in your inbox, subscribe to our morning newsletter.
---
Developments from around the state
Charges filed for violations of Minnesota executive orders
At least eight people in Minnesota are facing misdemeanor charges after prosecutors say they violated executive orders meant to combat the spread of the coronavirus.
In a series of directives in recent weeks, Gov. Tim Walz closed bars and restaurants, then schools, and then ordered Minnesotans to stay home.
57-year-old David Schuster of Winnebago, Minn., was the first person charged with violating one of these orders. Faribault County prosecutors said he refused a police officer's request to close Schooter's Bar and Grill March 22, allegedly saying "this is communism."
Schuster could not be reached for comment. But ACLU of Minnesota Legal Director Teresa Nelson said criminal charges should be a last resort.
"That means doing education, giving people warnings, and trying to seek voluntary compliance," she said.
The Minnesota Judical Branch said seven other people in seven counties are facing similar charges. Nelson said that in some cases, the misdemeanors were added to charges for other crimes.
— Matt Sepic | MPR News
Trump levels more criticism at Minnesota-based 3M
President Trump again took aim at Minnesota-based 3M in his daily briefing at the White House on Saturday afternoon.
In recent days Trump has accused 3M of not being committed to getting its respirator masks into the hands of American health care workers.
Pressed by reporters on Saturday, Trump said 3M is free to sell to other countries but should be putting Americans first.
"3M has not treated our country well," he said. "And if they do, great. And if they don't, they're going to have a hell of a price to pay."
3M officials have denied the president's assertions, saying they're ramping up production worldwide and getting as many masks as possible into the U.S. They also said there would be "significant humanitarian implications" to any move to ban the export of respirators to other countries.
— MPR News staff
Ellison files enforcement action against Minnesota landlord
Minnesota Attorney General Keith Ellison has filed an enforcement action against a landlord in Pine County who allegedly disconnected utilities at his tenants' home during the governor's stay-at-home order.
In a press release, Ellison's office claimed that Howard Mostad entered his tenants' home in Sandstone against their wishes and disconnected their electricity, an attempt to pressure the tenants to vacate the property.
Ellison said that's a violation of Gov. Tim Walz's executive order meant to protect tenants from being evicted during the state's COVID-19 peacetime emergency.
Among other things, Ellison's office is seeking civil penalties of up to $25,000 per violation and restitution for the residents.
"Most people, businesses and landlords are doing the right thing during the crisis," Ellison said in a statement. "For those landlords who aren't, let this case serve as a warning to you: If you take illegal actions to force your tenants to vacate their property during this emergency, my office will take swift and strong action against you."
Ellison's office has a hotline for people who think they are being wrongly evicted during the coronavirus emergency.
Walz's office halted evictions during the coronavirus outbreak in mid-March.
The Minnesota Multi Housing Association, the state's primary landlord association, is also asking its members to adhere to the executive order, calling on rental property owners to halt evictions on renters, waive late fees and provide residents with more flexible payment plans until May 31.
— Catharine Richert | MPR News
---
Top headlines
Daily dose of sweetness — church's new bells ring out, offer reminder of community: Videos of quarantined Italians singing on their balconies went viral a few weeks ago — as have similar efforts in the U.S. and around the world. Now a church in Minneapolis hopes to create its own version of that moment of solidarity by playing its bells.
In reversal, University of Minnesota will refund more student housing costs: Under the new plan, the University of Minnesota will pay students all of their unused housing, dining and parking fees from March 28 — the date Minnesota's stay-at-home order began — through the end of the semester. Half of students' service fees for the semester will be returned, too.
Local news takes hit in midst of coronavirus coverage: Newspapers, which have become critical ways for the public to access information during the coronavirus pandemic, are getting squeezed in the shrinking economy.
Minnesota women applying for unemployment at higher rates than men: Women made up 54 percent of unemployment insurance applicants the last week of March. Earlier in the month, women were 63 percent of applicants. Employment officials think the numbers may even out as more male-dominated fields like manufacturing and construction see job cuts.
U of M designers build prototypes to fill the urgent need for masks, ventilators: University of Minnesota medical researchers and engineering and design experts have teamed up to create masks that health care workers can use in a pinch. Other U researchers have built a simplified ventilator that they hope can be used, if hospitals run out of high-tech breathing devices.
Ad says economic hit is worse than the threat of COVID-19. Is that true? MPR News talked with the ad's author, Kevin Roche, and experts about the claim and some of his other statements about the virus.
---
COVID-19 in Minnesota
Health officials for weeks have been increasingly raising the alarm over the spread of the novel coronavirus in the United States. The disease is transmitted through respiratory droplets, coughs and sneezes, similar to the way the flu can spread.
Government and medical leaders are urging people to wash their hands frequently and well, refrain from touching their faces, cover their coughs, disinfect surfaces and avoid large crowds, all in an effort to curb the virus' rapid spread.
The state of Minnesota has temporarily closed schools, while administrators work to determine next steps, and is requiring a temporary closure of all in-person dining at restaurants, bars and coffee shops, as well as theaters, gyms, yoga studios and other spaces in which people congregate in close proximity.