A couple warm days, then temperatures dive
A few light rain chances through Wednesday
Monday and Tuesday stay mild and bring chances for showers and possibly storms, then colder air returns the second half of the week.
Monday's forecast
Minnesota started off very mild Monday morning, with temperatures across the entire state in the 30s and 40s. Temperatures will remain above average through the day, with much of the state making it into the 50s and a few parts of southern Minnesota seeing low 60s.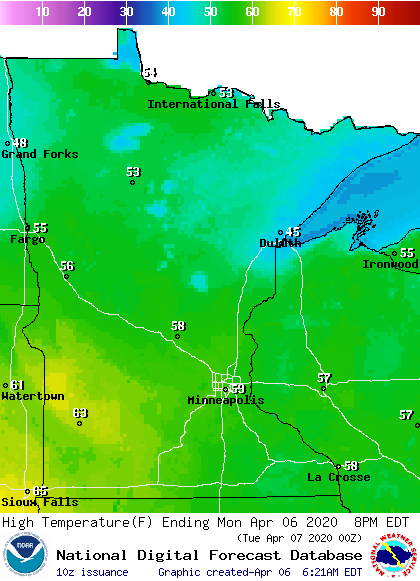 The warm air advection across the state is providing enough lift in the atmosphere to bring widespread cloud cover and produce some occasional light rain and sprinkles.
The best chance for seeing light rain is in northern Minnesota during the morning hours. The entire state keeps a very isolated chance for a light shower or sprinkle anytime Monday, and skies will stay mostly cloudy.
Overall though, the day remains mild and predominantly dry, so it will still be a good day for outdoor time.
More rain chances Tuesday and Wednesday
Late Monday into early Tuesday, a weather disturbance moves across the state bringing a more widespread chance for showers and possibly a few thunderstorms.
Precipitation clears out west to east through Tuesday morning, with a few lingering showers possible in eastern Minnesota Tuesday afternoon. Skies clear out west to east through the afternoon, returning more sunshine across the state. A cold front will also be moving across the state and through the entire state by Tuesday afternoon.
The state stays warm Tuesday, then turns noticeably colder Wednesday behind the front. A second cold front passes through Wednesday, bringing another light chance for rain, and possibly light snow for northern Minnesota.
The cold front on Wednesday will also bring windy conditions across the state, with most of the state seeing wind gusts over 30 mph or higher by afternoon. Behind that second front, even colder air returns move in for Thursday.
Here is the temperature trend for the Twin Cities showing the temperature drops between Tuesday, Wednesday and Thursday due to the two cold fronts:
Extended forecast
Once temperatures fall, it looks like they will stay cooler than average, with most of the state seeing highs predominantly in the 30s and 40s, through the weekend. In fact, the extended outlook also gives Minnesota a high probability of staying below average next week.
In terms of precipitation, a couple more disturbances bring light chances for rain and possibly light snow toward the end of this week.
Programming note
You can hear my live weather updates on Minnesota Public Radio at 7:48 a.m. Monday through Friday morning.