South Dakota officials ask Sioux Falls meatpacking plant to close for two weeks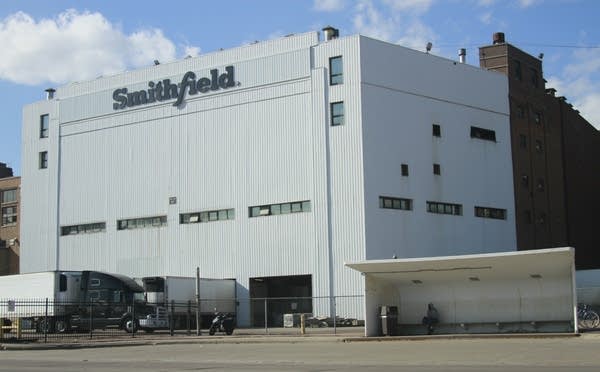 By Jackie Hendry | South Dakota Public Broadcasting
South Dakota Gov. Kristi Noem and Sioux Falls Mayor Paul TenHaken say they want Smithfield Foods to close its Sioux Falls meatpacking plant for two weeks.
The plant is in Minnehaha County, which reported 438 COVID-19 cases as of Saturday. Of those, 238 cases are identified as Smithfield employees.
Noem said the request also asks Smithfield to pay its employees while the plant is closed.
"As well as paid sick time for those infected and symptomatic, to encourage them to stay home in an effort to further prevent spreading of the virus to their family, community members, and the city of Sioux Falls," Noem said.
The governor wouldn't outline any potential measures against Smithfield if the company doesn't comply.
"We'll see how they respond to the letter before we speculate what needs to happens," she said.
The number of cases connected to the plant isn't the only thing driving the request. TenHaken said he doesn't like the way COVID-19 infection rates are on the rise in the city of nearly 182,000 people.
"Our per capita data — we have 182.25 cases per 100,000 residents. That is more than Seattle. That's more than Chicago. That's concerning," TenHaken said.
TenHaken said Smithfield executives from the company's Virginia headquarters are in Sioux Falls to oversee mitigation efforts at the plant. Parts of the complex are closed this weekend to install barriers between workers and sanitize the facility. The company announced a three-day shutdown through Monday.
TenHaken said that last week, Smithfield CEO Ken Sullivan reported that the federal government was urging the company to keep the plant open to protect the food supply.
Sullivan said in a statement last week that the plant produces nearly 18 million servings of meat per day. There has been no evidence that the coronavirus is being transmitted through food or its packaging, according to the Department of Agriculture.
Other meat processing plants have also closed temporarily because of outbreaks of the coronavirus, including a Tyson Foods facility in Columbus Junction, Iowa, where more than two dozen employees tested positive.
Sullivan said Smithfield Foods is taking "the utmost precautions and actions to ensure the health and wellbeing of our employees — with an even increased emphasis on our critical role in the ongoing supply of food to American families."
The company said it would pay employees who were scheduled to work the days it will be closed.
But employees and their family members expressed their frustration with Smithfield's actions so far in a socially-distanced protest outside the factory on Thursday night. They piled into dozens of cars decorated with handmade signs and circled the road outside the factory, honking their horns.
Nancy Reynoza, an organizer with ¿Que Pasa Sioux Falls?, a Latino community organization, said they organized the protest after hearing from workers at the plant that they were afraid to speak out about the lack of safety measures in place.
"Inside Smithfield, workers are not feeling safe," she said. "They're really fearing for their lives at this moment."
TenHaken would not say what the city could do if Smithfield doesn't comply with the request to close. But TenHaken said he has also submitted a formal request to Noem asking that she issue a shelter-in-place order for Minnehaha County.
South Dakota remains one of a handful of states without such a statewide order. Noem maintains a statewide measure does not meet the needs of the largely rural state.
The Associated Press contributed to this report.
Your support matters.
You make MPR News possible. Individual donations are behind the clarity in coverage from our reporters across the state, stories that connect us, and conversations that provide perspectives. Help ensure MPR remains a resource that brings Minnesotans together.