April 15 update on COVID-19 in MN: 87 dead; Walz says state must 'go it alone' on testing
Updated: 8:26 p.m. | Posted: 5:30 a.m.
Gov. Tim Walz drew a bright line Wednesday tying a successful reopening of Minnesota's economy to a massive increase in COVID-19 testing, making it clear that one could not happen without the other.
The governor told reporters Wednesday he was pushing for 5,000 people tested daily by May 4, when his stay-at-home order is set to expire, although the state this week is reporting an average of about 1,100 daily tests.
He conceded that logistical problems and an initial belief the federal government would take command of testing had delayed the process, and that Minnesota would now have to "go it alone."
Other states are in the same boat, he said, adding that Minnesota, with Mayo Clinic and other resources, could lead the nation on testing. "I'm asking to challenge this team in the state to break that mold where it's at."
Grow the Future of Public Media
MPR News is supported by Members. Gifts from individuals power everything you find here. Make a gift of any amount today to become a Member!
The governor's remarks came hours after the state Health Department reported 87 deaths tied to COVID-19, up eight from Tuesday, as the number of people in intensive care units jumped to 93, up from 75. Nearly 200 people are hospitalized.
The total count of positive tests for the disease since the pandemic began hit 1,809, with just over half recovered to the point they no longer need to be isolated. Health data experts believe the total case count represents a sliver of the number of Minnesotans carrying the coronavirus.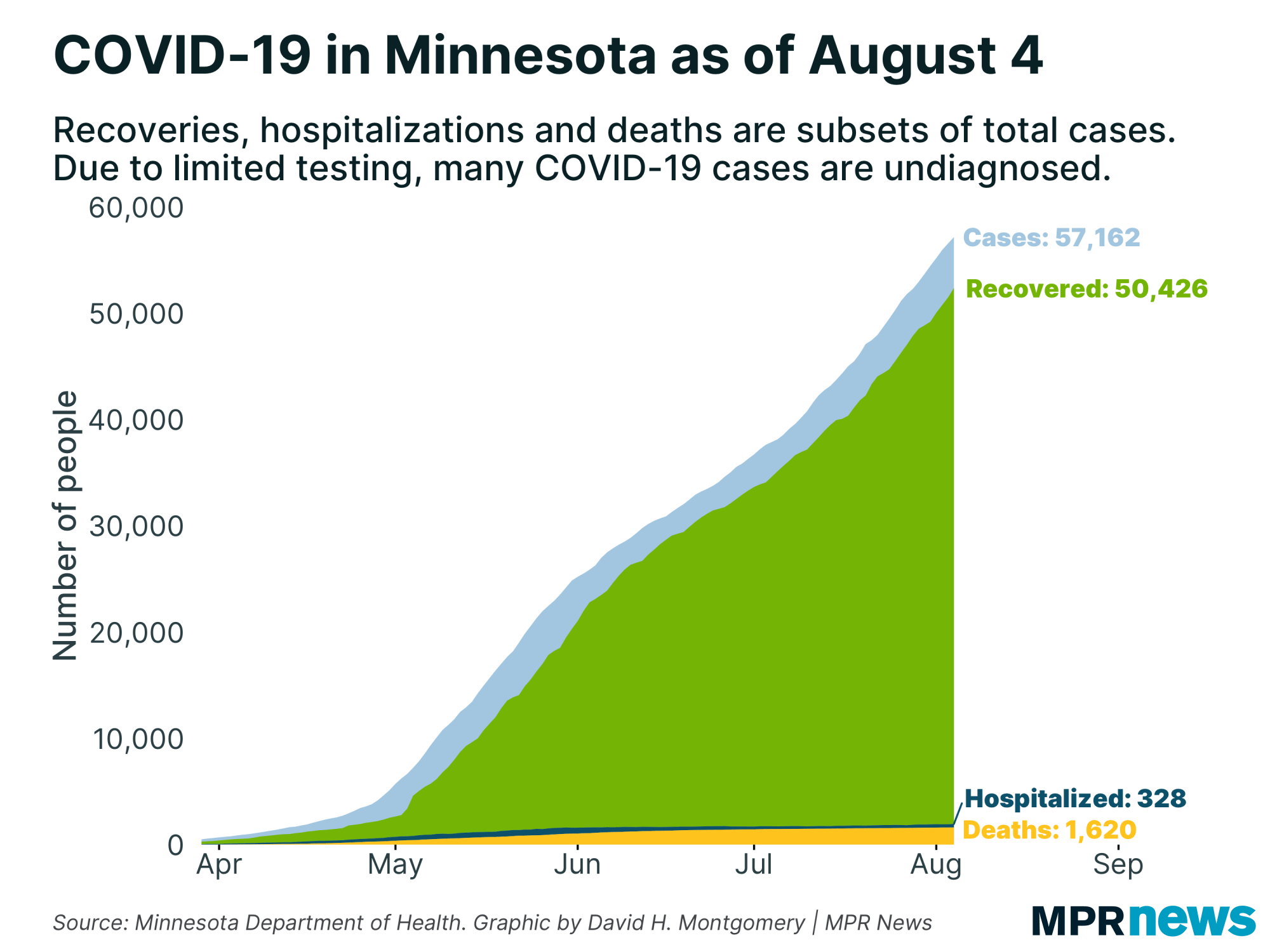 Officials offered some optimism on their struggle to secure supplies of masks and other personal protection gear for health workers that can be stockpiled for the expected coming surge in cases.
While that's been a crisis in some states, Minnesota's stay-at-home order and other moves have pushed back the expected hospitalizations peak to the summer. That's bought officials time to connect with international supply chains.
Alice Roberts-Davis, commissioner of the Department of Administration, said the state's been able to tap corporate partners who've helped open doors to health care supplies around the world.
Among the other updates posted Wednesday by the Health Department: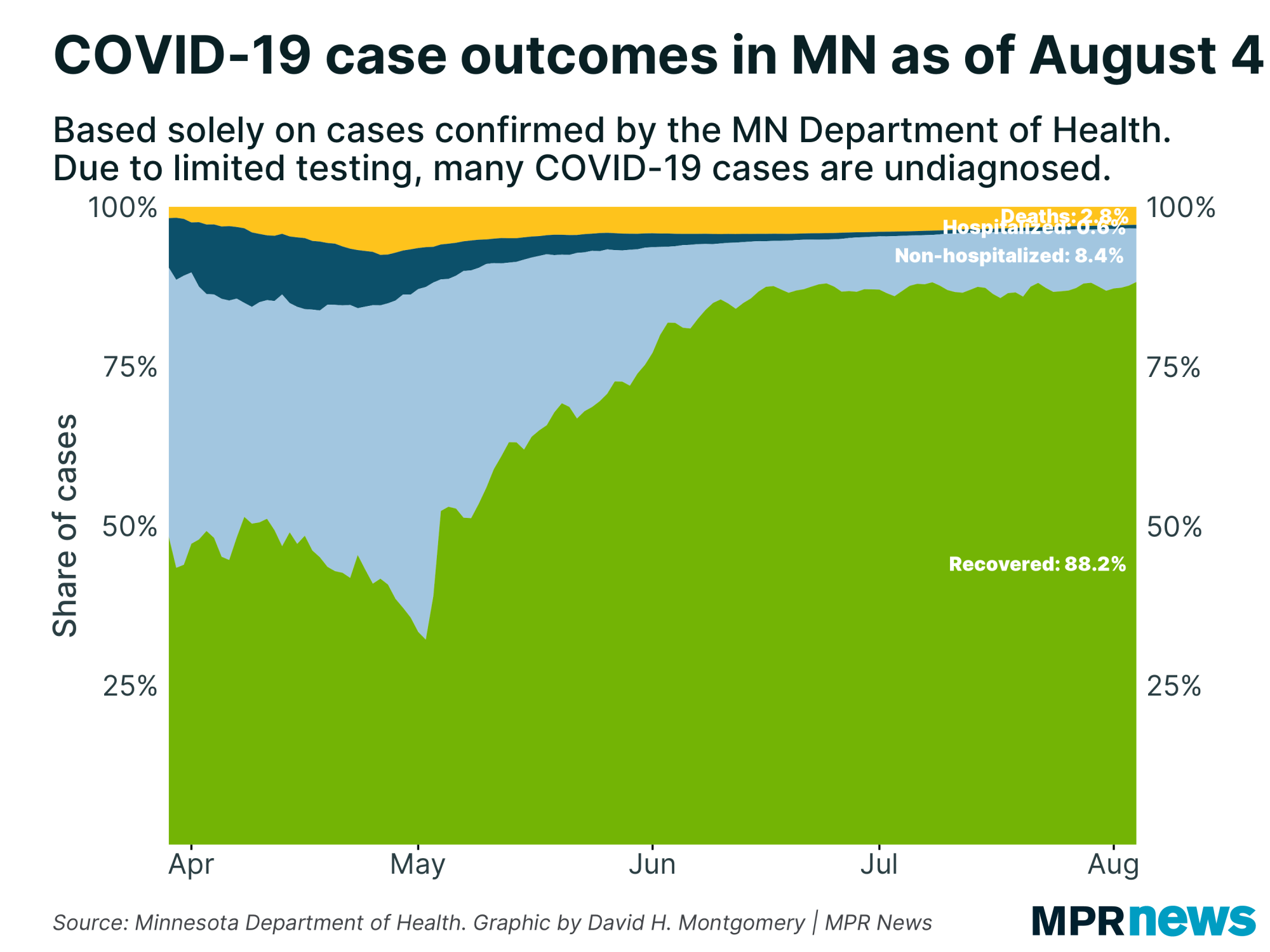 The latest deaths include six in Hennepin County, with one each in St. Louis and Clay counties. Officials say nearly every one of Minnesota's deaths involved people with underlying health problems; most had been living in long-term care settings.

Those long-term group care setting are a "particularly ripe environment" for COVID-19 and other infections, Health Commissioner Jan Malcolm said Wednesday. She noted, though, that of the 108 group care facilities in the state with at least one confirmed case, half still only have one case, suggesting that the efforts to check the spread are working.

71 of Minnesota's 87 counties have at least one confirmed case, up one from Tuesday, with Norman County seeing its first positive test.
Walz has signaled the state planned to move into a more aggressive posture to test for COVID-19 and trace and isolate those infected as part of the next phase of reopening parts of the economy, which has been walloped.
Much of the state's retail industry has been forced to shut down and temporarily shed thousands of jobs as part of Walz's effort to keep people out of public spaces to slow the virus' spread. Restaurants remain takeout-only.
Data show the fallout is falling heavily on women and people of color. About 14 percent of Minnesota's workforce have applied for unemployment in recent weeks. Nearly 26 percent of the nonwhite labor force is seeking unemployment help, compared to about 12 percent of the white labor force. Of the total applicants, 55 percent are women.
There was some positive news Wednesday for those out of work. Steve Grove, the state's employment and economic development commissioner said the state had fully implemented the 13-week extension of unemployment benefits for eligible applications spelled out in the recent federal aid package.
He said he hoped to have the federally funded aid system for self-employed and contract worker in place by the end of the month, and he encouraged people to apply even if they aren't yet eligible.
Walz led reporters through an economic restart scenario where, say, a factory workforce could be tested and then go back to work with their job site decontaminated and a system in place to take temperatures and then test, trace and isolate anyone with symptoms going forward "so we don't have to shut everything."
Walz, a Democrat, has generally found support from Republican lawmakers for his efforts to shut the state's economy to control the spread of the disease, but cracks are showing. On Tuesday, House Minority Leader Kurt Daudt argued that the state needed to tailor restrictions to those at higher risk and "allow the rest of us to go back to work."
Walz reiterated Wednesday he also wants to get people back to their jobs but "you can't just say you want to restart" the economy.
He cited the recent shutdown of the massive Smithfield Foods pork plant in Sioux Falls, S.D., near the Minnesota border, amid a COVID-19 outbreak. "It does us no good to send everybody back to work and get everybody sick."
Noting that Minnesota has the lowest infection rate in the country, Walz said Minnesotan's efforts over the past month to keep people home and out of crowded public spaces was working to check the disease.
"All of this sacrifice that we made," he cautioned, "could be eaten up very quickly."
---
Developments from around the state
Mother of AG Keith Ellison dies from COVID-19 complications
The mother of Minnesota Attorney General Keith Ellison has died of COVID-19. Clida Cora Ellison died March 26 in Detroit. She was 82.
Minneapolis City Council member Jeremiah Ellison said his grandmother had been healthy, but developed pneumonia suddenly and spent her final days on a ventilator. Ellison said he learned that COVID-19 was the cause only recently.
Only three people could go to the burial, and social distancing limited who could attend the funeral. Ellison said it was too dangerous for his 91-year-old grandfather to go.
"The risk of moving him around in Detroit was too great for him to attend," the Minneapolis council member said, "and I know that he has had a hard time dealing with the fact that he couldn't attend."
Clida Ellison earned a master's degree in social work at age 57. She spent two decades counseling young people in Detroit's juvenile justice system.
— Matt Sepic | MPR News
MN State University Moorhead eliminates jobs, majors amid pandemic
Minnesota State University Moorhead announced Wednesday the school plans to eliminate more than 60 faculty, staff and administrative jobs to address a budget shortfall over the next two fiscal years.
Ten academic majors currently serving 175 students will also be suspended or eliminated.
President Anne Blackhurst said as revenue for higher education shrinks, the university needs to be more focused. The schools faces a projected $6 million shortfall in fiscal year 2022.
"In this environment, I think the only way to invest where we need to invest is by being clear about what we're going to stop doing so that we can make those investments," Blackhurst said.
University officials say the cuts are not a direct result of shutdowns related to the COVID-19 pandemic, but acknowledged that the pandemic has created additional issues for the university's already challenging budget. Minnesota State University Moorhead has about 6,000 students.
— Dan Gunderson | MPR News
Boundary Waters to be closed until early May
U.S. Forest Service officials announced they are closing the Boundary Waters Canoe Area Wilderness to visitors to help slow the spread of COVID-19.
The BWCA will be closed to both day and overnight visitors through May 4.
Officials say they're closing the wilderness to keep visitors out of local communities while Minnesota's stay-at-home order is in place.
The Forest Service says it will refund reservations through May 4. Starting May 5, visitors to the BWCA can print their reservation confirmation email at home and use that as their permit.
Forest Service offices are currently closed to the public.
Bill Forsberg, who runs Boundary Waters Outfitters and Timber Trail Lodge outside Ely, Minn., said the closure won't have much impact on his business.
"My customers are calling me every single day wanting to know what's going on, and I have nothing to tell them other than sit tight. I have to assume we're going to be open," he said. "Where it would become impactful is if the governor extends this beyond fishing opener, then that's when we need to figure out what we're going to do."
Minnesota's walleye season opens May 9. Isle Royale National Park and the Apostle Islands National Lakeshore have also announced they will delay their openings until mid-June.
— Dan Kraker | MPR News
Minnesotans join White House economic restart panel
A handful of Minnesota executives have been named to a White House task force of 219 people that will make recommendations to President Trump about restarting the economy.
They include Brian Cornell, CEO of Target, and Hubert Joly, executive board chair at Best Buy. Life Time fitness founder Bahram Akradi is also listed among retail experts on the list. David MacLennan, CEO of Cargill, is among the agriculture experts, and U.S. Bank president Andrew Cecere is on the banking panel. The health care group includes 3M CEO Mike Roman and UnitedHealth Group CEO David Wichmann.
Others on the list include Apple's Tim Cook, AFL-CIO president Richard Trumka and a handful of so-called thought leaders, such as Condoleezza Rice, the former secretary of state.
— Tim Nelson | MPR News
Cabinet pay cuts save $300K; new budget outlook coming
The move this week by Gov. Tim Walz to cut his own pay and that of top advisers is part of a broader review of state costs.
Walz announced 10 percent pay cuts for the rest of the year for him, his chief of staff and 24 Cabinet-level officials that is expected to save $300,000. The governor makes just shy of $130,000 per year but agency commissioners earn more than that.
Lt. Gov. Peggy Flanagan, whose salary is roughly $83,000 per year, is not included in the pay reductions.
There is also a hiring freeze in place to reduce expenses as the coronavirus pandemic takes a bite out of state revenue and pushes other program costs up.
Employee overtime costs will also be reviewed.
State officials will release a special budget projection early next month. It will attempt to size up the drop in tax collections and estimate what federal assistance could be coming Minnesota's way.
— Brian Bakst | MPR News
---
Top headlines
State officials expect virus to take greater toll on racial minorities: Minnesota has not detected racial differences in deaths from the virus so far. But given Minnesota's health care disparities and the experiences of other states, experts suspect the pandemic will hurt people of color the most.
Best Buy to furlough more than 50,000 workers due to COVID-19: Company CEO Corie Barry announced the job cuts Wednesday, saying nearly all part-time workers were being laid off, although eligible employees are keeping health insurance coverage at no cost for three months.
Experts say 'there's so much uncertainty' regarding reopening the economy: There are more questions than answers when it comes to the future of the economy post-pandemic. We turned to the president of the Federal Reserve Bank of Minneapolis for his views on federal stimulus funding and who is hardest hit right now.
U of M's new low-cost ventilator gets FDA approval: The FDA's decision means the new, simple ventilator developed by engineers and doctors at the University of Minnesota can be built and distributed to health systems. The U of M is open sourcing the design so they can be easily produced.
ACLU sues to release Moose Lake inmates due to COVID-19: The organization filed a petition Wednesday against the state Department of Corrections. According to the department's database, 12 inmates in Moose Lake are confirmed positive for the coronavirus and another 31 inmates are presumed positive.
---
COVID-19 in Minnesota
Health officials for weeks have been increasingly raising the alarm over the spread of the novel coronavirus in the United States. The disease is transmitted through respiratory droplets, coughs and sneezes, similar to the way the flu can spread.
Government and medical leaders are urging people to wash their hands frequently and well, refrain from touching their faces, cover their coughs, disinfect surfaces and avoid large crowds, all in an effort to curb the virus' rapid spread.
The state of Minnesota has temporarily closed schools, while administrators work to determine next steps, and is requiring a temporary closure of all in-person dining at restaurants, bars and coffee shops, as well as theaters, gyms, yoga studios and other spaces in which people congregate in close proximity.