Week in review: Minnesota's top stories and looking ahead
Here were the week's top five stories and a look ahead.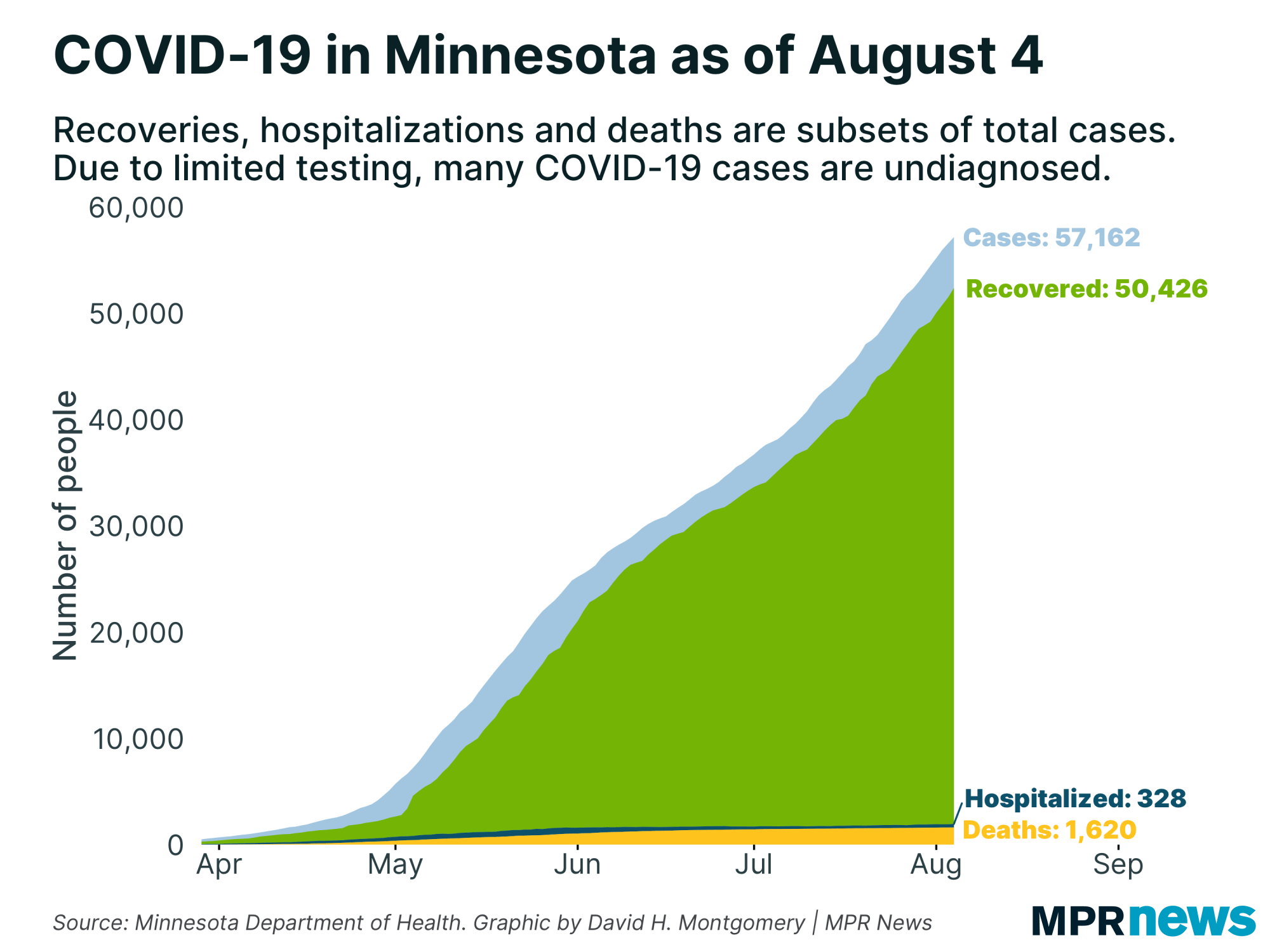 1. The state's COVID-19 cases continue to surge. The number of confirmed COVID-19 deaths in Minnesota climbed by 23 on Saturday — the largest single-day increase on record in the state since the pandemic began — as the number of confirmed cases also saw its largest daily jump. Those increases will likely continue as testing ramps up and follow Gov. Tim Walz's grim warning that Minnesotans should expect more deaths and a possible fall resurgence of the disease: "I want to remind Minnesotans: The hardest days are ahead.
As of Saturday, COVID-19 had killed 121 Minnesotans.
MPR News is Member Supported
What does that mean? The news, analysis and community conversation found here is funded by donations from individuals. Make a gift of any amount today to support this resource for everyone.
2. Minnesota may be 'national leader' in massive COVID-19 testing strategy. Walz said a partnership between Mayo and the University of Minnesota to test tens of thousands of Minnesotans daily for COVID-19 and for evidence of coronavirus antibodies is a massive breakthrough. He said the testing will continue to help slow the spread of the virus, while helping reopen the state's economy. Officials were unclear when the testing will begin, but here's a look at everything you need to know about that plan.
3. No more school this academic year and State Fair looks iffy. Through an executive order, Gov. Tim Walz shuttered schools through the end of the academic year and indicated his stay-at home may extend through May 4 as well. The governor also suggested the Minnesota State Fair may be another pandemic casualty: "I think it would be very difficult to see a State Fair operating. I don't know how you social distance in there." The last time the State Fair was canceled was during the polio epidemic in 1946.
4. WHO says there's 'no evidence' that recovered COVID-19 patients have immunity. In a scientific brief dated Friday, the United Nations agency said the idea that one-time infection can lead to immunity remains unproven and is thus unreliable as a foundation for the next phase of the world's response to the pandemic. At the same time, the disease, initially thought to be a pathogen that attacked the lungs, appears to be "impacting nearly every organ system in the body'' and may be causing strokes in younger patients, according to the Washington Post.
5. Earth Day marked its 50th anniversary. The state Department of Natural Resources is about to wrap up on its first 'biological census.'  The survey is a compilation of the work of hundreds of scientists who have scoured the state for rare and common plants and animals, as well as intact ecosystems that represent the land as it once was. There is good news and bad news. 
---
Coming up this week

Back to work. Between 80,000 to 100,000 Minnesotans could be heading back to work Monday, under an easing of stay-at-home restrictions. Walz unveiled a set of protocols that would permit about 20,000 businesses -- manufacturers, and other businesses that aren't customer facing -- to restart and let employees return to work,providing there are safe-distance, sanitizing and other protocols in place and executives commit to enforce them.

Coronavirus daily briefings. While updates by Gov. Tim Walz and Health Commissioner Jan Malcolm are expected to continue this week, similar briefing from the White House may wane. President Trump cut short his briefing Friday, declining to take reporter questions. The AP reported that several White House sources and Republicans close to the White House said there have been discussions about curtailing Trump's role in the updates. MPR News carries briefings live online -- when they happen.

Take a peek inside someone else's house. HGTV's launches a new series, "Celebrity IOU,'' inside the Twin Cities home of theater actor Michelle O'Neill. O'Neill's longtime buddy Academy Award winning actress Viola Davis and "Property Brothers" stars Jonathan and Drew Scott, took on the renovation, according to the Star Tribune. You can see it on HGTV at 8 p.m. Monday.
---
Spend a little time with …
The diary of an ER doctor in New York City who week-by-week chronicled her work in this haunting and often-difficult-to-read piece in the New York Times Magazine. "I put my hand on her hand. She grabs my fingers, tells me she feels cared for. She doesn't want to let go. I don't want to either. I look down at my purple-gloved hand holding hers, delicate and bony. I hate that she has to feel synthetic rubber, that she doesn't get an actual human touch before she departs from the living,'' writes Helen Ooyang. 

Some sweetness. From large acts — thousands of masks donated to fire departments across the state — to small — a porch party for Ms. Rosemary's 71st birthday — we have discovered a common humanity in these days of a pandemic most of us have seen the likes of.

Kerri Miller and author Rebecca Winn. Pop your ear buds in or crack up a book and join Miller's conversation with Winn and take a stroll through her book "One Hundred Daffodils." When her life fell apart, it was Winn's garden that taught her how to heal.
The week in review is published each Sunday on MPR News during the coronavirus pandemic.