April 27 update on COVID-19 in MN: 286 dead; plants idled, livestock euthanized
Updated 7:52 p.m.
Minnesota's COVID-19 toll climbed again Monday as the economic fallout from the disease continued to reverberate.
The latest on the economic pain came from Minnesota Agriculture Commissioner Thom Petersen, who told reporters that hogs will need to be euthanized because COVID-19 forced several large regional processing plants to shut, leaving local producers with nowhere to ship tens of thousands of hogs weekly. He called it a "very precarious situation."
Consumers may also see higher meat prices, although the "food supply is stable," he added.
His comments came hours after the Health Department reported 14 more Minnesotans had died from COVID-19, pushing the death toll to 286. Nearly 300 people are in the hospital currently with 122 in intensive care, seven more than Sunday.
Grow the Future of Public Media
MPR News is Member supported public media. Show your support today, donate, and ensure access to local news and in-depth conversations for everyone.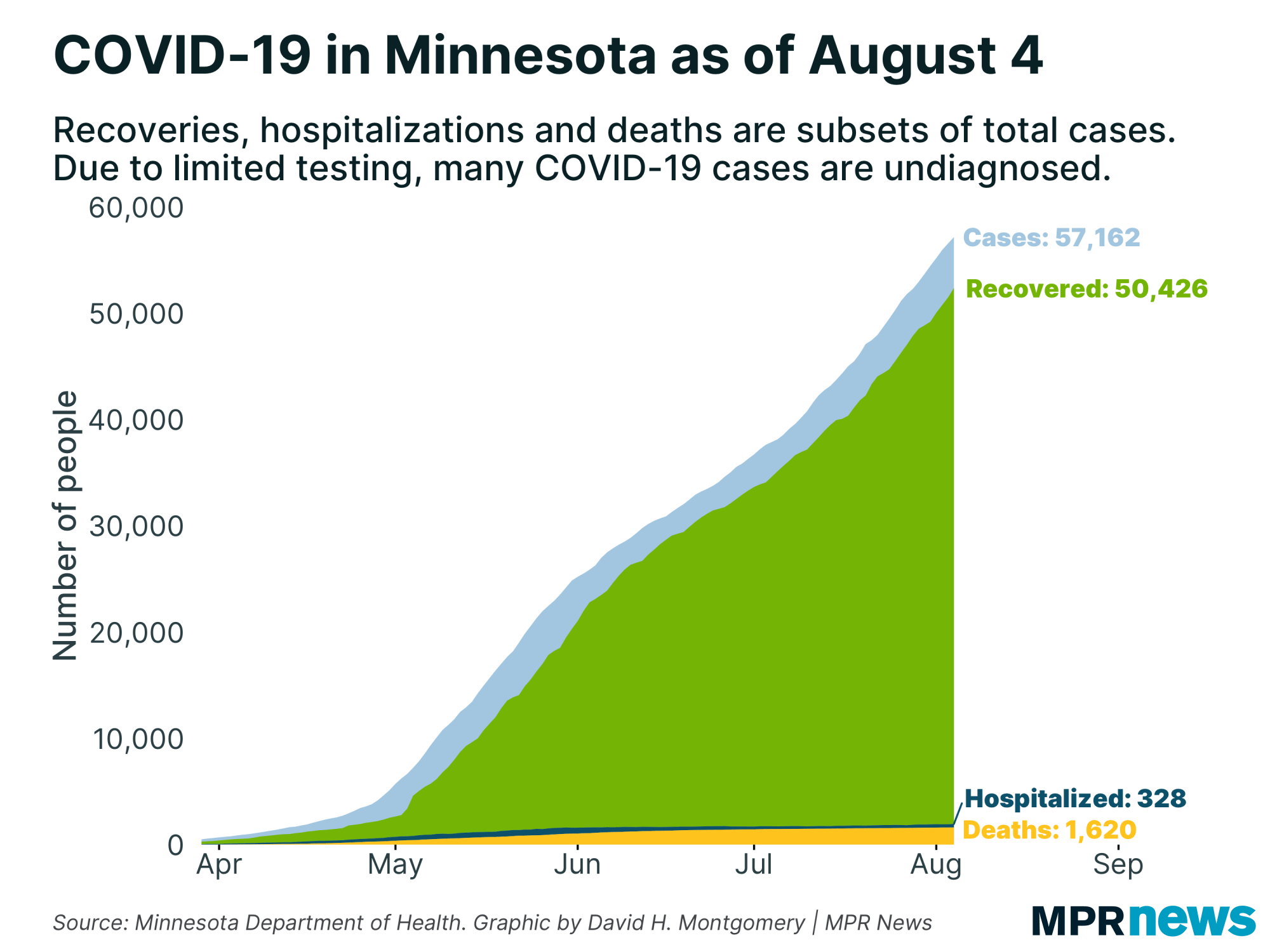 The average daily death toll is doubling in about a week's span, an indication that the state hasn't yet reached the peak of the pandemic — let alone a two-week decline that federal health officials say is a sign restrictions can be significantly eased.
Most of the people who have died were living in long-term care facilities; 8 in 10 were age 70 or older, according to Health Department data.
State officials have been bracing Minnesotans to see more cases surface as a massive testing effort ramps up. Hospitalizations and deaths may also continue to rise as an expected summer surge approaches.
SW Minnesota outbreaks and the meat supply
The largest COVID-19 cluster outside the Twin Cities continues to be in Nobles County, where the outbreak centers around the now-shuttered JBS pork processing plant in Worthington.
On Sunday, the county had 352 confirmed cases of COVID-19 — up from 258 on Friday and just two cases the week before last. On Monday, total positives jumped again, to 399.
Nobles has by far the largest outbreak relative to its population.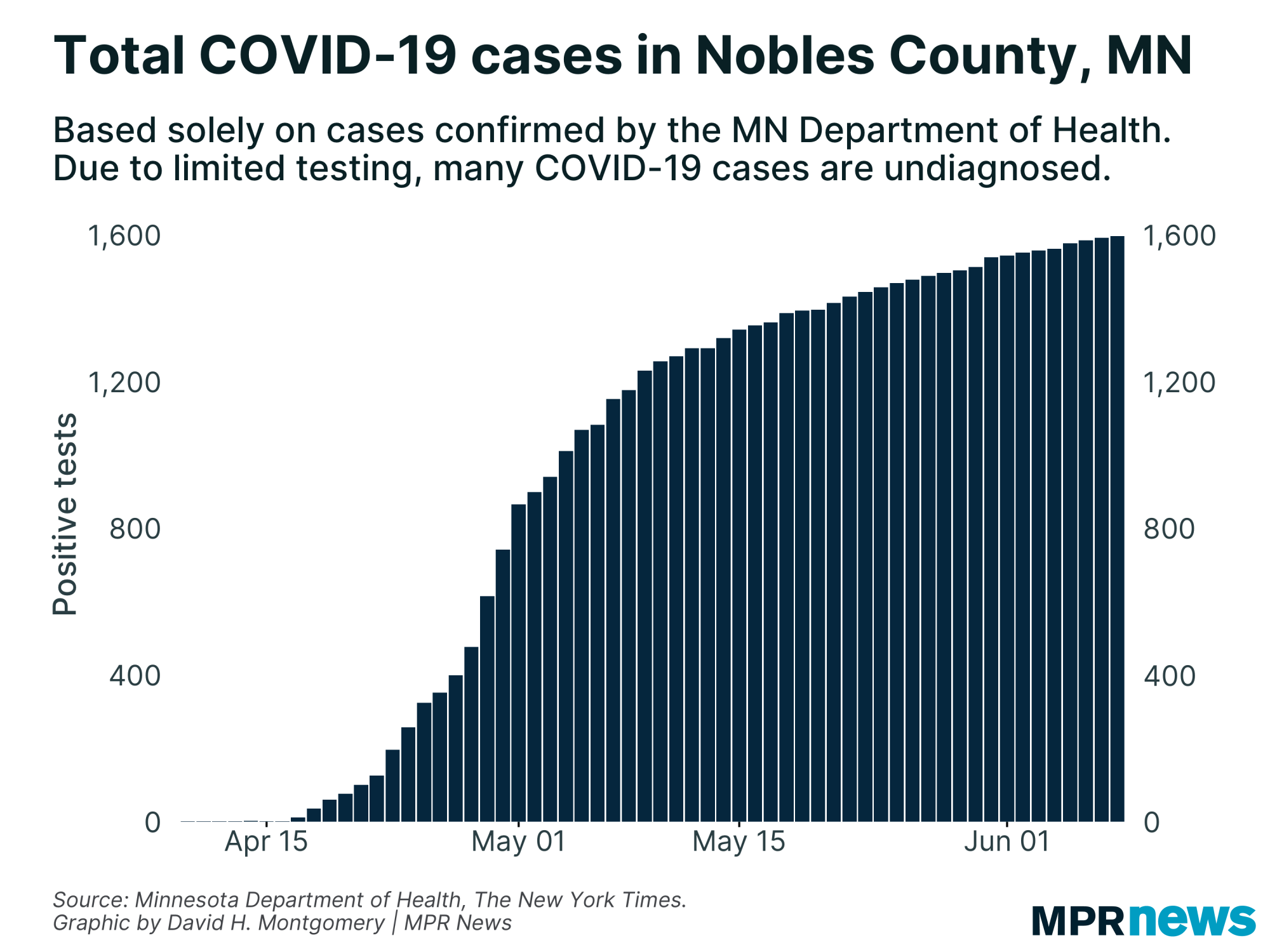 Cases are also surfacing at the Jennie-O turkey plant in Willmar, in west-central Minnesota. On Thursday, 14 of more than 1,200 workers had tested positive, but that number is expected to increase. The plant's operators said Friday it would close both Willmar plants.
With major hog and turkey operations in southwestern Minnesota and South Dakota idled by COVID-19 and unable to process animals, officials were "looking for homes" at smaller processors for 100,00 to 200,000 hogs a week, said Petersen.
"The decision to euthanize animals is very emotional," he said.
Petersen said the Smithfield packing plant in Sioux Falls, S.D., will be shut down for some time. He said that and the JBS shutdown were a significant setback to livestock producers. The closures, representing more than half of the region's hog processing capacity, are a significant setback to farmers, he said.
'Logistical' problems slow testing ramp-up
The Health Department on Monday reported 214 new positive tests for the disease. Of Minnesota's 3,816 cases since the pandemic began, just under half of those confirmed with COVID-19 have recovered to the point they no longer need to be isolated.
Officials have said repeatedly that the number of positive tests is only a sliver of the Minnesotans who likely have the coronavirus.
Gov. Tim Walz last week unveiled plans for a massive testing effort that would be able to test as many as 20,000 Minnesotans a day. But while testing is increasing, current numbers show only a fraction of that daily testing still taking place.
Health Commissioner Jan Malcolm said Monday that the laboratories and health care providers were still dealing with "logistical issues" tied to the ramp-up but that officials were still shooting to complete 5,000 daily tests by next week.
Some factory, office workers OK'd to return
Thousands of manufacturing, industrial and office workers could be back to work as soon as Monday in Minnesota after Walz unveiled a set of standards last week to permit manufacturers, and other businesses that aren't customer-facing, to restart and let employees return to work.
Even as businesses get the OK to return to their buildings, it's not clear how quickly they'll move.
"What we're basically hearing from the largest employers to the smaller-size employers is that they're going to move pretty cautiously. They're still working through their own internal protocols about how they would invite people back into the office," said Steve Cramer, CEO of the Minneapolis Downtown Council.
State officials say they're relying on workers in critical industries to speak up if their workplaces fail to observe official safety guidelines during the COVID-19 pandemic. Nancy Leppink, the commissioner of labor and industry, said the state will act if employees complain about a lack of social distancing or protective equipment.
"None of the departments have the resources to do routine site visits at these facilities, so we are addressing them based on receipt of complaints, but also addressing them based on where we see potential spikes or incidents of workers testing positive," said Leppink.
More big decisions this week
Walz will announce this week whether he'll continue or end his stay-at-home order that runs through the first weekend of May.
The same goes for restrictions on bars, restaurants and other entertainment venues that have been closed to all but takeout and delivery since the middle of March.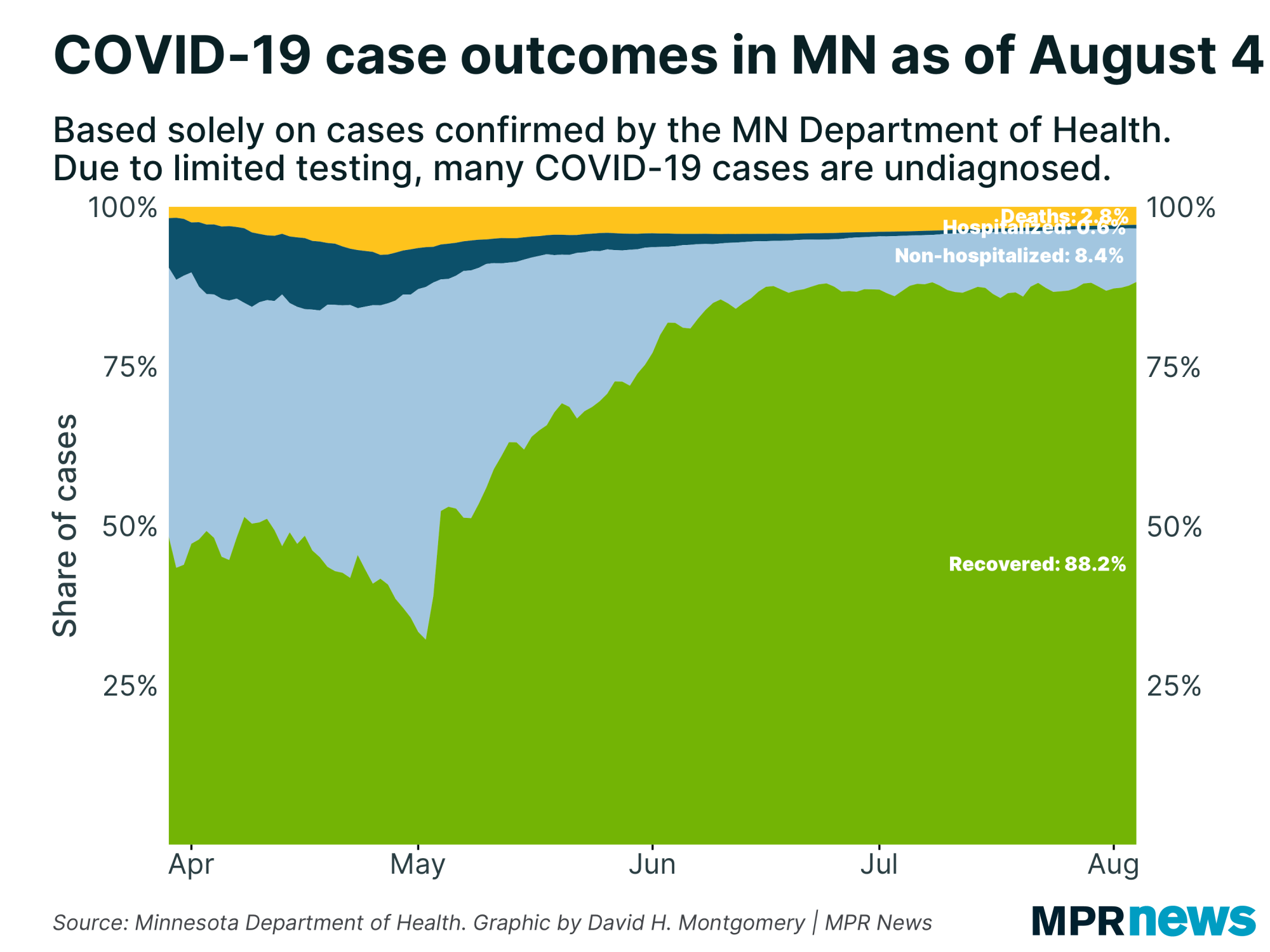 Both sets of curbs are due to end next Monday, barring extensions. Right now travel that isn't considered essential is still discouraged and workplaces that aren't explicitly exempt should stay closed. And for now people can't get a drink or a bite to eat in a restaurant, only to-go.
But even as factory and some office workers return to their job sites this week, Walz has made it clear that places that depend on public crowds, including bars, eateries and big sporting events, will be the last ones to return to normal business operations.
---
Developments from around the state
12 people have died of COVID-19 at Minneapolis nursing home
A Minneapolis nursing home says a dozen residents have died because of COVID-19.
A letter posted on the website of Catholic Eldercare says its long-term nursing care facility has at least eight confirmed cases of COVID-19 and, as of a week ago, the illness led to the deaths of 12 residents.
The letter says in consultation with the Centers for Disease Control and Prevention and Minnesota Department of Health, they are keeping all lab-confirmed positive cases on the third floor of the facility and dedicating staff to those residents.
Once cleared of the virus, residents will be able to return to the floors they live on.
— Peter Cox | MPR News
Wayzata assisted living facility to shut after outbreak
Meridian Manor, the Wayzata assisted living facility that had an outbreak of COVID-19 among staff and residents, is closing its doors.
At least 21 residents of the 59 in the home tested positive for coronavirus. Two have died. Thirteen staff members have also tested positive for the virus.
Transforming Age, the nonprofit organization that runs Meridian Manor, said the state Health Department's emergency COVID-19 task force said all residents had to move to other providers.
The company is helping residents transition to new locations at no cost.
— Peter Cox | MPR News
Pandemic exacerbates issues for vulnerable communities
The coronavirus outbreak has exacerbated issues that Minnesota's most vulnerable populations already face.
Jack Loftus is co-founder of Southside Harm Reduction Services in Minneapolis, which works to improve the safety of people who use injection drugs.
Loftus said they've ramped up their street outreach to people who live outside in camps, as they continue to face the same housing and health disparities they faced before the outbreak.
"With coronavirus now, everything's on telehealth, and so for people who don't have phones or don't have laptops or don't have access to internet in a private place... maybe the place you use internet is at a McDonalds," he said. "You don't want to do your mental health therapy appointment in a McDonalds."
Loftus said they are distributing hand sanitizer, homemade masks and coronavirus information, and also helping people sign up to receive federal stimulus payments.
— Emily Bright | MPR News
Coronavirus may cause financial harm to churches
The economic fallout from the pandemic is expected to have a major impact on church donations. And Minnesota faith leaders say it could be especially hard for smaller parishes that play prominent roles in serving low-income communities.
Pastor Curtiss DeYoung heads the Minnesota Council of Churches, which works with several denominations. He said that for some of those smaller churches, it isn't just parishioners being out of work that's affecting donations. Lack of technology is a problem, too.
"One of the prime ways that local congregations collect income is through passing the plate on Sunday morning. And smaller congregations, in particular, have not had online methods of giving," he said.
DeYoung said the situation raises questions of whether some churches will be able to survive the crisis.
— Mike Moen | MPR News
Klobuchar's husband donates plasma after recovery from COVID-19
U.S. Sen. Amy Klobuchar's husband John Bessler has donated plasma as part of an experimental treatment program for COVID-19.
Bessler was hospitalized in March and tested positive for COVID-19. He has since recovered.
He donated plasma, potentially filled with antibodies to help fight the coronavirus, to Mayo Clinic.
Mayo is researching how that plasma could be used to treat patients with COVID-19.
"I was proud to be one of the first participants in this innovative treatment program at the Mayo Clinic," Bessler said in a news release. "I encourage all others who have recovered from COVID-19 to also consider donating their plasma to help develop potential remedies to this virus that is impacting so many people across Minnesota and the country."
— MPR News staff
---
Top headlines
Caribou Coffee workers rally for coronavirus protections: Blasting Madonna and chanting, "No honest pay, no lattes," dozens of Caribou Coffee employees and their supporters rallied Monday morning outside a Twin Cities Caribou shop. They've been mounting a campaign in recent weeks calling on the company to provide more protective equipment and benefits for essential employees at coffee shops during the COVID-19 pandemic.
Pence to visit Mayo Clinic to learn about testing 'moonshot': Vice President Mike Pence has an appointment Tuesday at Minnesota's Mayo Clinic to learn about a new coronavirus testing "moonshot" that has the famed clinic partnering with the state and its flagship university to quickly boost the state's capacity to 20,000 tests a day.
Skirmish brews over federal COVID-19 money sent to Minnesota: The Minnesota Senate voted Monday to assert more control over the use of federal coronavirus funding now in the state government's possession. A bill that would require legislative signoff for the money to be spent passed 42-25, with a handful of DFLers joining majority Republicans in support. More than $1.86 billion has been sent Minnesota's way already. Hennepin and Ramsey counties have separately received more than $300 million combined.
Legislative deadline looms with agenda upended by COVID-19: When the legislative session convened in early February Minnesota had a healthy budget surplus, and lawmakers were looking at a light agenda. Then came COVID-19. In the space of weeks, tens of thousands of Minnesotans have lost their jobs, the budget surplus is gone, and the legislative to-do list was upended. 
Already on the margins, homeless students hit hard by shuttered schools: When classrooms closed to slow the spread of the new coronavirus, the disruption left teens experiencing homelessness without the stability, routine and support of school. It has forced them to navigate distance learning on their own while also dealing with the trauma that homelessness brings.
Native nations still waiting for federal COVID-19 aid: Delays and confusion have hampered the distribution of aid tribal governments in Minnesota say they desperately need to continue to function — and to respond to the coronavirus pandemic.
---
COVID-19 in Minnesota
Health officials for weeks have been increasingly raising the alarm over the spread of the novel coronavirus in the United States. The disease is transmitted through respiratory droplets, coughs and sneezes, similar to the way the flu can spread.
Government and medical leaders are urging people to wash their hands frequently and well, refrain from touching their faces, cover their coughs, disinfect surfaces and avoid large crowds, all in an effort to curb the virus' rapid spread.
The state of Minnesota has temporarily closed schools, while administrators work to determine next steps, and is requiring a temporary closure of all in-person dining at restaurants, bars and coffee shops, as well as theaters, gyms, yoga studios and other spaces in which people congregate in close proximity.