April 30 update on COVID-19 in MN: 343 dead; Walz tweaks, extends stay-home order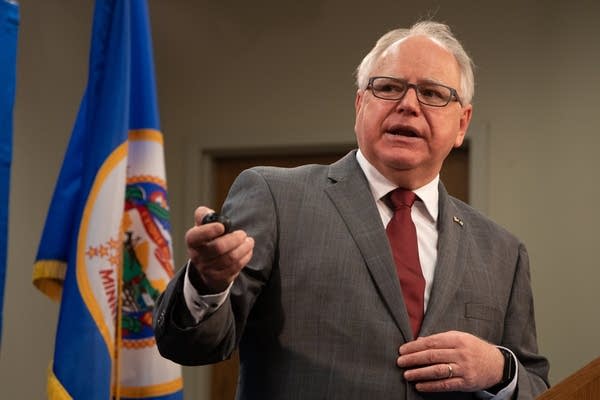 Updated 6 p.m. | Posted: 5:30 a.m.
With his current stay-at-home order set to expire Monday, Gov. Tim Walz unveiled a plan Thursday that extends the order and keeps bars and restaurants takeout-only until May 18, but also makes changes to allow some additional retail store operations.
The new order will let retailers and other businesses offer curbside pickup of purchases, starting Monday. The governor's office said the move would put up to 30,000 Minnesotans back to work.
Services that depend on customers walking through the door, however, will likely be disappointed by Thursday's move. Salons and barbershops, for instance, can sell products for curbside pickup but still can't provide haircuts of other in-shop services.
"Even as we reopen it's not going to be the same," he said, but "there is every reason to be positive that Minnesota is going the right way."
Grow the Future of Public Media
MPR News is supported by Members. Gifts from individuals power everything you find here. Make a gift of any amount today to become a Member!
The governor's latest decisions come as Minnesota's COVID-19 toll continued on its grim course Thursday, with the Health Department reporting 343 Minnesotans have died from the disease, 24 more than Wednesday. Total cases since the pandemic began crossed 5,000.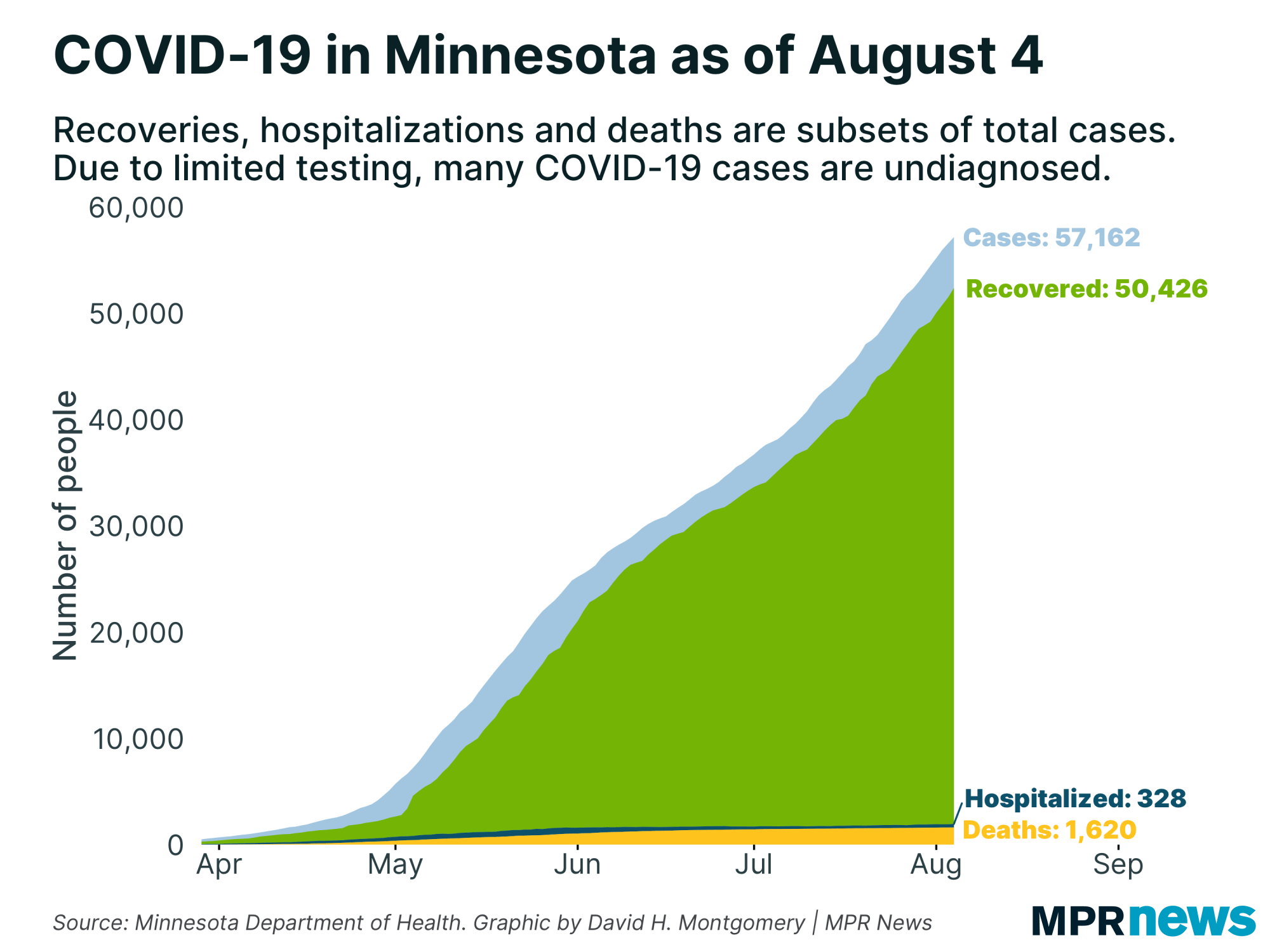 The number of currently hospitalized jumped to 365, up 45, with 130 in intensive care.
Earlier this week, Walz gave the green light to letting factory and office workers who don't have customer-facing jobs back into their work spaces, with safeguards. On Wednesday, he expressed hope that smaller Main Street business could soon reopen with social distancing and other hygiene measures in place.
The governor, though, has made clear that places that depend on public crowds, including bars, eateries and big sporting events, would be among the last to return to normal business operations.
As restrictions relax and testing ramps up, health leaders said Minnesotans should expect to see the COVID-19 outbreak widen, but they expressed confidence that Minnesota's health care system was prepared to deal with an expected surge of cases and hospitalizations.
Difficult data
The need for that kind of preparation was evident Thursday as total cases hit 5,136 with new cases rising significantly faster now than the number of recoveries.
Health Department data showed about 42 percent of Minnesotans testing positive for the disease since the pandemic began have recovered to the point they no longer need to be isolated. Before this week, recoveries had been running at about 50 percent of total cases.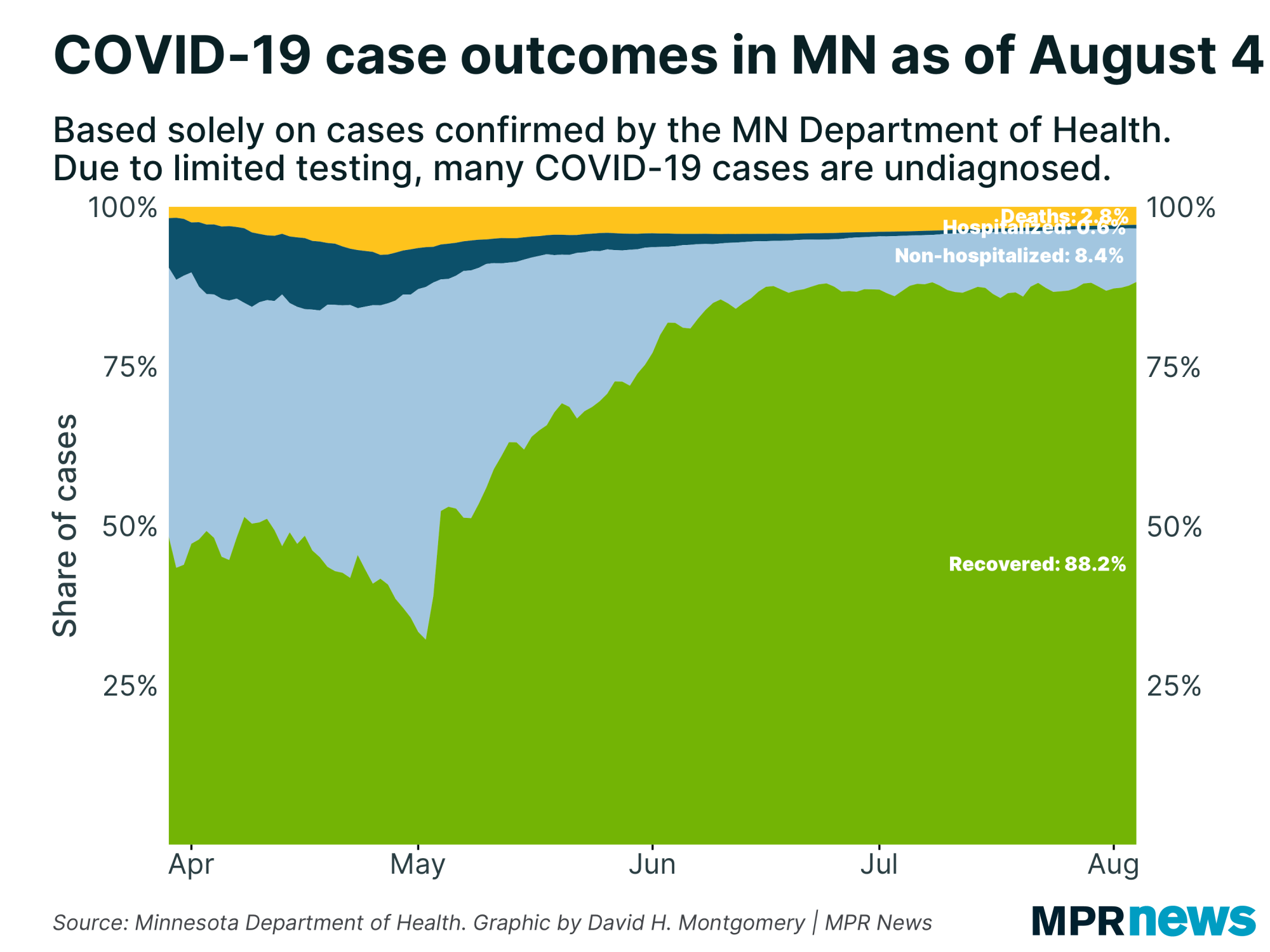 A new effort between the state, Mayo Clinic and the University of Minnesota to dramatically ramp-up testing in Minnesota and quickly identify and isolate COVID-19 cases appears to be paying off.
The state on Thursday reported 3,279 completed daily tests from the prior day — the first time daily testing topped 3,000.
Walz said the state should be testing 5,000 people daily as part of the plan to reopen the economy.
The governor told reporters that while cases are rising rapidly now, the state was prepared for a surge and key metrics including current hospitalizations and intensive care patients aren't rising in a way that would overwhelm the health system.
He urged people to wear masks outside and stay vigilant as the virus continues to spread.
Deal near on elective surgeries, dental visits?
Walz said Thursday that talks are underway with medical professionals about restarting elective surgeries and dental care visits.
The governor had put a hold on those procedures to preserve crucial protective gear and equipment needed to respond to a surge in COVID-19 cases. The governor said that hospitals, so far, have enough gear to handle the cases.
Walz said there may be an announcement in the next few days. "If we keep making this progress, we believe that we can do this."
State officials also said it's possible that restarting routine dental visits could also be on the same timeline as elective surgeries.
SW Minnesota outbreak, meat supply concerns widen
As testing accelerates, more cases are discovered. That's especially true in southwestern Minnesota, where an outbreak centered in Nobles County around the massive JBS pork plant in Worthington continues to mushroom.
The county had 615 cases confirmed Wednesday. On Thursday it hit 742. It's the largest outbreak in Minnesota outside the Twin Cities and the largest by far relative to the county's population.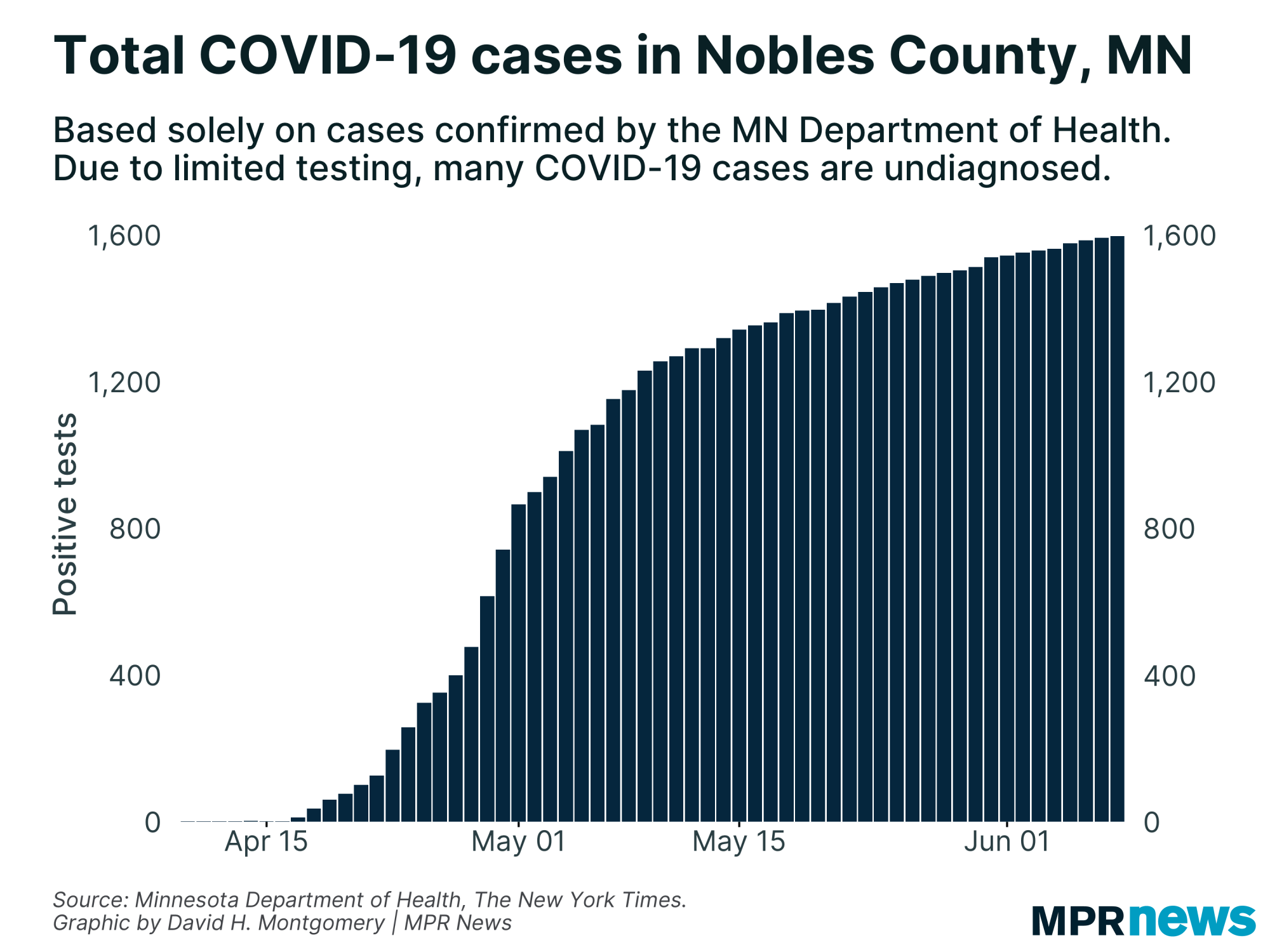 Beyond the ill and unemployed workers, the cascading effects of the shutdown of JBS and of the massive Smithfield Foods pork processing plant in Sioux Falls, S.D., are also hitting pork producers hard. With those plants down, farmers have few places to sell the animals and so are being forced to destroy them, Minnesota Agriculture Commissioner Thom Petersen said Monday.
At a Wednesday press conference, Minnesota DFL U.S. Rep. Collin Peterson said state officials together with JBS executives and union leaders would be working on a plan that would allow the plant to reopen while keeping workers safe and tested as they enter.
Peterson said nearly 500 JBS workers have tested positive for the coronavirus, about 20 to 25 percent of the plant's workforce. Restarting JBS, he said, would require slowing down the hog processing and spacing out workers on the line with shields between them.
Kandiyohi County in west-central Minnesota is also seeing cases jump a week after officials with the Jennie-O turkey processing plant said some employees had tested positive for the coronavirus.
A week ago, Kandiyohi County, where the Willmar plant is located, had confirmed three COVID-19 cases. On Thursday, the Health Department reported 91 people in the county have now tested positive.
'No answer' for inequities
Fielding questions about his new orders, Walz acknowledged that the prohibitions are falling harder on Minnesotans who've historically been disadvantaged.
Asked about the differences between letting golf courses open while closing public park games and activities, Walz said they've been using data to judge what activities are safe and can allow for social distancing, but admitted, "I don't have a good answer for that."
While state officials could reconcile golf and social distancing, "we weren't able to answer that with pickup basketball games," he said. The stay-home prohibitions "are falling heavily on communities of color and socially disadvantaged communities. … I don't have an answer."
Tempered support for Walz's extended order
The governor has been under increasing political pressure to open the economy faster. He's warned that going too fast could worsen the disease's spread and give back the gains the state's made in fighting COVID-19.
Some Republican leaders expressed disappointment Thursday after hearing news of Walz's moves.
"The governor is asking the right questions and looking at the right data, but I'm disappointed he's not turning the dial further today. I think he should move further, and faster, opening businesses up again in Minnesota," Senate Majority Leader Paul Gazelka, R-East Gull Lake, said in a statement.
House Minority Leader Kurt Daudt, R-Zimmerman, said retailers were ready to step up to add curbside pickup service, "but if their large competitors can be open to customer traffic, our small retailers should be extended the same opportunity and trust by the governor."
Thursday's decision, though, saw support from key business leaders.
"We appreciate the governor's ongoing effort to reopen parts of our economy while mitigating health risks to the public," Charlie Weaver, executive director of the Minnesota Business Partnership, said in a statement. "We trust that the ongoing efforts by businesses to create a safe environment for their employees and customers will allow for additional relaxation of restrictions in the near future."
Bruce Nustad, president of the Minnesota Retailers Association, said there are 69,000 retailers in Minnesota in total and that this would help as many as 15,000 retailers in cities and small towns across Minnesota.
The situation requires patience, he said, adding that he believed full reopening of stores is coming soon.
Summer on?
Even as he expressed hope for the summer, the governor made it clear that summer graduation ceremonies, weddings and youth camps are still a question mark.
He said Gwen Walz, his spouse and a former teacher, is working on how schools can safely hold graduation ceremonies to give high school seniors their rite-of-passage. Traditional ceremonies might be difficult to pull off, the governor added, but it remains a goal to give the students some formal recognition.
The governor acknowledged some think he should make a definitive statement now urging people to cancel summer plans, but said, "I'm a little more hopeful on that" and that if there was a way, say, to have a camp with the proper social distancing, that should be explored.
The governor said he was "trying to hold out hope that we can do these things."
---
Developments from around the state
Recent spike in Stearns Co. cases tied to two poultry plants
Stearns County in central Minnesota is reporting a big jump in coronavirus cases tied to two meatpacking plants.
The county started the week with 55 positive cases of COVID-19. In two days, that number more than tripled, to 166. Health officials say the spike is a result of increased testing focused on hot spots in the county.
Those include two poultry plants, Pilgrim's Pride in Cold Spring, Minn., and Jennie-O Turkey in Melrose, Minn., where an undisclosed number of workers have tested positive for the virus.
County Public Health Director Renee Frauendienst said staff have been reaching out to sick workers to provide testing and information.
"What we're trying to do is get in touch with all those people, so that we can talk with them to make sure they understand what isolation and quarantine measures they need to take in order for us to prevent the spread," said Frauendienst.
Jennie-O says it will pause its operations in Melrose to undergo a facilitywide cleaning.
— Kirsti Marohn | MPR News
24 counties ease property tax deadlines
Several more county boards granted waivers this week to the usual May 15 filing deadline for the year's first property tax installment. An Association of Minnesota Counties tally lists 24 of 87 Minnesota counties that have done so to date.
While the terms vary by county, most give people until July 15 to pay their homeowner or commercial taxes. Some are still requiring those using escrow accounts to pay on time and others are limiting the exemption to bills of less than $100,000.
The extensions will give more time to pay before penalties and interest kick in, although some counties are not reducing penalties entirely. There are places where businesses and residents must prove they are impacted by COVID-19 to qualify.
The counties that have relaxed listed by the association as of Wednesday are: Aitkin, Brown, Crow Wing, Dakota, Fillmore, Hennepin, Houston, Kanabec, Kandiyohi, Mahnomen, Morrison, Mower, Olmsted, Pine, Ramsey, Rice, Sherburne, Sibley, Stearns, Steele, Swift, Washington, Winona and Yellow Medicine.
— Brian Bakst | MPR News
MN State schools weigh campus questions for the fall
The state's regional universities and two-year colleges are considering how to respond to COVID-19 when classes resume later this year.
Administrators are mapping out summer classes and the start of a new academic year in the fall, and are imagining three scenarios, said Devinder Malhotra, chancellor of the Minnesota State system, said Wednesday.
"One is the scenario most optimistic — one off minimal disruption — and the second scenario is that social distancing and other safety protocols would still be in place; and then the third scenario we are planning for is another or reinfection," he said.
Malhotra said that even before the COVID-19 outbreak, nearly a quarter of classes were already online. That number is close to 95 percent now, with only some hands-on requirements left.
— Tim Nelson | MPR News
---
Top headlines
Judge orders Corrections Department to respond to Moose Lake allegations: A judge has ordered the Minnesota Department of Corrections to demonstrate that it has sufficiently protected inmates at the Moose Lake prison from COVID-19. The American Civil Liberties Union of Minnesota filed a lawsuit in mid-April alleging that the Corrections Department and the Moose Lake prison have failed to implement sufficient measures to slow the spread of the coronavirus.
MN Senate passes GOP tax bill that delays payments: Republicans in the Minnesota Senate, along with five Democrats, passed a $327 million tax relief measure aimed at helping businesses survive COVID-19 closures.
Northern Minn. companies step in to help fill PPE shortage: Hospitals and clinics have struggled to get enough personal protective equipment, or PPE, since the beginning of the COVID-19 pandemic. In Duluth, and across the state, local companies have retooled to manufacture masks, face shields, and other equipment to help meet that shortfall.
New Hope nursing home sees 'devastating' 47 deaths from COVID-19: St. Therese said that since early April, 47 residents of the 258-bed facility have died of the disease caused by the coronavirus. It has tested 100 percent of residents, with the results of the final 25 expected in the next few days, and that 130 residents have tested positive since testing began in late March.
---
COVID-19 in Minnesota
Health officials for weeks have been increasingly raising the alarm over the spread of the novel coronavirus in the United States. The disease is transmitted through respiratory droplets, coughs and sneezes, similar to the way the flu can spread.
Government and medical leaders are urging people to wash their hands frequently and well, refrain from touching their faces, cover their coughs, disinfect surfaces and avoid large crowds, all in an effort to curb the virus' rapid spread.
The state of Minnesota has temporarily closed schools, while administrators work to determine next steps, and is requiring a temporary closure of all in-person dining at restaurants, bars and coffee shops, as well as theaters, gyms, yoga studios and other spaces in which people congregate in close proximity.