May 12 update on COVID-19 in MN: 614 dead; full 'battle plan' may take weeks
Updated 8:23 p.m. | Posted: 5:30 a.m.
A COVID-19 "battle plan" to safeguard Minnesotans living in long-term care facilities could take weeks to implement statewide, Minnesota's top health official said Tuesday.
The plan, unveiled Thursday by Gov. Tim Walz, includes expanded testing, more personal protective gear for health workers in those congregate care sites, and a promise to maintain "adequate" staffing when workers fall ill. Long-term care residents account for more than 80 percent of COVID-19 deaths to date.
Implementing Walz's "battle plan," however, will take time, Health Commissioner Jan Malcolm said Tuesday. "It's unfortunately not something that we can flip a switch and have the plan be fully implemented everywhere in the state immediately, but it is a high priority."
She said she's received calls and emails from long-term care workers and family members of people in those facilities "who are concerned and disappointed that the plan isn't fully in place" in the facility where they work or have loved ones.
Grow the Future of Public Media
MPR News is supported by Members. Gifts from individuals power everything you find here. Make a gift of any amount today to become a Member!
The goal is to move quickly and the state is "making good progress" but "it's going to take some period of days and even weeks before it's fully implemented statewide," she told reporters.
Malcolm's remarks came hours after her department reported that Minnesota had passed two more sad milestones in the COVID-19 pandemic — deaths rose above 600, to 614, and total cases crossed 12,000. The first death was recorded less than two months ago.
The number currently hospitalized is just under 500, with 199 in intensive care.
Decisions loom this week
Walz must make at least two important decisions this week tied to his efforts to slow the disease's spread so it doesn't overwhelm the health care system.
The governor must decide this week whether his stay-at-home order should be extended in some form beyond Monday or allowed to expire.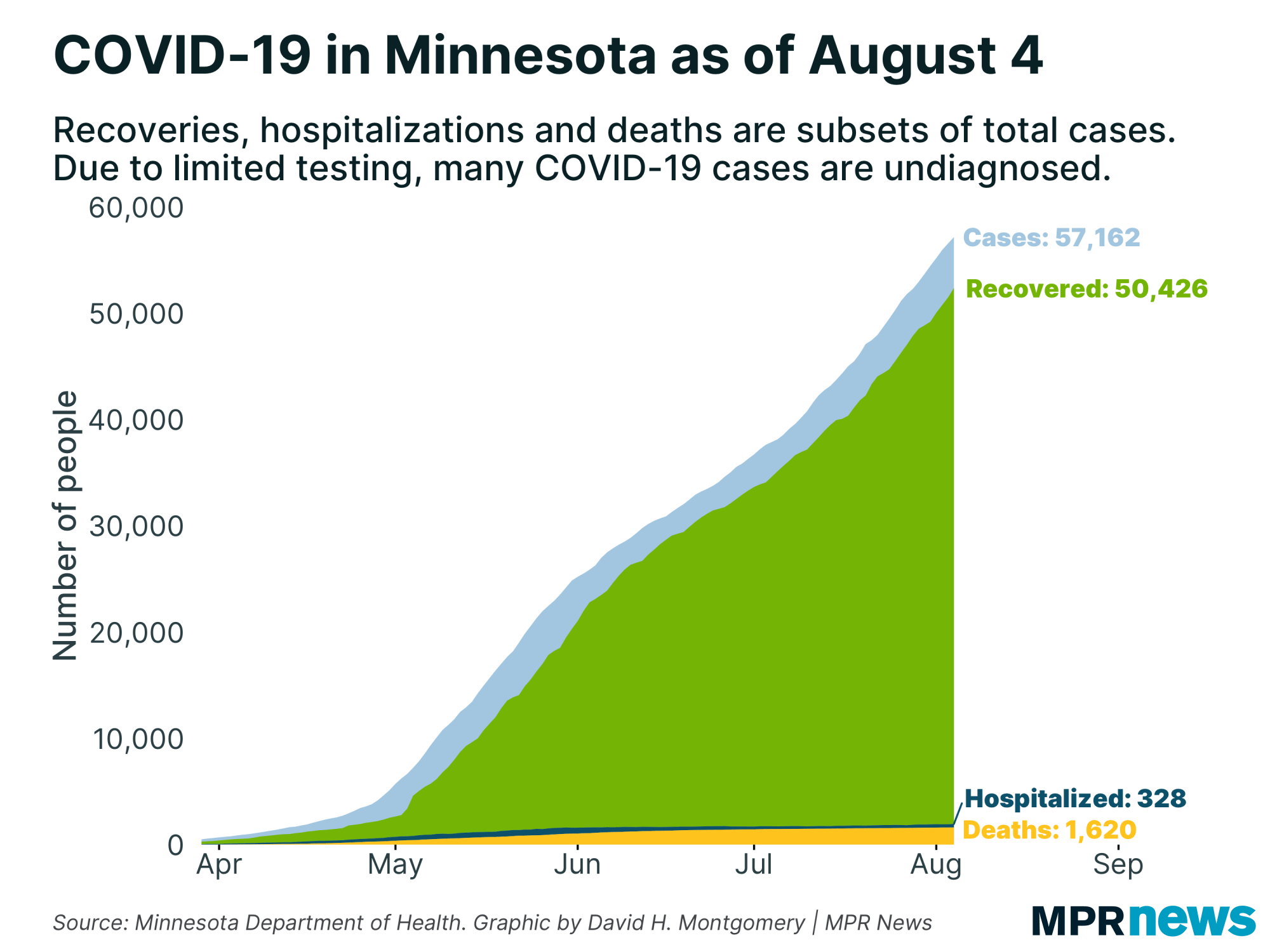 Minnesotans are increasingly disregarding the stay-home order, traffic and cellphone data show, and Walz is facing increased criticism of the order from people who say the restrictions have fallen unevenly on businesses.
However, case counts and deaths continue to increase in Minnesota. And Walz predicted many customers aren't yet ready to dine out or gather where there are crowds.
"To do this haphazard, and I think of business owners, if you open up and it becomes clear people got sick being there, it's every bit as damaging as a stay-at-home order," he said. "So, we can't get it wrong."
Projections for COVID-19 case growth, intensive care capacity, supplies of protective gear for health workers and economic data are among the drivers for the state leaders' decision making, Malcolm said Monday. "We're in the compiling-all-the-data stage."
Besides the stay-home order, Walz must also decide whether to extend his "peacetime emergency" order for another 30 days, which gives him authority to respond to the pandemic without legislative approval.
On Tuesday, DFL House Speaker Melissa Hortman said she expects Walz to extend the peacetime emergency order, noting that cases continue to grow in Minnesota and there are problems in nursing homes and meat packing plants that still need attention.
Republicans in the Minnesota House have vowed to withhold votes on a more than $2 billion public works spending bill unless Walz drops the order when it expires Wednesday. If Walz were to add even more time after the session adjourns Monday, he'd be required to call lawmakers into a special session.
Meatpacking remains at the center of case jumps
Several recent outbreaks outside the Twin Cities metro area are focused around meatpacking plants. Officials have intensified testing in those hot spots, uncovering more infections.
In southwestern Minnesota's Nobles County, where an outbreak hit Worthington's massive JBS pork plant, about 1 in 17 people have tested positive for COVID-19. In mid-April, there were just a handful of cases. On Tuesday, there were 1,291 confirmed cases. The numbers were still increasing, although at a slower rate than in previous weeks.
The JBS plant shut on April 20 but has partially reopened with expanded hygiene and health monitoring measures.
Similar problems have been reported in Stearns County, where COVID-19 cases tied to two packing plants — Pilgrim's Pride poultry plant in Cold Spring and Jennie-O Turkey in Melrose — have skyrocketed. An undisclosed number of workers at both plants have tested positive for the virus.
There were about 55 confirmed cases in Stearns County two weeks ago. By Tuesday, confirmed cases had jumped to 1,512.
Kandiyohi County in west-central Minnesota is also seeing cases jump three weeks after officials with the Jennie-O turkey processing plant there said some employees had tested positive for the coronavirus. The county had confirmed three COVID-19 cases back then. On Tuesday, the Health Department reported 367 people have now tested positive.
Kris Ehresmann, the state's infectious disease director, said that there has been more targeted testing in Nobles, Stearns, Kandiyohi and Chippewa counties with processing plants.
Testing goal met; no testing for asymptomatic Minnesotans yet
Walz has said the state should be testing 5,000 people a day in order to reopen the economy. It's a goal the state's hit only a few times, although it did meet it in the Tuesday report.
While supply shortages were faulted with limited testing in the early weeks of the outbreak, Malcolm on Tuesday reiterated the capacity is there and that people who are experiencing symptoms "can and should be getting tested" and that the state has capacity for that.
But she and Ehresmann said the state would not be opening the door anytime soon for testing of Minnesotans showing no symptoms at all.
Some businesses back to work, others frustrated
The governor has said more than 90 percent of Minnesota's workforce is now able to return to their workplaces with hygiene and distancing rules in place, under his tweaked stay-at-home order.
He's loosened restrictions on some retailers, allowing customers to buy online and pick up goods curbside. And this week, doctors, hospitals and dental clinics are able to restart elective surgeries and dental services.
But as the stay-at-home order moves through its seventh week, customer-facing businesses that haven't been green-lighted, however, are chafing at the restrictions.
Recently, a Twin Cities barbershop owner publicly defied Walz's order. Leaders in Lakefield, in southwestern Minnesota, have voted to support businesses that want to defy the governor's order and reopen. In northwestern Minnesota, the Thief River Falls City Council asked for their city to be exempt from the order.
"These are horrible choices. There are no good choices," Walz said recently, though he noted that restarting of sectors of the economy — including letting crowds return to bars and restaurants — had to be done methodically with safety in mind.
A handful of bars and restaurants in central Minnesota are planning to reopen to the public next week, regardless of health orders aimed at stemming the spread of the coronavirus.
Kris Schiffler of Albany owns Shady's Bar and Grill and a half dozen other bars and restaurants in the area. They've offered take-out orders only, but Schiffler says the small town establishments can be reopened safely and invite customers back.
"We can't sit around all summer and watch these businesses just fail. We just can't do it," he said. "The people should decide whether we're open. A governor shouldn't decide whether we're open or not."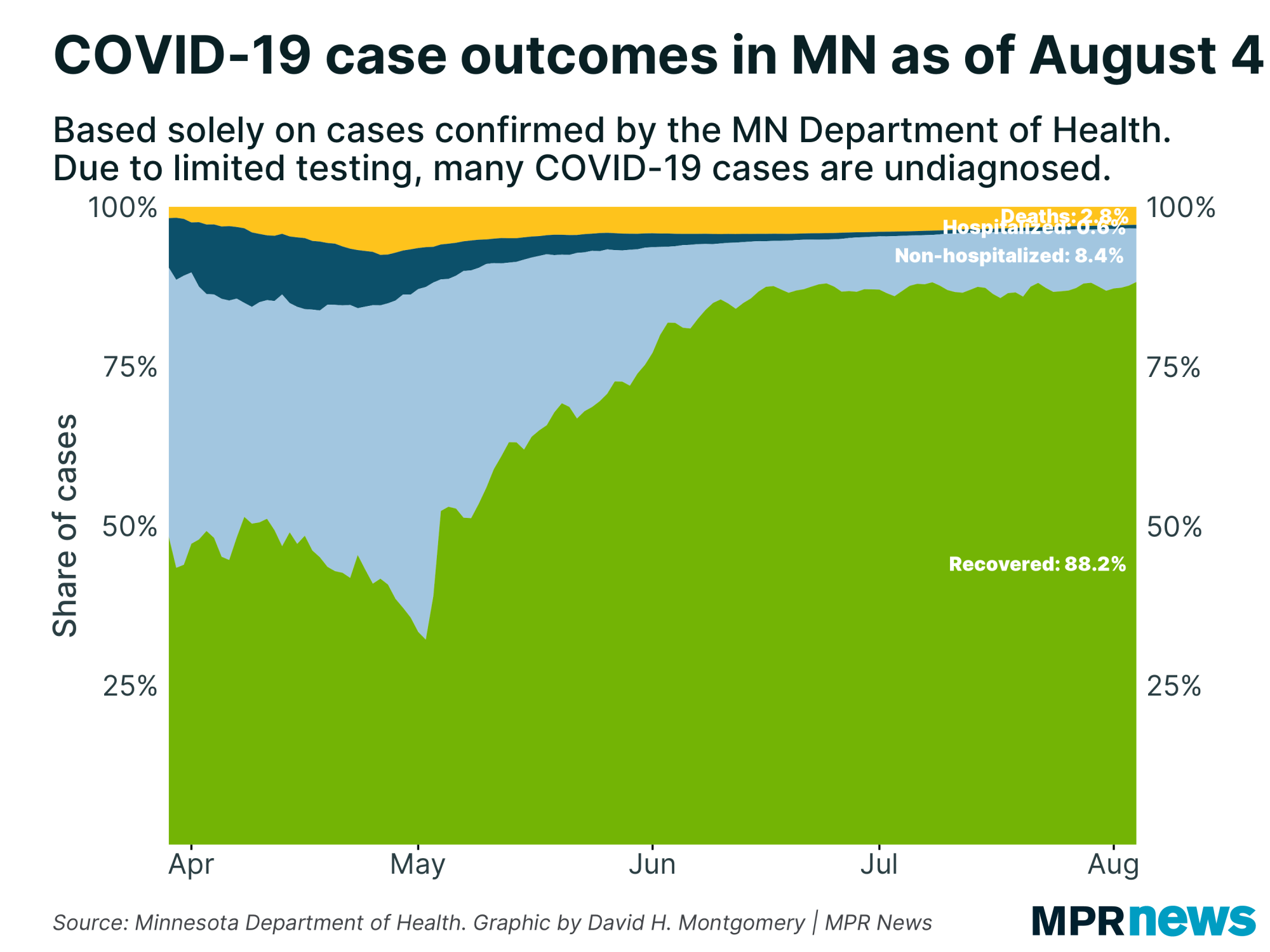 ---
Developments from around the state
MNsure opens enrollment for newly eligible Minnesotans
MNsure has launched a special health plan enrollment period for people who've had a sudden drop in their income.
If you've had a health plan outside MNsure recently and your income has decreased, you may be eligible for a plan under the Affordable Care Act. MNsure CEO Nate Clark said ACA tax credits may also be available.
"If they go to the website, and they look at the special enrollment guidelines it'll give you some high level and general paramaters that'll help you understand the conditions you have to meet in order to qualify," Clark said.
Minnesotans have 60 days after experiencing income loss to sign up for a MNsure plan.
The state says nearly 650,000 people have applied for unemployment insurance in the last two months — about 22 percent of the state's workforce.
— Matt Sepic | MPR News
GOP lawmakers raise health data privacy concerns
A data collection policy involving Minnesota hospital patients has two Republican legislators sounding an alarm, but state health officials insist no personally identifiable information is changing hands.
Rep. Peggy Scott of Andover and Sen. Michelle Benson of Ham Lake said the Minnesota Department of Health shouldn't be collecting admission, discharge and transfer data on patients if they aren't being treated for COVID-19.
"We need to know that it's happening. We need to know why it's happening. And if it is related to a public health emergency, I think there can be a lot of cooperation in how we move that forward," Benson said in a news conference Tuesday. "But if it's generally related to a reduction in the right to privacy for Minnesotans, there is grave concern."
The department in April began informing hospitals of the request for data, saying it was related to coronavirus surveillance efforts and needed because limited testing capabilities masked the true extent of COVID-19.
Health Commissioner Jan Malcolm said "syndromic surveillance" isn't new and is a tool for preventing and controlling disease outbreak. She said the agency isn't collecting identifiable information such as name, address or birth dates, but is getting aggregate information on illnesses and symptoms that could relate to COVID-19.
"It helps us to identify outbreaks earlier than would be possible through disease-specific testing alone. It helps us monitor trends. It helps us to spot hot spots as soon as we can," Malcolm said. "I think people would agree there is value in doing that."
— Brian Bakst | MPR News
MN Senate backs $60M small business aid plan
More than 5,700 small businesses could qualify for state grants under a bill that the state Senate passed Tuesday. The proposal would award up to $10,000 each to businesses that experienced hardship from COVID-19 disruptions.
The money is reserved for Minnesota-based companies with 50 or fewer employees. Most of the $60 million would come out of federal coronavirus relief payments to the state. Sen. Paul Anderson, R-Plymouth, said the grants could be a lifeline for some companies.
"No community, no industry is immune to this. And it's painful. And we are talking about it every day," Anderson said. "I don't think we have a true sense of the magnitude that's going to hit in another three, six, twelve months."
Some of the dollars would be designated by region, for businesses with six or fewer employees and for minority, veteran- and women-owned businesses. But senators defeated an amendment that would have carved out some of the money for retail with a strong ethnic cultural orientation.
Sen. Foung Hawj, DFL-St. Paul, said many of those businesses could get shut out of the grants because they have "technical barriers, have resource barriers and have language barriers." 
Anderson said unlike federal programs criticized for the way money was distributed, the state grant awards will be determined by a lottery once an application window closes.
"It wouldn't be first-come, first-serve, quickest-to-the-gate to try to grant one of these grants," he said. "We want to make sure it is a fair process."
Negotiations on the plan involving the DFL-led House and Gov. Tim Walz are ongoing.
— Brian Bakst | MPR News
Walz OKs in-person classes for students in critical sectors
Gov. Tim Walz on Monday signed an executive order to allow on-site training and testing for up to 1,000 students in critical care sectors. The governor's office said in a statement on Monday that the measure will help fill workforce shortages in industries that serve Minnesota's most vulnerable populations.
At Pine Technical and Community College in Pine City, for example, more than 30 students in its Certified Nursing Assistant program will be able to graduate after taking a final in-person exam and start working at long-term care facilities, according to the governor's office.
"As we conduct these technical skill classes, be assured that our presidents, faculty, and staff are working with the Minnesota Department of Health to make certain they adhere to all health and safety protocols warranted by the pandemic to ensure a safe learning environment," said Devinder Malhotra, chancellor of Minnesota State.
Schools are required to have plans in place for hygiene and distancing standards to resume in-person programming.
— Jiwon Choi | MPR News
---
Top headlines
Restaurants face a staffing problem — Unemployment pays better: State jobless benefits are beefed up, for now, by an extra $600 a week from the federal government. That means many people are making more money unemployed at home than they were making at work.
Workplace protections still apply when you work from home: For many Minnesotans, their homes have become their workplaces but the situation raises legal issues that many employers may not have anticipated when they began having legions of people work from home — from privacy and ergonomics to on-the-job injuries and tracking employees' hours.
Minnesota counties say contact tracing is taking too long: COVID-19 testing is ramping up in Minnesota, but contact tracing is lagging behind. County public health officials say the delays may be contributing to community spread of the virus.
State workers may lose pay raise as economy tanks: The Minnesota House voted Monday to ratify state employee contracts that would deliver salary increases at a time of a looming budget deficit. The DFL-backed move sets up a showdown with Senate Republicans, who say it's not a good idea to raise salaries with a budget deficit looming.
---
COVID-19 in Minnesota
Health officials for weeks have been increasingly raising the alarm over the spread of the novel coronavirus in the United States. The disease is transmitted through respiratory droplets, coughs and sneezes, similar to the way the flu can spread.
Government and medical leaders are urging people to wash their hands frequently and well, refrain from touching their faces, cover their coughs, disinfect surfaces and avoid large crowds, all in an effort to curb the virus' rapid spread.
The state of Minnesota has temporarily closed schools, while administrators work to determine next steps, and is requiring a temporary closure of all in-person dining at restaurants, bars and coffee shops, as well as theaters, gyms, yoga studios and other spaces in which people congregate in close proximity.