Retail stores in Minnesota cautiously open
The doors at Stone Harbor Wilderness Supply in Grand Marais opened to customers for the first time in two months at 10 a.m. Monday. 
It was an unusually busy day for this time of the season, said store owner Jack Stone. But all the customers were respectful of Stone's staff as they tried to enforce new policies to protect workers and customers from COVID-19. 
They're requiring people to keep their distance, limiting how many customers can be in the shop and requiring masks for staff on the floor. 
"We have to be on the forefront," Stone said, "showing people that we're concerned with their welfare."
Grow the Future of Public Media
MPR News is supported by Members. Gifts from individuals power everything you find here. Make a gift of any amount today to become a Member!
Even though they have a safety plan in place, Stone said staffers expect it to shift when they're able to start giving guided canoe tours. 
"I want them to see us putting those life jackets in a solution, then rinsing them off and drying them," Stone said. "I want them to know that we're very, very serious about the virus, and we're going to do everything we can to keep it from spreading." 
The latest stay-at-home order issued by Gov. Tim Walz expired Monday, replaced by an order allowing nonessential retailers that have a coronavirus safety plan to open at 50 percent capacity.
Stone's business came up with its safety guidelines after consulting with officials for Cook County and the Minnesota Chamber of Commerce.
Not all eligible businesses jumped to open at the first opportunity.
Chamber president Doug Loon said he's hearing that businesses throughout the state are planning to open in the coming weeks, after they institute similar safety policies.

"It's in the interest of all businesses to do this in a smart, safe way so they can reassure workers and customers that engaging in their business, frequenting their business, is a safe thing to do and will help get our economy, both at the local, state and federal level, on track," Loon said.  
Businesses that are planning to reopen are struggling not only with the virus, Loon said, but with bringing back staff who may have been laid off or replacing inventory that's expired since the governor issued the order to close most nonessential businesses. 
"You can't just turn on a switch and the business opens," Loon said. 
Elliott De St. Croix, manager of Shoesters in Minneapolis' North Loop neighborhood, said they have been reaching out to customers through social media to let them know the brick-and-mortar shop is open again
"The few customers who have contacted us are very hopeful for us and glad we're sticking around and glad we're opening back up," De St. Croix said. "The positivity around it has definitely been encouraging."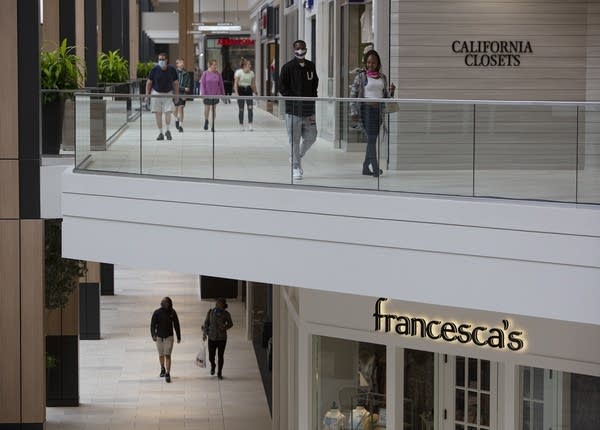 Rosedale Center shopping mall is one of the larger retail spaces to open Monday. Throughout the morning and afternoon, shoppers, masked and unmasked, passed a hand sanitizing station and security desk as they set off to shop for clothes and shoes. 
Mall staff have been preparing for a partial reopening for the last month and a half and are happy with the turnout, said Lisa Crain, senior general manager at the mall. 
"There's a lot of people wanting to get back to normal, however there are certain protocols that we have to be sure everyone is following," Crain said. "We're social distancing, face masks are not required but highly recommended that you do wear those."
Danielle Chamberlain of St. Paul was shopping at Rosedale with her 3-year-old daughter. She said she wasn't wearing a mask because she's not worried about the virus. The Centers for Disease Control and Prevention recommends that people wear masks while in public.
Chamberlain said it was a relief to visit a mall after two months of staying at home.
"Just to get out of the house, me and my daughter just stuck inside all the time," she said. "And I needed new shoes."  
Suedi Warsame, 32, came from Shakopee to shop for holiday clothes for her sons. She said she's been practicing social distancing and isn't worried about the virus either.  
"I was shopping at Walmart and Target before, so this is actually more space and less people," Warsame said. 
More than 20 stores are already open at Rosedale, with plans for all shops to be open by June 1 as long as they have plans in place to keep shoppers and workers safe. 
Jack Stone of Stone Harbor Wilderness Supply admitted that there's a lot of uncertainty as people return to public spaces. Wearing a mask on the shop floor has been a change for him too, but in a note to customers announcing his store's reopening, he wrote that wearing a mask doesn't mean you're afraid, but that you care about other people. 
"Those things get hot, they steam up your glasses," Stone said. "It's something we all have to get used to, it's a whole new normal is what it is." 
Although most retail stores in Minnesota are now allowed to reopen if they have a plan in place to keep customers and staff safe, other establishments like bars, restaurants and salons won't be able to open until at least June 1. The state is expected to come up with guidelines for those businesses this week.