May 26 update on COVID-19 in MN: 899 deaths; ICU cases hit new high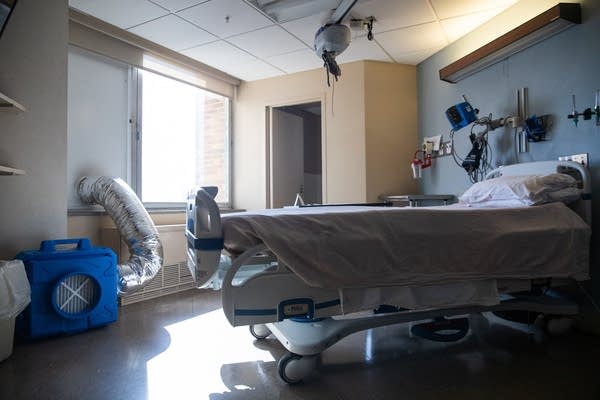 Updated 4 p.m. | Posted: 5 a.m.
Minnesota's COVID-19 death toll continued its grim ascent Tuesday as the state Health Department reported 899 people have died from the disease, up 18 from Monday.
The number of Minnesotans currently needing intensive care rose to 258, a new daily high.
State health leaders are paying close attention to the daily intensive care counts. Officials have said the two-month stay-at-home order helped buy time for the state to secure supplies and prepare for the expected surge in hospitalizations and ICU cases. That appears to be starting.
Health Commissioner Jan Malcolm said recently those intensive care beds are filling up in the Twin Cities metro area. Officials said Tuesday that 87 percent of ICU beds in the metro area are now in use, much of that from COVID-19 cases, while other regions in the state still had available capacity.
Although they prepared for it, Malcolm and other leaders continued to implore Minnesotans to stay vigilant and continue taking the disease seriously. Counts of cases and deaths continue to climb even as Minnesota loosens more restrictions, potentially opening the door to greater community spread.
The state recently OK'd larger religious gatherings and agreed to let financially strapped restaurants and bars reopen for outside service, with capacity capped at 50 guests.
As more parts of the economy restart and people start to gather again in public places, there's a worry that people let down their guard believing COVID-19 "'only a problem for certain populations and not for me.' … That's just not the case," Malcolm said.
While people living in long-term care continue to account for most of the deaths, Malcolm noted that 42 is the median age of those who've tested positive for the disease.
Community spread is continuing and cases are not as isolated as people believe, she added, noting that officials won't know for two to three weeks the effects of the most recent moves to loosen curbs on businesses, religious ceremonies and other gatherings.
Malcolm offered a glimmer of positive news Tuesday, telling reporters that the time it's taking for total COVID-19 cases to double in Minnesota has stretched out now to 16 days, offering some hope that the disease will not overwhelm the state's health care system.
Meatpacking hot spots remain
Many of the recent outbreaks outside the Twin Cities metro area are focused around meatpacking plants. Officials have intensified testing in those hot spots, uncovering more infections.
In southwestern Minnesota's Nobles County, where an outbreak hit Worthington's massive JBS pork plant, about 1 in 15 people have tested positive for COVID-19. In mid-April, there were just a handful of cases. By Tuesday, there were 1,478 confirmed cases, although the numbers are rising at a much slower rate than in previous weeks.
The JBS plant shut on April 20 but has since partially reopened with expanded hygiene and health monitoring measures.
Similar problems have been reported in Stearns County, where COVID-19 cases tied to two packing plants — Pilgrim's Pride poultry plant in Cold Spring and Jennie-O Turkey in Melrose — have skyrocketed. An undisclosed number of workers at both plants have tested positive for the virus.
There were about 55 confirmed cases in Stearns County two weeks ago. By Tuesday, confirmed cases were at 1,959 with 12 deaths.
Kandiyohi County in west-central Minnesota is also seeing cases continue to climb more than a month after officials with the Jennie-O turkey processing plant there said some employees had tested positive for the coronavirus. The county had confirmed three COVID-19 cases then.
On Tuesday, the Health Department reported 471 people have now tested positive.
While the counts in those counties are high relative to their population, officials say the growth in new cases in those areas appears to be stabilizing.
---
Developments from around the state
Court dismisses business challenge to Walz COVID-19 curbs
A coalition of businesses that challenged Minnesota coronavirus restrictions have suffered a legal setback.
The state Court of Appeals dismissed the lawsuit filed by the Free Minnesota Small Business Coalition, which challenged orders imposed by Gov. Tim Walz.The appeals court said it lacked jurisdiction to review the validity of the Walz orders.
The groups had challenged them on equal protection grounds and said Walz exceeded his authority with the curbs on business activity.
Another lawsuit is pending in federal court.
— Brian Bakst | MPR News
Minneapolis to require face masks in indoor public places
Starting Tuesday, people in indoor public places in Minneapolis will be required to wear a face covering.
Mayor Jacob Frey announced the measure on Thursday as the latest in a series of emergency regulations designed to halt the spread of COVID-19.
Frey said business owners will be able to refuse entry to anyone who's not wearing a face covering. The rule would apply to indoor public places in Minneapolis, not outdoor venues.
People can call 311 to report noncompliance, the mayor said. Violations could be punished by fines up to $1,000.
"We are not criminalizing forgetfulness. We are not penalizing people for a lack of awareness. We are approaching the implementation of the policy with grace and patience," said Frey. "We are prioritizing outreach and education."
On Friday, Frey said that the city has purchased more than 9,000 cloth masks with money from the budgets for council members and the mayor's office. More masks are needed, however, especially in light of the new emergency regulation, Frey said.
— Brandt Williams | MPR News
---
Top headlines
Organizers of county events across Minnesota face tough decisions: So far, about 1 in 3 Minnesota county fairs have been canceled for this summer, with more expected to follow in the wake of last week's cancellation of the State Fair. Organizers of fairs that have not yet called off plans for 2020 are weighing the potential health risks against long-standing traditions.
Pastor remembered for compassion, embrace: Craig Breimhorst was the kind of guy who would walk into a room, and within 10 minutes was friends with everyone — which came in handy when he started his own church in Faribault over 30 years ago. He died on April 16 at 71, Rice County's first victim of the coronavirus.
Walz approval at 65 percent, most support vote by mail: The results of a new statewide poll show strong support for DFL Gov. Tim Walz during the pandemic and that most Minnesotans favor a move to voting by mail for the November election.
---
COVID-19 in Minnesota
Data in these graphs are based off Minnesota Department of Health cumulative totals released at 11 a.m. daily. You can find more detailed statistics on COVID-19 at the Health Department website.
The coronavirus is transmitted through respiratory droplets, coughs and sneezes, similar to the way the flu can spread.
Government and medical leaders are urging people to wash their hands frequently and well, refrain from touching their faces, cover their coughs, disinfect surfaces and avoid large crowds, all in an effort to curb the virus' rapid spread.