Comfortable temps, with a thunder chance in some areas by late afternoon
Gusty winds in western Minnesota
Western Minnesota and parts of northern Minnesota may see scattered showers and thunderstorms by mid-to-late afternoon. Northern and central Minnesota have the best chance of showers and thunderstorms Saturday evening and overnight Saturday night.
The National Oceanic and Atmospheric Administration's North American Mesoscale (NAM) forecast model shows the potential rain pattern Saturday through Saturday night: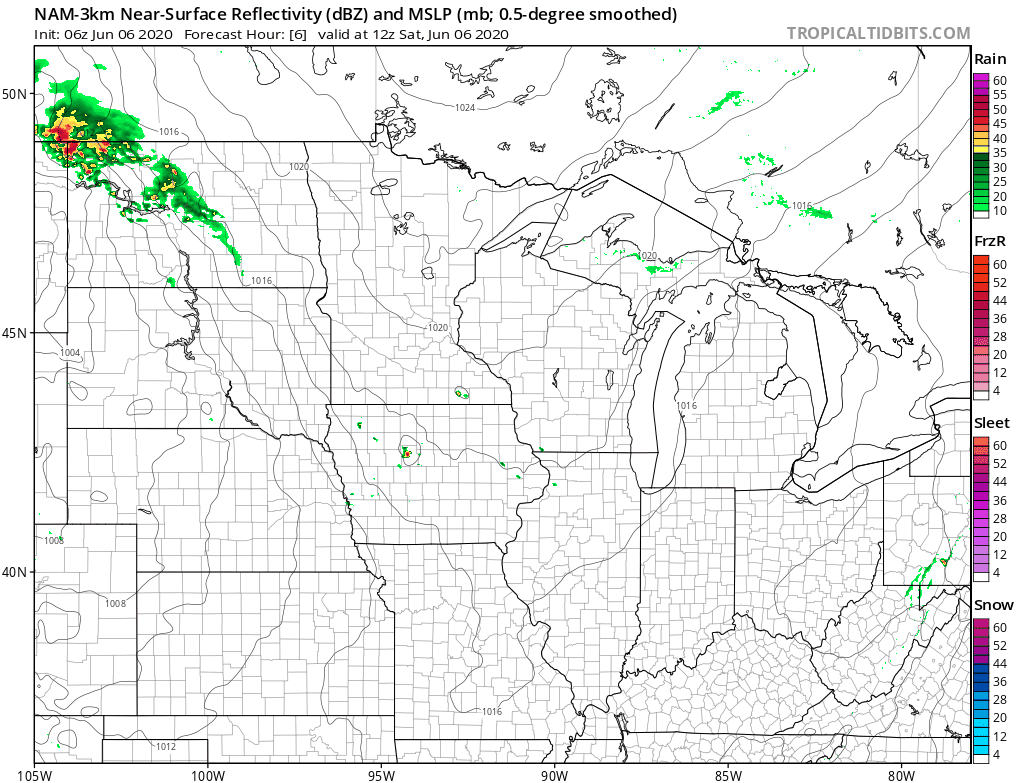 The Twin Cities metro area may see some scattered showers and an isolated thunderstorm this evening, with a better chance overnight.
You can hear updated weather information on the MPR network, and you'll see updated weather info on the MPR News live weather blog.
Temps and dew points
Our average Twin Cities high temperature for June 6 (Saturday) is 76 degrees. The Twin Cities metro area will see highs around 80 degrees this Saturday, with 70s across most of Minnesota and western Wisconsin:
A few spots in far southern Minnesota could top 80 degrees. Highs in the 60s are expected near Lake Superior.
Saturday afternoon dew point temperatures will be in the very comfortable 40s in most areas:
Winds will be gusting over 20 mph Saturday afternoon in far western Minnesota:
Plotted values are in knots, with 10 knots equal to 11.5 mph.
Updraft will be updated by 10 a.m. with details about Sunday and the coming week.
Programming note
You can hear my live weather updates on MPR News at 7:35 a.m., 9:35 a.m. and 4:35 p.m. each Saturday and Sunday.