Across Minnesota, graduating seniors mark milestones amid the pandemic
Members of the class of 2020 faced an unexpected ending to their school year. Due to the coronavirus pandemic, graduating seniors weren't able to experience last year traditions — like prom, senior day and final competitions — with friends at school. 
But school staff and communities across Minnesota were determined to make these seniors feel special amid social distancing. From drive-up proms to virtual commencements, photos from around the state show the class of 2020 being celebrated. 
We also asked seniors across Minnesota what they'd like to say to their graduating peers and what they want people to know about the class of 2020. We've included some of their heartfelt answers.
---
'2020 strong'
---
Photos: Drive-up graduation 'a ray of hope'
7 of 7
1 of 7
2 of 7
Things to remember
Gain a Better Understanding of Today
MPR News is not just a listener supported source of information, it's a resource where listeners are supported. We take you beyond the headlines to the world we share in Minnesota. Become a sustainer today to fuel MPR News all year long.
---
Photos: Austin seniors get top billing
4 of 4
1 of 4
2 of 4
'United by commonality, enhanced by individuality'
Video by Rosemount High School senior Charlie Huang.
---
Photos: In Janesville, drive-in graduation stars class of 2020
9 of 9
1 of 9
2 of 9
Photos: St. Paul restaurant hosts social distance prom
5 of 5
1 of 5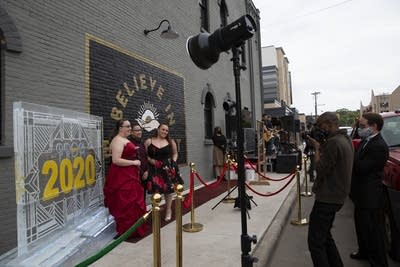 2 of 5
Photos: 'A special class of Tartan' holds virtual ceremony
5 of 5
1 of 5
2 of 5
Photos: Parade celebrates St. Cloud seniors
9 of 9
1 of 9
2 of 9