Widespread showers and storms return late Tuesday
Statewide hot weather by the 4th of July
Occasional periods of showers and storms continue across Minnesota, with more widespread rain Wednesday.  Then an extend period of heat and humidity begins.
Tuesday's forecast
Minnesota started Tuesday warm and muggy, with high humidity and most temperatures in the 70s. There were a few 60s, mostly in central Minnesota, where overnight rain cooled the air slightly.  With less rain and more sunshine Tuesday, heat returns across the state with highs mostly in the 80s and a few 90s. 
Because of the high humidity, most places see a heat index from the low to upper 90s by afternoon.
There are still a couple showers and storms as of Tuesday morning, mostly around northeastern Minnesota.
The Arrowhead continues to see some activity into the afternoon, while the rest of the state likely remains dry. 
Another storm system
Late Tuesday, ahead of a cold front that moves across Minnesota Wednesday, showers and storms start moving into western Minnesota.  Scattered showers and storms then spread across the state Wednesday under mostly cloudy skies.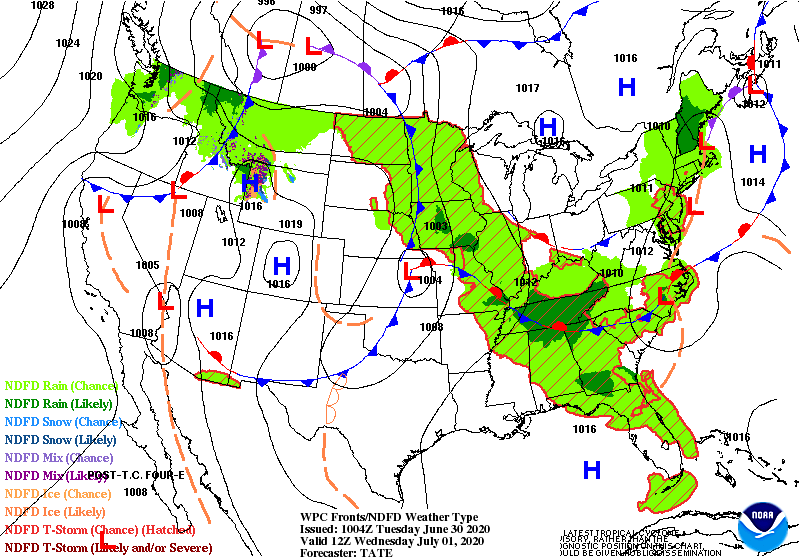 This could also bring some severe weather to the western edge of the state late Tuesday and isolated strong storms through central Minnesota Wednesday.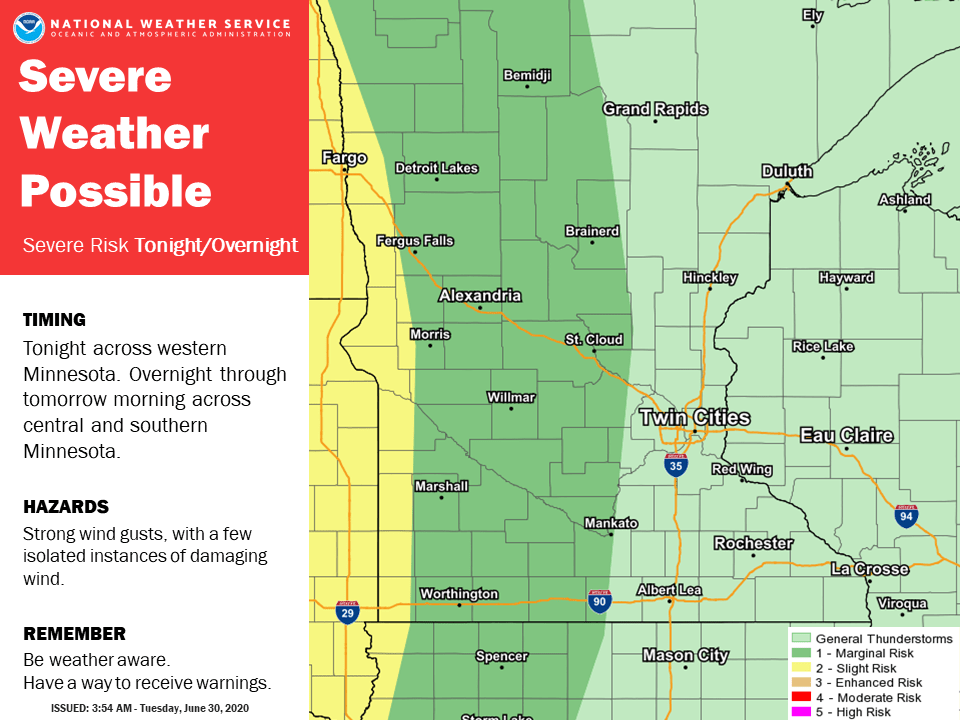 After that system moves out late Wednesday, the weather pattern turns quieter, with only spotty chances for showers and storms through Saturday.
An extended period of heat
The cold front and clouds Wednesday only cool temperatures slightly, with highs mostly in the 80s.  Already by Thursday, under widespread sunshine, temperatures climb again, back into the 90s for most of the state.
After that, heat and humidity persist through much of next week and even the overnights remain warm, with lows in the 60s and 70s. 
Because this is a long period of heat, and the heat index will go near 100 at times, be cautious outside for extended periods of time.
Programming note
You can hear my live weather updates on Minnesota Public Radio at 7:48 a.m. Monday through Friday morning.