Wet weather Wednesday, then heat dominates the forecast
Humidity will push the heat index near 100 at times
Showers and storms become more isolated through the rest of Wednesday. Drier skies and hotter weather return Thursday, and the heat continues through the holiday weekend.
Wednesday's forecast
Ahead of a cold front, showers and storms moved into the state overnight and into central Minnesota by Wednesday morning.
As of mid-Wednesday morning, the remaining precipitation in central Minnesota is diminishing quickly and is now mostly rain. Only spotty showers may make it into eastern Minnesota through the morning, then a few isolated storms could redevelop in central and eastern Minnesota into the afternoon. 
Most rain totals through Wednesday will be well under an inch, and in eastern Minnesota, rain will be spotty with limited rain accumulation. A few spots did see heavier rain as the storms passed through, especially in northwestern Minnesota. 
Here are the locations that reported over an inch of rain as of 9 a.m. Wednesday:
Outside of any showers or storms it remains mostly cloudy, muggy, and warm, with highs in the 80s.
Extended forecast
After the front moves out late Wednesday, the weather pattern turns quieter, with only isolated chances for showers and storms through Saturday.
Under mostly sunny skies, the heat intensifies by Thursday. Most of the state makes it back into the 90s, then the entire next week remains in the 80s and 90s across most of Minnesota.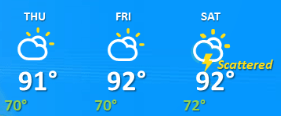 Humidity levels also remain high, so the heat index will reach near and possibly surpass 100 degrees at times. Overnights also stay very mild, with lows in the 60s and 70s. 
Programming note
 You can hear my live weather updates on Minnesota Public Radio at 7:48 a.m. Monday through Friday morning.