Scattered showers and thunderstorms at times today
80s in most areas
Portions of central Minnesota, the Twin Cities metro area and southern Minnesota have already seen scattered showers and thunderstorms this morning. Additional scattered showers and thunderstorms are possible this morning, and the National Oceanic and Atmospheric Administration's High-Resolution Rapid Refresh forecast model shows the potential rain pattern Saturday afternoon and evening:
It'll rain in some locations that look dry in the loop, but the loop illustrates the general rain pattern that's expected.
The NWS Storm Prediction Center shows a marginal risk of severe weather this Saturday and Saturday night in the southwest half of the Twin Cities metro area and much of southern Minnesota plus part of central Minnsota. Here's the Twin Cities NWS depiction of the severe weather outlook:
Marginal risk means that an isolated severe thunderstorm is possible. A slight risk of severe weather touches a sliver of far southeastern Minnesota, where scattered severe thunderstorms are possible.
You can hear updated weather information on the MPR network, and you'll see updated weather info on the MPR News live weather blog.
Summery temps
Our average Twin Cities high temp is 84 degrees on July 11. Our Saturday high in the Twin Cities is expected to be around 83 degrees. Far northern Minnesota and parts of western Minnesota will have Saturday highs in the 70s, with 80s elsewhere:
Saturday afternoon dew points will be mainly in the 60s, with some 50s in far northern Minnesota: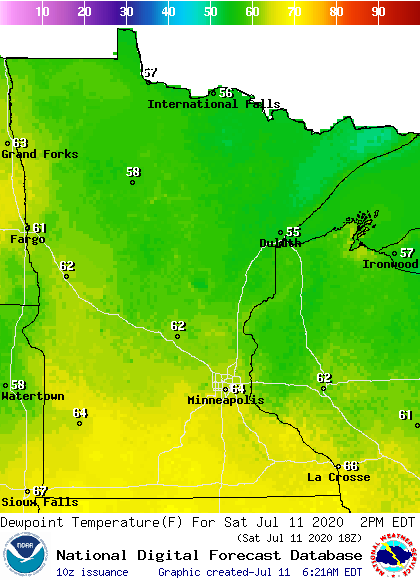 This Updraft blog will be updated by around 10 a.m. with info on your Sunday weather and a look at the week ahead.
Programming note
You can hear my live weather updates on MPR News at 7:35 a.m., 9:35 a.m. and 4:35 p.m. each Saturday and Sunday.